European Union must act now as Baltic states and Romania battle to control HIV, says Kazatchkine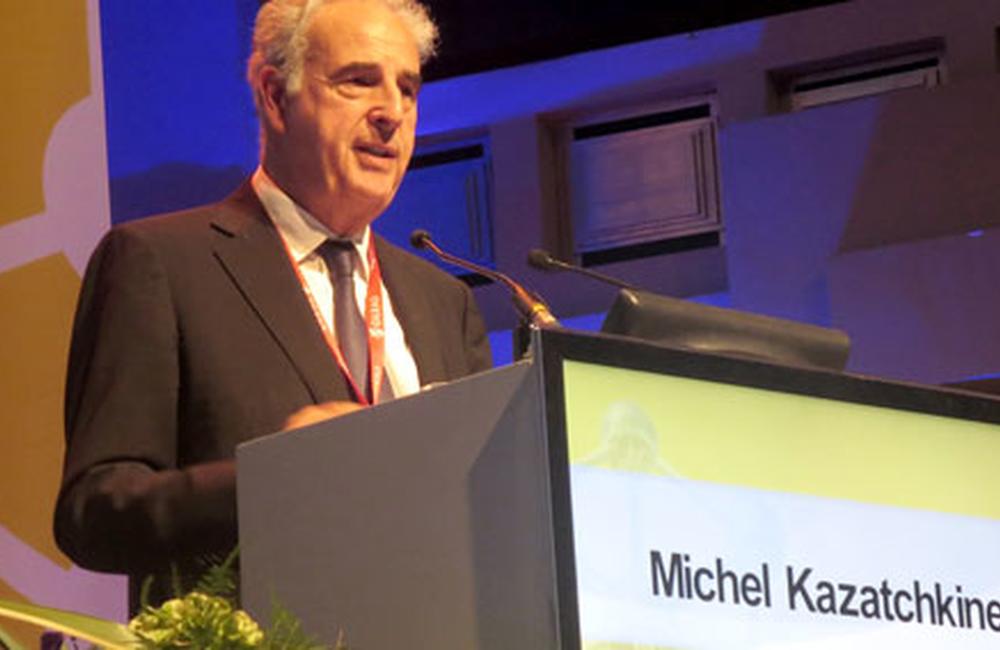 Eastern Europe is facing quadruple, intersecting epidemics of injecting drug use, HIV, tuberculosis (TB) and hepatitis C, and governments must act to tackle these problems in the only region of the world where the HIV epidemic is still expanding, the UN Secretary-General's Special Envoy on HIV in central and eastern Europe, Professor Michel Kazatchkine, told the opening session of the 14th European AIDS Conference tonight in Brussels.
"We should not continue to be complicit in this by failing to hold accountable those responsible. If the epidemic in eastern Europe is not brought under control it will be the governments of the region who will bear responsibility for the human tragedy that is unfolding in their countries."
The 14th European AIDS Conference opened with a strong political emphasis on eastern Europe. The European AIDS Clinical Society, the organisers of the conference, issued a strong condemnation of a new Russian law that forbids "propaganda of non-traditional sexual relations amongst minors".
Professor Kazatchkine, the former Executive Director of the Global Fund to Fight AIDS, Tuberculosis and Malaria, gave a keynote presentation on the need for action in eastern Europe.
"This is the region where the epidemic continues to grow," he said. "The estimated number of people with HIV has grown by 140% in the past ten years, and it is the only region of the world where AIDS deaths continue to grow," he went on to say. "Only 30% of people in need of treatment are accessing it," he said, noting that coverage would be lower than 15% under new World Health Organization (WHO) guidelines recommending treatment for all people with CD4 cell counts below 500.
HIV prevalence is as high as 70% among people who inject drugs in Azerbaijan and in six countries in eastern Europe and central Asia more than 50% of people who inject drugs are estimated to be living with HIV. "The prevalence of hepatitis C is even higher among people who inject drugs – between 60 and 80% in some countries – but access to treatment is basically zero," Professor Kazatchkine told a press conference.
Nevertheless, around 30% of HIV infections in the region are attributable to sex between men and women, chiefly between male drug users and women, while around 40% of infections in the region are described as 'exposure route unknown'. This categorisation is likely to disclose high levels of unreported transmission between men.
Why would men who have sex with men or people who inject drugs disclose how they had become infected with HIV in a region where both behaviours are highly stigmatised, if not criminalised, he asked.
"The data we have is only as robust as the surveillance systems, and the social contexts that produce them," he said.
Harm reduction programmes that could limit new HIV infections are largely funded by external donors throughout the region; 91% of all spending on HIV prevention programmes for key populations in the region – people who inject drugs, men who have sex with men and sex workers – was funded by external donors in 2011 (a total of $30 million).
Yet this activity is a drop in the ocean. In most countries in the region, for example, fewer than 100 clean syringes per year per person injecting drugs are distributed. In some cases, drug users may be injecting locally manufactured stimulants or krokodil, a home-made opioid manufactured from codeine, up to ten or twelve times a day.
Despite clear evidence of its effectiveness both in reducing injecting drug use and reducing the risk of HIV infection, opioid substitution therapy is also severely restricted owing to long-standing objections to its use by drug enforcement agencies and narcologists in the region.
Modelling presented by Professor Kazatchkine showed that expanding the coverage of needle exchange, opioid substitution therapy and antiretroviral therapy for people who inject drugs could have a very substantial impact on HIV incidence, even when the expansion in coverage is modest. What is critical for achieving high impact is the use of all three interventions in combination.
If opioid substitution therapy, needle and syringe exchange and antiretroviral therapy for everyone with CD4 counts below 350 were provided to half of all injecting drug users who come into contact with drug services each year, HIV incidence would be reduced by 63% over five years among people who inject drugs in the region.
Even very low levels of coverage, perhaps as little as 10% coverage, might nevertheless have a substantial impact on new infections, said Professor Kazatchkine.
A reduction in the incarceration of drug users for minor offences might also have an impact on new infections, he suggested. Forty to seventy per cent of all incarcerations in the region are for minor drug offences, typically possession of a small quantity of drugs for personal consumption. Having been arrested or imprisoned is associated with a reduced probability of avoiding HIV infection subsequently, and people who are imprisoned are also at high risk of exposure to TB.
The burden of tuberculosis in the region is amongst the highest in the world, and around 20% of all new TB cases are multi-drug resistant. The proportion of people with TB diagnosed with HIV rose by 20% each year in the period 2006 to 2011, yet HIV testing of people with TB – and TB screening in people diagnosed with HIV – remains abysmally low in most countries in the region.
Although political resistance to tackling many of the factors contributing to the quadruple epidemic remains high, immediate action could be taken to improve the situation in some countries that are still suffering the legacy of post-Soviet collapse.
"I would like the European Union to focus on the part of central and eastern Europe that is in the EU – the Baltic countries and south-eastern Europe. In 2011, Global Fund funding for HIV prevention and harm reduction in Romania stopped abruptly when Romania joined the EU, since when we have seen a 20-fold increase in HIV incidence among people who inject drugs."
"Such events should be setting off alarms among donors and the European Union, and should lead to a re-thinking of how to support prevention programmes in middle-income countries."
NAM is sending four news summary bulletins by email from the 14th European AIDS Conference, available in English, French, Spanish, Portuguese, Italian and Russian. Sign up on our conference page at www.aidsmap.com/eacs2013