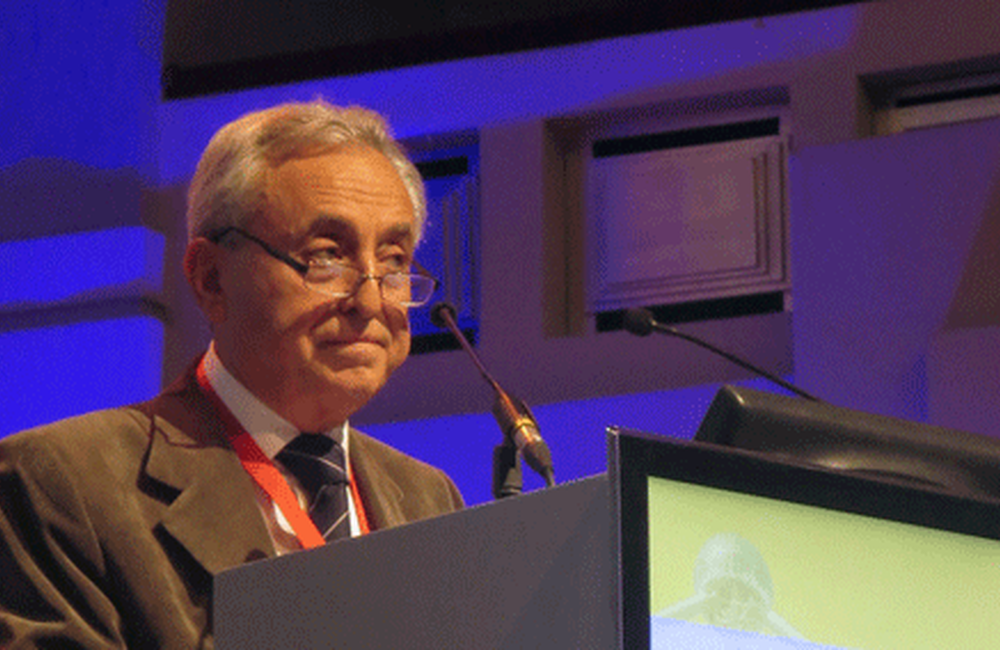 A dual combination of lopinavir/ritonavir (Kaletra or Aluvia) plus 3TC (lamivudine, Epivir) as first-line therapy produced good virological suppression regardless of baseline viral load and was well tolerated in the multinational GARDEL study, according to a late-breaking report at the 14th European AIDS Conference this week in Brussels.
Three-drug regimens that contain two nucleoside/nucleotide reverse transcriptase inhibitors (NRTIs) are the standard of care for antiretroviral therapy, but many NRTIs can cause side-effects and simplifying treatment may improve adherence and reduce cost. Lopinavir/ritonavir as monotherapy has been shown to be inferior to standard therapy, but adding one NRTI may be adequate.
Pedro Cahn from Fundacion Huesped in Buenos Aires and fellow investigators with the GARDEL Study Group compared the safety and effectiveness of a dual combination versus triple therapy for treatment-naive patients.
This randomised open-label phase 3 study included 426 previously untreated people in Argentina, Chile, Mexico, Peru, Spain and the US. Nearly 85% were men (about 60% men who have sex with men and 35% heterosexual) with a median age of about 35 years.
The median baseline CD4 cell count was approximately 325 cells/mm3, 43% had high viral load (HIV RNA >100,000 copies/ml) and only 3% had a history of AIDS. People with NRTI or protease inhibitor resistance mutations at baseline were excluded.
Participants were randomly assigned to receive 400/100mg lopinavir/ritonavir plus 150mg 3TC, both taken twice daily, or a standard regimen of lopinavir/ritonavir plus two NRTIs in a fixed-dose combination. About 9% used abacavir/3TC (Kivexa), 37% used tenofovir/emtricitabine (Truvada) and the rest (54%) used AZT/3TC (Combivir).
Cahn explained that NRTI choice was based on national treatment guidelines in the various countries. Whilst Combivir is no longer considered a preferred option in Europe and the US, it is still used in middle- and lower-income countries.
Ten participants withdrew before receiving any therapy. Among those who started treatment, about half as many discontinued prematurely in the double-therapy arm compared with the triple therapy arm (8 vs 14%).
At 48 weeks, 88% of people taking dual therapy and 84% taking triple therapy had undetectable viral load (<50 copies/ml) in the primary intention-to-treat 'snapshot' analysis, indicating that the simplified single-NRTI regimen was non-inferior to standard therapy. In an observed or as-treated analysis, response rates were 96 and 97%, respectively. CD4 cell gains were also similar in both arms at 227 and 217 cells/mm3.
Dual therapy also performed at least equally well amongst people with high baseline viral load, with response rates of 87 and 78% in the two arms, allaying one of the concerns about a potentially less potent regimen.
Virological failure rates were similar in the dual- and triple-therapy groups at 5 and 6%, respectively. However, fewer people in the dual arm discontinued early due to adverse events or death (1 vs 5%). Two people in the dual arm and eight in the triple arm never achieved viral suppression, whilst eight and four, respectively, experienced viral rebound.
Amongst the small number of viral samples that were amplified and sequenced (in most cases, virus levels were too low), two patients in the dual-therapy arm, but none in the triple-therapy arm, had emergent NRTI resistance mutations (M184V); no one in either group had primary protease resistance mutations.
Both regimens were generally safe and well tolerated with most side-effects being mild to moderate. There were significantly fewer grade 2 or 3 adverse events in the dual compared with the triple-therapy arm (65 and 88 events, respectively). One person taking dual therapy and ten taking triple therapy discontinued due to adverse events.
The most common side-effects were elevated lipid levels (11 and 8%) and diarrhoea (7% in both arms). Nausea and dyspepsia were more common in the triple-therapy arm (<1 vs 3 to 4%). Laboratory abnormalities were uncommon and similar in both arms. There was one serious adverse event considered probably drug-related, a case of gastritis in the dual-therapy arm.
"Our results demonstrate that dual therapy with lopinavir/ritonavir + 3TC was non-inferior to triple therapy after 48 weeks of treatment, regardless of baseline viral load," the researchers concluded. "The dual therapy regimen showed fewer discontinuations due to safety and tolerability."
"Virologic failure, occurring at similarly low levels in both treatment arms, did not result in protease inhibitor resistance development, preserving a wide range of drugs for second-line antiretroviral therapy," they added.
Amongst NRTIs, 3TC is very well tolerated. Cahn noted that the dual regimen does not require monitoring for kidney, liver or blood cell toxicities, making it a useful option in settings with limited monitoring capacity.
References
Cahn P et al. Dual therapy with lopinavir/ritonavir (LPV/r) and lamivudine (3TC) is non-inferior to standard triple drug therapy in naive HIV-1 infected subjects: 48-week results of the GARDEL study. 14th European AIDS Conference, Brussels, abstract LBPS7/6, 2013. View abstract on the EACS website.