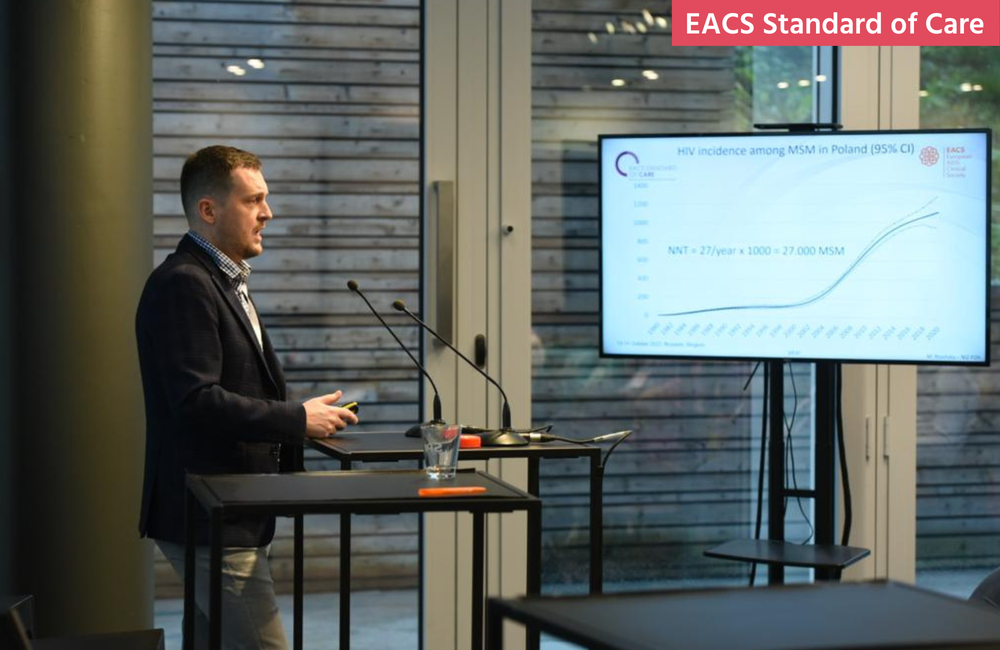 The number of people able to access HIV pre-exposure prophylaxis (PrEP) in most countries of central Europe still numbers in the tens to hundreds of people rather than thousands, and there are no signs of immediate improvements, the recent Standard of Care for HIV and Co-infections in Europe meeting heard. The meeting is organised by the European AIDS Clinical Society (EACS) and was held in Brussels.
While some western European countries have problems, Dr Bartosz Szetela, who runs the All Saints Sexual Health Clinic at Wrocław Medical University in Poland, told aidsmap that the issue of inconsistent guidelines, access restrictions and lack of training was particularly acute in central Europe. Several countries in the region formerly had very low HIV prevalence, but had seen large increases in HIV cases among gay and bisexual men in the 2010s and are now receiving large numbers of refugees from Ukraine, a higher-prevalence country.
In Szetela's own country of Poland, there were around 1400 HIV diagnoses in 2021, 80% of them in gay and bisexual men. The number of diagnoses in gay and bisexual men (1120) is almost the same as the UK figure – but the UK's population is 76% higher so the incidence per head in Poland is that much higher.
The situation in Poland, however, is better than in any other country in central Europe, as revealed by a survey Szetela's team is conducting among STI physicians and community activists in the region. (The World Health Organization's definition of 'central Europe' is the band of countries running south from the three Baltic states to the Balkans. It includes all the pre-1990 Communist states that were not in the Soviet Union plus the Baltic states, which were, but excludes other former USSR states like Ukraine.)
The survey so far has information (in more or less detail) from Lithuania, Poland, Czechia, Slovakia, Hungary, Slovenia, Romania and Bulgaria and is looking to include other countries such as Croatia.
It is extremely difficult to estimate PrEP usage in countries where it is often bought online or provided by an informal network of sympathetic physicians, but it is thought that Poland has the highest level of PrEP provision in central Europe with about 5000 PrEP users. This also represents the highest usage per head of population (one in 7560 people). Hungary may have 1000 users and Czechia about 800. Bulgarian informants counted 410 users, nearly all accessing PrEP though one clinic in Sofia. Slovenia has about 200 and Slovakia 60. Lithuania and Romanian informants could not even make an educated guess.
PrEP access is influenced by many factors but, needless to say, it really helps if the country's Health Ministry has issued guidelines for PrEP provision. These exist in Czechia, Poland, Slovenia and Slovakia; Bulgaria intends to issue some soon and Romania in the next few years; but so far Hungary and Lithuania have announced no intention to do so.
However, as Poland's experience shows, guidelines do not guarantee PrEP access. Guidelines were issued surprisingly early in Poland in 2014, but at that point PrEP was only available as branded Truvada (tenofovir disoproxil/emtricitabine) at €800 for a month's supply, so there were only 15, presumably well-heeled, users in Poland.
"The turning point," says Szetela, "was when a generic company came forward with an offer to supply it at €29 a month in 2017. Suddenly PrEP became a real possibility and we set up the first information campaign". Poland's progress up to 2019 was presented at the second PrEP in Europe summit, held in Warsaw.
Making PrEP cheap or even free does not guarantee access, however. In the survey, in all but three countries (Bulgaria, Czechia and Romania) PrEP pills should now be obtainable, in theory, free of charge though the countries' universal healthcare system, through HIV or STI clinics (Romania, Slovenia, Poland) or via specialist physicians (Lithuania).
But in practice, a combination of restricted access to free PrEP and equally difficult access to sympathetic physicians means that except in Slovenia, few people get PrEP for free and most people pay something.
In Poland, for instance, people who cannot access the small number of patient slots at the relatively small number of sympathetic STI clinics, mainly in the major cities, have to buy PrEP at €50-70 a month. They may also have to pay for tests, though sympathetic clinics usually offer them for free.
In Czechia, PrEP has to be bought at pharmacies for €24-40, depending on the pharmacy. But the Czech national health insurance covers all associated testing and monitoring, the cost of which can be much higher than the cost of pills. But Czech activist Robert Hejzák told aidsmap: "We ran a survey on what people felt they could afford to pay, and almost everyone could afford it at less than €20 a month. But increase the price to €4o a month and we already lost 33% potential users who could not afford the price." 
Difficulty in access means that it is easier to get PrEP in Bulgaria – a country with no free provision –as long as you know there is a friendly clinic at Checkpoint Sofia offering PrEP at €12 a month, than it is in Lithuania, where PrEP should be covered by national health insurance, but only if you know one of the few helpful physicians in what is virtually an underground network.
In Hungary, with an unsympathetic right-wing government, all PrEP has to be bought online at about €60 a month. Doctors have to be paid for all tests – and that's if you can access the approximately ten infectious disease physicians in the country who will arrange them for you.
At least gay organisations are largely behind PrEP now, though the Slovenian informant commented that "older gay men still have little knowledge of it". In Bulgaria, Czechia and Poland referral through a non-governmental organisation is paramount when trying to access PrEP in their universal health systems. 
There are signs of progress in individual countries. Romania is planning to set up nine new HIV centres. The biggest barrier now is probably stigma within the medical profession. Respondents in almost all countries referred to stigma among medical professionals, especially older doctors. This is not helped in Hungary, Slovakia and Romania by national HIV or STI professional organisations not having developed strategies for public provision.
The stigma means that most people seeking PrEP outside the big cities will probably still receive a refusal and a lecture on behaviour rather than a course of PrEP pills. Szetela urged medical associations to make firm plans for PrEP provision and to conduct cost-effectiveness modelling to prove that providing PrEP is not unaffordable in their country.
In Poland, a survey among physicians and patients found that 4410 people (also presented as a poster at the recent HIV Glasgow conference) had accessed PrEP by the end of 2021. Interestingly, 35% were using event-based rather than daily dosing in 2021, up from 15% in 2018. There were 15 HIV infections in these 4410 people; all were in people with irregular use or who had stopped PrEP. Eight of them had stopped using it during COVID.
Comparing the HIV incidence in PrEP users with HIV incidence in all Polish gay and bisexual men allowed the researchers to estimate that 285 infections were prevented by PrEP. This implies that HIV incidence would be 20% higher in Poland without the current level of PrEP. This is not enough, though: at current background incidence levels, it is estimated that 27,000 people at risk of HIV would need to be on PrEP in order to bring HIV incidence down to the UN Sustainable Development Target by 2030.
Szetela emphasised to aidsmap that the difficulties are not restricted to central Europe.
"In the Netherlands, the number of people who can access PrEP is still capped," he said, "and in Portugal, there is no cap as such, but lack of staff means there is a year-long waiting list for it, which makes nonsense of the idea that PrEP should be there during 'seasons of risk'.
"I'm afraid that European politicians are using the economic situation to reduce PrEP access still further," he said. "We need a stronger, pan-European policy to ensure access throughout Europe."
Since Szetela spoke to aidsmap, several UK organisations have issued a report, Not PrEPared, which found that 68% of people trying to access PrEP for the first time in the UK had experienced difficulty in getting it.
References
Szetela B et al. PrEP - what we have achieved in CEE and what needs to be done. EACS Standard of Care for HIV and Co-infections in Europe meeting, Brussels, 13-14 October 2022.
View the meeting programme on the conference website.
Szetela B et al. Pre-exposure prophylaxis (PrEP) in Poland 2017 to 2021: lessons from a country with no national PrEP programme. International Congress on Drug Therapy in HIV Infection (HIV Glasgow), abstract P012, October 2022.