People with HIV not being prioritised for vaccination in all countries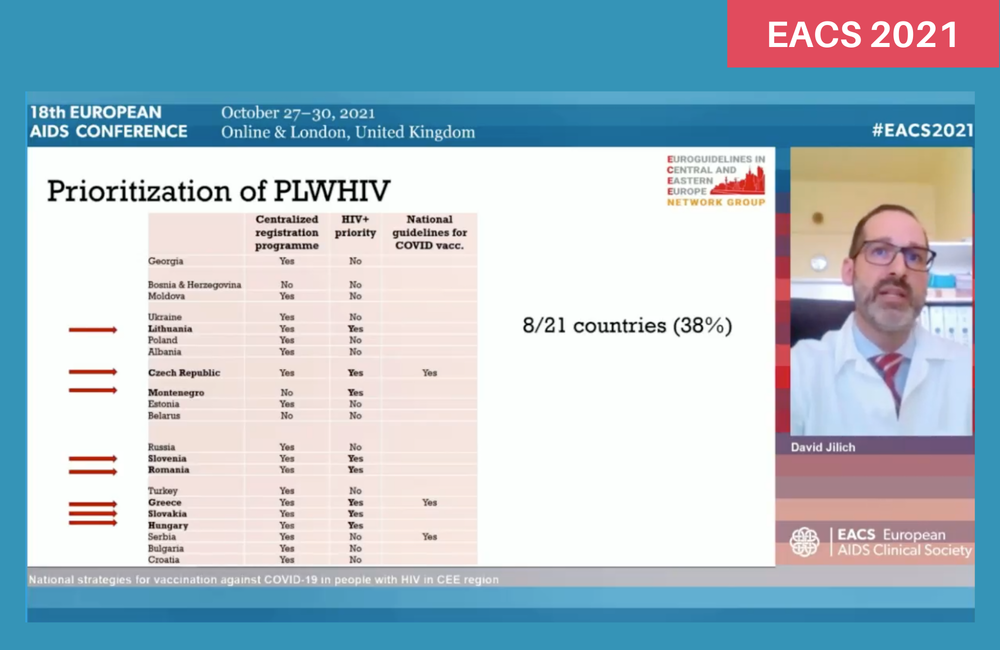 People with HIV are not being prioritised for COVID-19 vaccination in all countries in central and eastern Europe and vaccination rates in this vulnerable population remain low in some countries, Dr David Jilich of Charles University, Prague, told the 18th European AIDS Conference (EACS 2021) last week.
Although the Russian Sputnik V COVID-19 vaccine became available in some countries in the region as early as November 2020, less than half of people with HIV are estimated to have been vaccinated in some countries in the region, he said.
The Euroguidelines in Central and Eastern Europe Network Group carried out a survey between November 2020 and March 2021 to investigate vaccination policy in 24 countries of central and eastern Europe.
The region covers European Union members states in central Europe as well as countries in the Baltic, eastern Europe and the Caucasus, the Balkans and Turkey. HIV prevalence and the size of populations living with HIV vary widely, as do the quality of national health systems.
The survey investigated registration of vaccines, national vaccination programmes, prioritisation within the vaccination programme, national guidelines on vaccination of people with HIV, prioritisation of people with HIV for vaccination and plans for follow-up of people with HIV after vaccination.
Responses to the online survey were received from 22 countries, almost all from infectious disease specialists in HIV clinics.
The survey found that people with HIV had been prioritised for vaccination in only eight of the 22 countries and only three of the 22 countries had formulated guidelines for the vaccination of people with HIV.
The survey also found that only 12 countries had started vaccinating by mid-March 2021, reflecting difficulties in obtaining vaccine supplies and completing registration procedures. Georgia was the last country in the region to begin vaccinating, in mid-March, due to delays in vaccine supplies for the whole population.
Dr Jilich said that even in countries where people with HIV were prioritised, vaccination was sometimes delayed, as in the Czech Republic, which took three months to begin offering the vaccine to people with HIV as a priority group.
There was considerable heterogeneity in the vaccines used across the region. The AstraZeneca vaccine had been used in 15 countries by mid-March 2021, the Pfizer vaccine in 13 and the Moderna vaccine in eleven. However, subsequent research suggests that use of the AstraZeneca vaccine has declined.
Several other vaccines are also being used in central and eastern Europe, partly reflecting political links between countries.
Vaccination in the Russian Federation began on 1 November 2020, using the Russian-developed Sputnik V vaccine, also used in Belarus, Hungary, Montenegro and Serbia. Hungary and Serbia also employed the SinoFarm Vero-Cell vaccine, an inactivated whole-virus vaccine developed in China that does not require refrigeration. A second inactivated whole-virus vaccine, Coronavac, is being used in Turkey, which provided phase III trial sites for the product.
Dr Jilich presented further data on 13 countries that were able to provide up-to-date information, in a separate session sponsored by the Euroguidelines in Central and Eastern Europe Network Group. By September 2021, he told the conference, large variations in vaccine coverage persisted across the region. Whereas 85-90% of people with HIV have been vaccinated in Greece and the Czech Republic, coverage is 50% or less in Estonia, Hungary and Bulgaria, partly reflecting much lower levels of general population vaccination in some of these countries.
Third doses are already being offered to people with HIV in some countries in the region, but criteria vary. Whereas Serbia is recommending a third dose for all vaccinated individuals six months after the second dose, a third dose is only recommended for immunosuppressed recipients of the Pfizer vaccine in Bulgaria, for people with HIV with CD4 counts below 200 in Greece, and for immunosuppressed people or the over-50s eight months after the second dose in the Czech Republic.
The survey findings illustrate the heterogeneity of vaccination procedures in people with HIV, and highlight the need for further research on COVID-19 and vaccination in people with HIV across a wide range of settings in order to explore the implications of these variations and apparent inequalities in access.