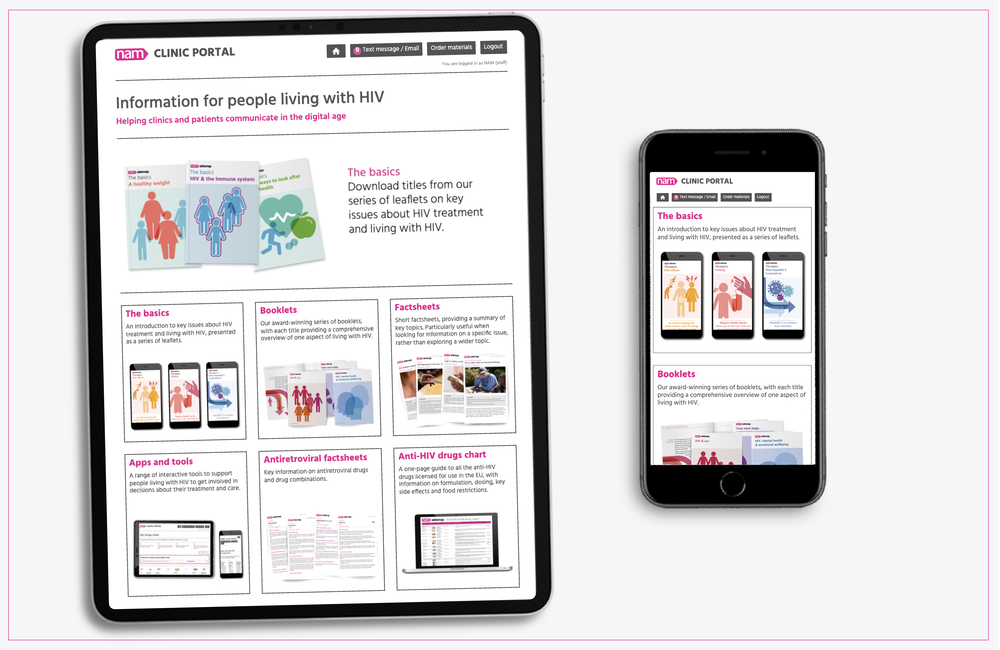 Over the last year, we have been working hard on updating our clinic portal, which is part of our patient information subscription scheme in the United Kingdom.
The clinic portal was launched in 2015 and houses digital versions of all our booklets and the leaflets from The basics series, as well as factsheets, interactive tools and resources in other languages for both clinics and patients. Clinics can also use the portal to order printed versions of our booklets and leaflets, share information with their patients by text message and email, and access animated slide presentations for their clinic waiting rooms.
UK-based HIV and GUM clinics that are members of our subscription scheme can access the portal. To find out if your clinic is registered or for information on joining the scheme, please email info@nam.org.uk.
If you are living with HIV in the UK, and your clinic is part of the scheme, you can have access too. Ask for login details to the portal and for our printed resources at your next clinic visit.
What's available on the clinic portal?
Not only have we published updated editions of our patient information resources on the portal, but we have also refreshed the design.
On the clinic portal you'll find:
New versions of a number of our leaflets from The basics series. These leaflets provide a simple and easy-to-understand introduction to key HIV issues. They are available to view online or print out as A4 leaflets. Clinics can also order printed versions of the previous editions of these leaflets. We will continue to update these over the coming months.
Recently updated booklets. The new edition of our booklet HIV & sex is now available and a new version of HIV & women will be published on the portal next month. Other updated titles are Your next steps, HIV, mental health & emotional wellbeing, and Taking your HIV treatment. All the booklets from our award-winning series are available to read online and clinics can also order printed versions.
Updated factsheets, which provide a summary of key HIV topics. These are all available to view online, download and print straight from the portal.
Our range of interactive tools to support people living with HIV to get involved in decisions about their treatment and care. In My drugs chart, patients can create a personal HIV drugs chart of their current regimen, with information on dosage, side effects and food restrictions. The Side effects checker can help patients talk to their healthcare team about any symptoms or side effects they are experiencing and in Get set for HIV treatment, patients answer a short set of questions about their health and feelings about starting treatment which they can discuss with their healthcare team.
Animated slide presentations based on our series of leaflets, The basics, can be uploaded to clinic waiting rooms or viewed online by patients.
Antiretroviral drug factsheets which provide key information on antiretroviral drugs and combinations and have all been updated in the last year. They are available to view online, download and print.
Our popular antiretroviral drugs chart, a one-page reference guide to the anti-HIV drugs licensed for use in the European Union, with information on formulation, dosing, key side effects and food restrictions. This can be viewed on the portal and printed versions are available to order by clinics.
Translated editions of a range of our resources in 24 languages. These include booklets, factsheets, drugs charts, and titles from The basics series.
Clinics can also order patient access cards: discreet, non-identifying cards which give patients access to the portal and are printed with the clinic's unique username and password. Clinics also have the option to send digital resources directly to patients via text message or email.
Over the next few months, we are planning on adding information videos to the portal, for both clinicians and patients.
Log in to the clinic portal: clinic.nam.org.uk
For more information on joining the scheme, email info@nam.org.uk