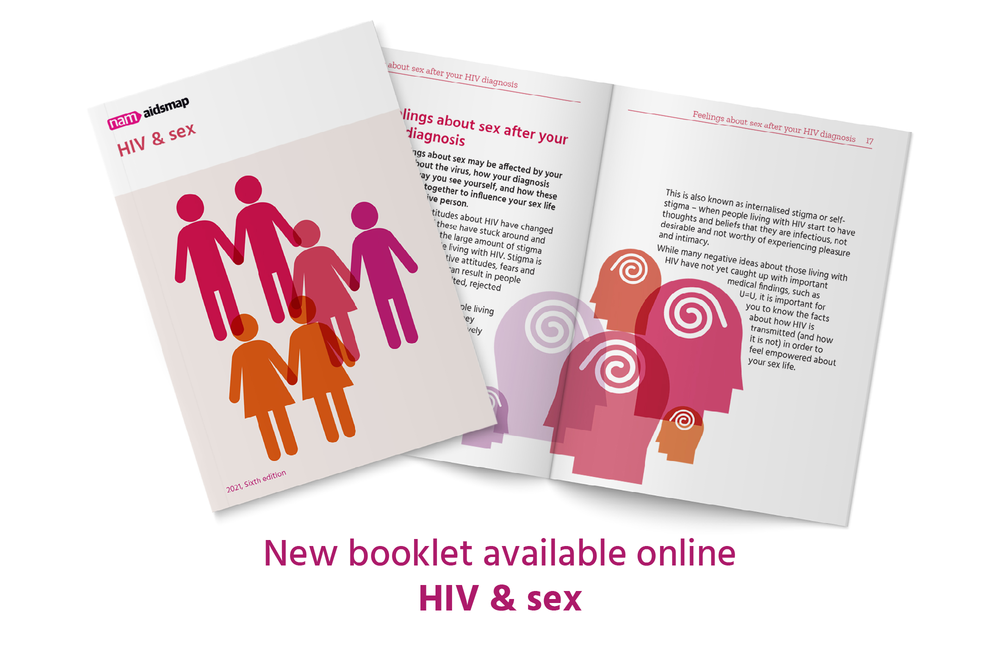 We are excited to announce the sixth edition of our HIV & sex booklet, updated from 2016. This latest edition of HIV & sex represents a distinct shift from the previous one, with significant changes throughout.
HIV & sex is available through our patient information scheme as an online booklet (PDF). Members can access it here: clinic.nam.org.uk
The most important of these changes is a consistent and clear focus on Undetectable = Untransmittable (U=U) as the most effective means of preventing sexual HIV transmission. While the previous edition made reference to the benefits of having an undetectable viral load, we were not able to confidently state, based on available evidence at the time, that a sustained undetectable viral load was able to fully prevent sexual HIV transmission.
However, much has changed since 2016 and the science is now overwhelmingly clear: a person living with HIV who is on successful treatment and has maintained an undetectable viral load for six months or more cannot pass the virus on through sexual contact. This latest edition of the booklet fully reflects important scientific findings from the past few years and shares these findings in a clear and accessible manner.
The U=U movement has continued to grow in recent years and this crucial message is being shared around the globe. The booklet explores what it means for a person living with HIV, as they navigate the intimate landscape of sex, desire and connection.
U=U is powerful message for a person living with HIV to internalise, and one that can be helpful in destigmatising sex for people living with HIV; the latest HIV & sex reflects this. The booklet speaks about the role U=U plays in different situations, including feelings right after receiving a diagnosis; sharing one's status with sexual partners; conception, pregnancy and birth; as well as its relevance when it comes to HIV criminalisation in the UK.
The booklet also gives information on other ways of preventing sexual transmission of HIV: pre-exposure prophylaxis (PrEP), post-exposure prophylaxis (PEP) and condoms. This is reflective of the many ways that those living with HIV and their HIV-negative partners can engage in safe, pleasurable sex that is free from worry and guilt, and that allows for a broader range of sexual expression.
The latest booklet also provides updated information on those topics that are not always easy to talk about, such as sexually transmitted infections and sexual problems including erectile dysfunction and pain during sex. It is not intended to replace discussion with healthcare providers but can provide guidance on what questions to ask or where to find help, if needed.
We would like to thank all the contributors and reviewers who assisted in the production of this latest edition of HIV & sex.
As we state in the booklet, "good sex, intimacy and physical pleasure are integral aspects of wellbeing." We hope that people living with HIV, their partners, professionals and those in search of information find it a useful and affirming resource.
NAM's Patient Information Subscription Scheme
UK-based HIV and GUM clinics that are members of our subscription scheme can share the new HIV & sex booklet PDF with their patients through the clinic portal via text message and email. Also available to share are leaflets in our series The basics, factsheets, interactive tools and other booklet titles.
You can also order printed versions of most of our booklets and The basics leaflets through the portal.
To find out if your clinic is registered or for information on joining the scheme, please email info@nam.org.uk.
Edit 15 November 2021: HIV & sex is now also available as a printed booklet. If you are a UK-based clinic and member of our Patient Information Scheme, you can order the booklet on the clinic portal. If you are a clinic patient, ask for a copy at your next clinic visit.