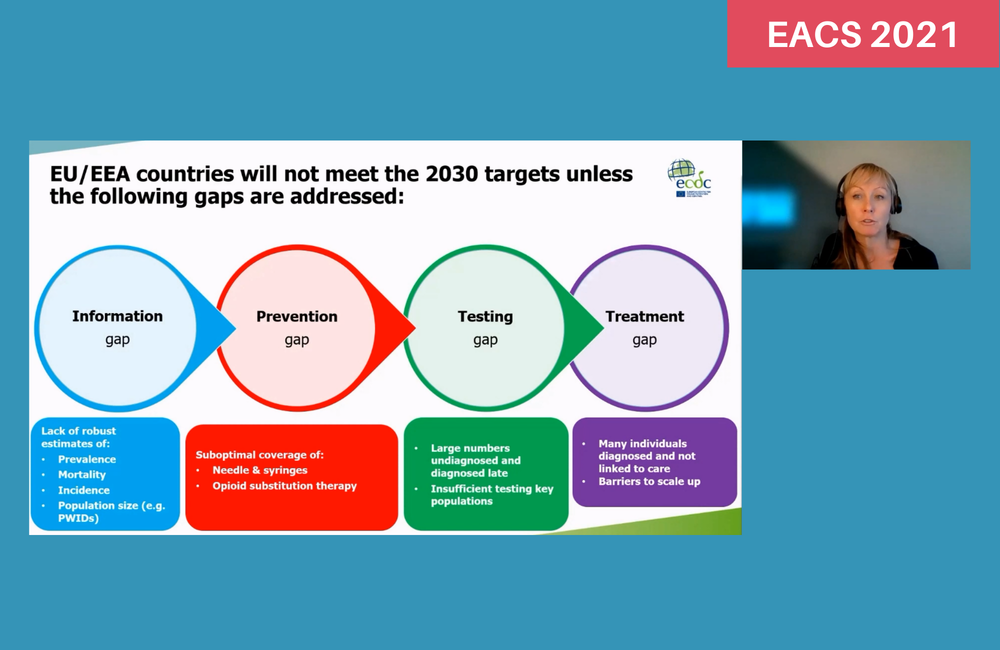 European Union states are far from reaching the global targets towards hepatitis C elimination, especially on harm reduction, testing and treatment, Dr Erika Duffell of the European Centre for Disease Prevention and Control (ECDC) told the 18th European AIDS Conference (EACS 2021) last week.
In 2016, the World Health Assembly agreed global targets for elimination of viral hepatitis as a public health problem by 2030. The targets aim to eliminate viral hepatitis by reducing new viral hepatitis infections by 90% and reducing deaths due to viral hepatitis by 65% by 2030.
Dr Duffell reviewed progress on elimination of hepatitis C, the predominant hepatitis virus in the European region.
ECDC estimates that 3.9 million people were living with hepatitis C in the European Union, United Kingdom, Iceland, Liechtenstein and Norway in 2015, around 6% of the global burden of hepatitis C (71 million).
Hepatitis C prevalence in the region is highly concentrated among several key populations, notably people who inject drugs. Estimates of prevalence among people who inject drugs range from 15 to 64% across various countries of the region. High hepatitis C prevalence has also been reported in people in prisons in some countries. Prevalence is also high in men who have sex with men, especially those living with HIV (1-5%), and in migrants (1-17%).
Measuring progress towards elimination in the region is challenging due to lack of data collection or national targets for elimination in some countries, Dr Duffell observed. In 2020, the majority of countries in the region still lacked up-to-date estimates of how many people are living with hepatitis C.
On blood safety, the region is making progress towards achieving targets for not remunerating blood donors (21 countries have achieved this target) and nucleic acid testing of blood donations (14 countries have achieved this target). But eight countries in the region were unable to report whether their blood donation systems had eliminated paid blood donation in 2016, illustrating the information gap in under-funded health systems.
Harm reduction coverage remains weak. By 2019, only three countries had achieved the target of distributing 200 syringes per drug user per year, while eleven countries had failed to achieve this level of coverage. Only nine countries reported that they had hit the target of providing opioid substitution therapy to 40% of high-risk opioid users. Only two countries – Luxembourg and Norway – had reached both these targets by 2019. Spain, Belgium and the Czech Republic were close to achieving both targets.
Data on the cascade of care remains limited. Less than half of countries in the region are able to report hepatitis C diagnoses for 2020. Although slightly more countries are able to report how many people were treated for hepatitis C in 2020, fewer than ten can report how many treated people achieved a sustained virologic response after treatment.
Only four countries in the region – France, Ireland, Italy and Sweden – were estimated to have diagnosed more than half of people living with hepatitis C by 2020. The prevalence of undiagnosed cases is especially high in Romania and Greece. Hepatitis C prevalence in Romania may be as high as 3%.
"COVID has shown what can be done on testing at a large scale and we need to channel some of that innovation into testing for hepatitis C," said Dr Duffell.
Although testing in harm reduction services and prisons is now routine in most European countries, testing is still not offered in prisons in several countries including Romania, Latvia and Greece. Another site that could be critical for diagnosing new cases is also being under-utilised; in 2019, only eight countries reported that more than half of people entering drug treatment facilities were tested for hepatitis C in the previous year.
Data are also lacking on late diagnosis. Only five countries were able to supply data in 2020 on hepatitis C diagnosed at the stage of decompensated cirrhosis or hepatocellular carcinoma. These estimates varied from 5 to 27% of all diagnosed cases.
Data on changes in hepatitis C incidence and prevalence are also lacking for most countries. Studies of incidence have been largely confined to people who inject drugs and no country in the region has evidence of a significant reduction in hepatitis C transmission among people who inject drugs between 2015 and 2019. Greece and Italy are the only countries to report marked reductions in hepatitis C antibody prevalence among people who inject drugs. In most other countries, prevalence has remained stable.
The European region is unlikely to achieve the elimination target of a 65% reduction in liver-related deaths by 2030 at the current rate of progress, according to ECDC projections. In 2015, ECDC estimates that 64,000 people with hepatitis C died of liver-related causes. To reach the 2020 target, deaths need to decline to 22,400 per year by 2030. But deaths due to liver cancer are still increasing.
Countries in the region need to make substantial investments in epidemiology and monitoring to understand their national epidemics, as well as scaling up harm reduction, testing and treatment, she concluded.
References
Duffell E. How far are we from eliminating hepatitis C in Europe? 18th European AIDS Conference, London, parallel session B2, 2021.