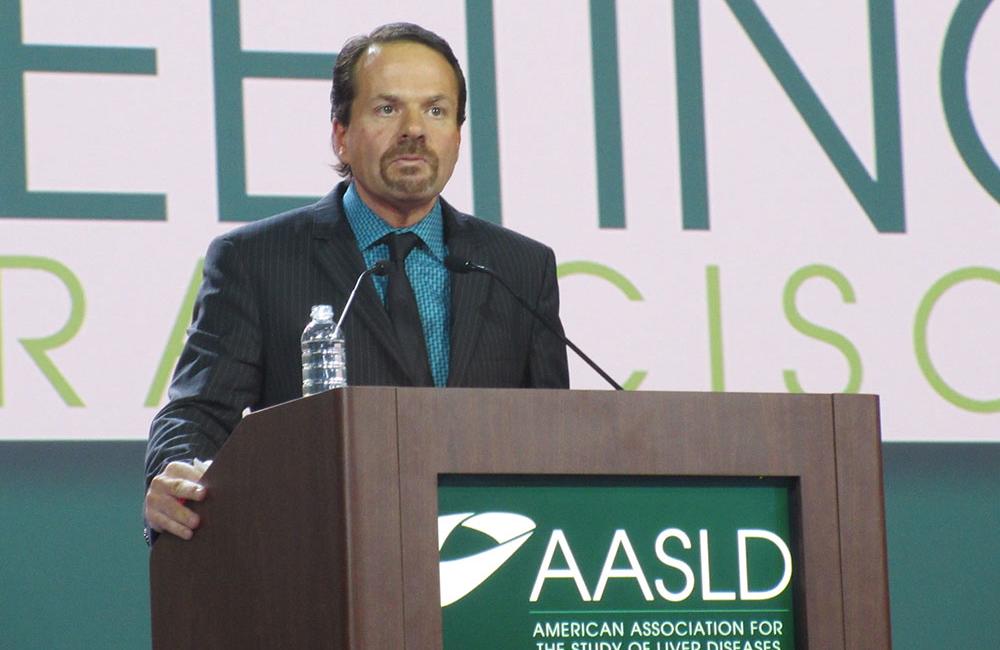 A triple combination of Gilead Sciences' sofosbuvir/ledipasvir (Harvoni) plus the experimental HCV protease inhibitor vedroprevir cured 96% of treatment-experienced, genotype 1 hepatitis C patients with cirrhosis, without the need for ribavirin, according to study findings presented on Tuesday at the 2015 AASLD Liver Meeting in San Francisco.
Interferon-free direct-acting antiviral (DAA) therapy works by targeting different steps of the hepatitis C virus lifecycle. Combining drugs from different classes produces more potent antiviral activity and reduces the risk of developing drug resistance.
Eric Lawitz of the Texas Liver Institute and colleagues evaluated a regimen consisting of agents from three different classes with or without ribavirin. Sofosbuvir is a nucleotide HCV NS5B polymerase inhibitor, ledipasvir is a NS5A inhibitor and vedroprevir (formerly GS-9451) is an investigational NS3/4A protease inhibitor.
Sofosbuvir/ledipasvir taken alone for 8 weeks is effective for many easier-to-treat people with HCV genotype 1. Some, however, do not achieve sustained response with such a short course of therapy, with prior treatment failure and cirrhosis being important predictors of suboptimal response. This phase 2 trial assessed whether adding a third DAA could improve response rates for more difficult-to-treat patients and allow them to shorten therapy.
This single-centre study included 46 participants with HCV genotype 1, including 70% with harder-to-treat subtype 1a. Two-thirds were men, almost all were white, 87% had unfavourable IL28B non-CC gene variants and the median age was 57 years. They had compensated cirrhosis without serious functional impairment as reflected in platelet counts and albumin levels. At baseline the mean HCV viral load was about 6 log10 IU/ml. All had previously been treated with pegylated interferon and ribavirin, but people with prior DAA use were excluded.
Participants in this open-label study were randomly assigned (1:1) to receive sofosbuvir/ledipasvir (400/90mg co-formulation) plus vedroprevir (80mg) once-daily, either alone or with ribavirin, for 8 weeks. Participants were then followed for 12 more weeks after the end of treatment to determine sustained virological response (SVR12), or continued undetectable HCV RNA.
SVR12 rates were 96% in the sofosbuvir/ledipasvir plus vedroprevir arm and 88% in the arm that also added ribavirin. There was one relapse in the first arm, and two relapses and one loss to follow-up in the ribavirin-containing arm.
Viral reduction was rapid after starting treatment, with most people having HCV RNA below of the limit of quantification by week 2  – faster than the decline seen with sofosbuvir/ledipasvir alone.
Viral sequencing revealed that 53% of participants had NS3 resistance-associated variants (RAVs) at baseline, while just 7% and 5%, respectively, had NS5A or NS5B RAVs. Presence of NS3 or NS5B RAVs did not have much effect on treatment response, but people with NS5A RAVs were less likely to achieve SVR12 (33% of patients with these RAVs vs 98% of those without).
Deep sequencing showed that two of the relapsers had the L31M NS5A RAV (associated with reduced susceptibility to ledipasvir) at baseline, and this was enriched post-treatment; one also had a Q30R variant at baseline but not post-treatment. The third relapser had no RAVs at baseline, but Q30R was detected post-treatment.
Treatment with sofosbuvir/ledipasvir plus vedroprevir was generally safe and well-tolerated, with no serious adverse events or discontinuations for this reason. The most common adverse events were headache, rash, sinusitis, cough and fatigue, all occurring more often in the ribavirin arm. One person taking the triple DAA regimen alone and two who added ribavirin developed anaemia (haemoglobin < 10 g/dl). There were no moderate or worse (> grade 2) ALT or AST liver enzyme elevations.
Ledipasvir/sofosbuvir plus vedroprevir for 8 weeks "achieved high SVR rates in treatment-experienced genotype 1 patients with cirrhosis" and "ribavirin did not enhance SVR rates," the researchers summarised.
Dr Lawitz noted that all three relapsers had HCV subtype 1a, but there were no other obvious factors associated with treatment failure. RAVs were the most important predictor, with two of the three relapsers having dual-class (NS3 and NS5A) RAVs at baseline.
The investigators concluded that "The three-drug combination of a NS5B nucleotide inhibitor + NS5A inhibitor + NS3 protease inhibitor may allow shortening treatment duration to 8 weeks for patients with more advanced liver disease."
References
Lawitz E et al. High rates of SVR in treatment-experienced patients with genotype 1 HCV infection and cirrhosis after treatment with ledipasvir/sofosbuvir and vedroprevir with or without ribavirin for 8 weeks. AASLD Liver Meeting, abstract 247, 2015.