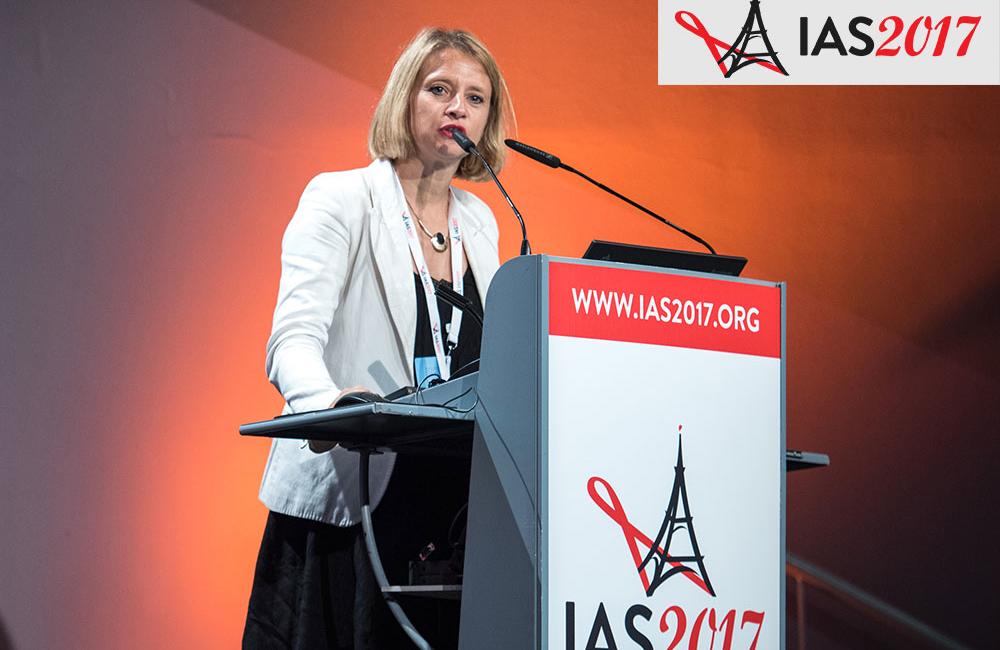 AbbVie's new pangenotypic regimen combining glecaprevir and pibrentasvir cured almost all HIV-positive people with hepatitis C co-infection in the EXPEDITION-2 study, according to a presentation on Monday at the 9th International AIDS Society Conference on HIV Science (IAS 2017) in Paris.
Treatment was highly effective, with 98% having continued undetectable HCV RNA at 12 weeks post-treatment (SVR12).
Glecaprevir/pibrentasvir (Maviret) is expected to be approved by the US Food and Drug Administration in August, and it has received a positive opinion from the scientific committee of the European Medicines Agency (the CHMP) and should receive European Union marketing approval within the next few months.
Direct-acting antivirals (DAAs) used in interferon-free regimens can now cure most people with all hepatitis C virus (HCV) genotypes in 12 weeks, and easier-to-treat people – such as previously untreated individuals with mild liver fibrosis – can usually achieve sustained virological response (SVR) with only 8 weeks of therapy. A shorter course of treatment could potentially improve adherence and reduce cost.
People with HIV/HCV co-infection did not respond as well as HIV-negative individuals to interferon-based therapy, and therefore this population has historically been considered difficult to treat. However, studies in the DAA era have shown that HIV-positive people generally do as well on interferon-free regimens as those without HIV – though it is important to take into account the potential for drug interactions between DAAs and antiretrovirals – and they are no longer considered a "special population." Yet European and US HCV treatment guidelines currently do not recommend shorter treatment for people with HIV and HCV co-infection.
Karine Lacombe of Saint-Antoine Hospital in Paris presented findings from AbbVie's phase 3 EXPEDITION-2 trial, which evaluated an 8-week regimen of glecaprevir/pibrentasvir for people with both HIV and hepatitis C.
Glecaprevir is an HCV NS3/4A protease inhibitor and pibrentasvir is an NS5A inhibitor. Both are pangenotypic, or active against all HCV genotypes. The two drugs have been co-formulated in a once-daily combination pill, to be marketed under the brand name Maviret.
Studies presented at this year's International Liver Congress showed that glecaprevir/pibrentasvir cured 99% of people with hepatitis C with multiple HCV genotypes, as well as 95% of people with hard-to-treat genotype 3.
EXPEDITION-2 enrolled 153 HIV-positive people with chronic hepatitis C in Europe, the United States and Russia. More than 80% were men and the median age was approximately 45 years. About two-thirds had HCV genotype 1 (mostly with harder-to-treat subtype 1a), followed by genotypes 3 (17%) and 4 (11%); a small number had genotypes 2 or 6.
Sixteen participants (10%) had liver cirrhosis, and most of the rest had absent or mild fibrosis. Nearly 20% were previously treated with interferon and ribavirin, and three had also used sofosbuvir (Sovaldi).
Study participants had well-controlled HIV infection with a median CD4 count of nearly 600 cells/mm3. All but nine were on antiretroviral therapy, and about three-quarters of treated people were taking the integrase inhibitors raltegravir (Isentress) or dolutegravir (Tivicay), which were shown to have minimal interactions with glecaprevir and pibrentasvir.
Participants without cirrhosis received glecaprevir/pibrentasvir for 8 weeks, while those with cirrhosis were treated for 12 weeks. Everyone received the study drugs and there was no placebo arm.
Treatment was highly effective, with 98% having continued undetectable HCV RNA at 12 weeks post-treatment (SVR12). The cure rate rose to 99%, with no virological failures, for people without cirrhosis who were treated for 8 weeks.
A single patient with HCV genotype 3 and cirrhosis, who reported less than complete (85%) adherence, experienced virological failure during treatment. Another participant had missing data at 12 weeks post-treatment, but returned for care at 24 weeks post-treatment and was found to be cured.
Glecaprevir/pibrentasvir was generally safe and well tolerated. Adverse events were similar to those seen in studies of HIV-negative people. One participant with cirrhosis stopped treatment early due to an adverse event that was not considered drug-related (stroke and brain haemorrhage). The most common adverse events were fatigue, nausea, headache, and nose and throat inflammation.
"These results suggest that the glecaprevir/pibrentasvir regimen could be the first 8-week, pangenotypic treatment option for HCV/HIV-1 coinfected patients without cirrhosis," the researchers concluded.