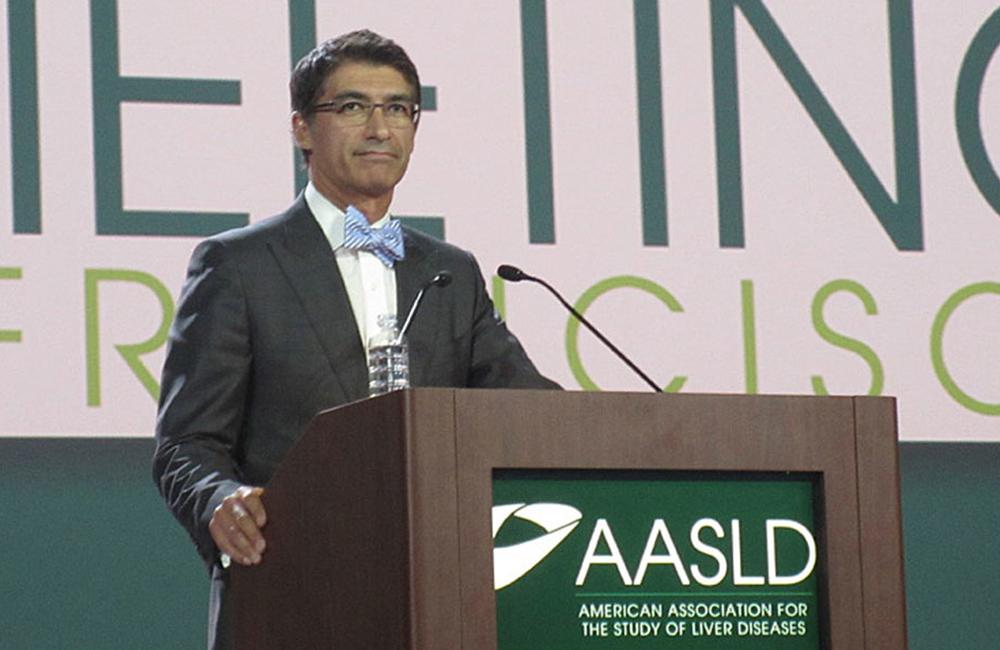 A combination of two experimental direct-acting antivirals developed by AbbVie cured 97 to 100% of non-cirrhotic people with genotype 1 hepatitis C infection in a mid-stage phase 2 study presented this week at the 2015 AASLD Liver Meeting in San Francisco.
The SURVEYOR-1 study assessed the effectiveness and safety of two experimental next-generation direct-acting antivirals. ABT-493 is an HCV NS3/4A protease inhibitor active against all genotypes of hepatitis C. ABT-530 is a NS5A inhibitor also active against all genotypes of HCV. Both agents are active against common variants that confer resistance to first-generation agents of their classes. ABT-493 is more potent against genotype 3 than other HCV protease inhibitors, including products being developed by Merck (grazoprevir) and Gilead (GS-9451), and ABT-530 has demonstrated higher potency than most other NS5A inhibitors across all genotypes.
The new experimental combination is not only active across all genotypes, but does not need ritonavir boosting to maintain adequate levels of its protease inhibitor component. This minimises the potential for drug-drug interactions, which are a concern with any ritonavir-containing treatment due to the agent's interaction with a wide range of medications metabolised through the p450 CYP3A4 liver enzyme pathway.
The study compared two doses of ABT-530 (40 or 120mg) combined with 200mg of ABT-493, both dosed orally once a day, for 12 weeks.
The study recruited 79 previously untreated people or previous null responders to pegylated interferon and ribavirin, all with genotype 1 infection and no evidence of cirrhosis. Participants were randomly assigned to the ABT-530 40mg (n = 39) or 120mg arm (n = 40).
Participants were evenly matched in most respects, with an average age of 53 years, 64% previously untreated and median HCV viral load of 6.6 log10 IU/ml. Those in the 120mg arm were more likely to have F3 fibrosis (32% vs 18%) and somewhat more likely to be male (58% vs 46%) and to have genotype 1a infection (85% vs 77%).
After 12 weeks of treatment 97% of the 40mg arm and 100% of the 120mg arm had a sustained virologic response 12 weeks post-treatment, commonly defined as a cure. One participant experienced a virologic relapse after completion of treatment in the 40mg arm. This patient showed no evidence of non-adherence nor baseline resistance mutations that might have contributed to treatment failure, but had two NS5A resistance mutations conferring high-level resistance to ABT-530 at relapse. All treatment-experienced patients achieved SVR12.
Treatment was well tolerated in the vast majority of participants. One grade three severe adverse event was reported in the 40mg arm (metastatic prostate cancer) but this was not considered to be related to treatment. Two severe adverse events occurred in the 120mg arm. One case of elevated blood glucose in a man weighing 115kg was not considered to be related to treatment, but a case of decreased blood phosphorus was considered study drug-related, but in all three cases participants achieved SVR 12.
In a subsequent phase of the SURVEYOR-1 study, 34 participants with genotype 1 received 8 weeks of treatment with ABT-530 (120mg) combined with 200mg of ABT-493.
Study participants were 56% male, 71% had genotype 1a infection and 15% had F3 stage fibrosis. 88% were previously untreated, 12% were null responders to previous treatment with pegylated interferon and ribavirin.
At 12 weeks post-treatment 97% (33/34) achieved a sustained virological response. One participant discontinued the study at treatment week 4 due to adenocarcinoma, unrelated to study drugs. No drug-related serious adverse events were reported. The most frequent adverse event (> 5 percent of patients) was fatigue.
On the basis of these results AbbVie will test 8 and 12-week regimens in six phase 3 studies due to start this month, using a 120mg dose of ABT-530 and 200mg of ABT-493. 
References
Poordad F et al. 98%–100% SVR4 in HCV genotype 1 non-cirrhotic treatment-naïve or pegylated interferon/ribavirin null responders with the combination of the next generation NS3/4A protease inhibitor ABT-493 and NS5A inhibitor ABT-530 (SURVEYOR-1). AASLD Liver Meeting, San Francisco, abstract 41, 2015.
Poordad F et al. 100% SVR4 in HCV genotype 1 non-cirrhotic treatment-naïve or -experienced patients with the combination of ABT-493 and ABT-530 for 8 weeks (SURVEYOR-I). AASLD Liver Meeting, San Francisco, abstract LB-14, 2015.