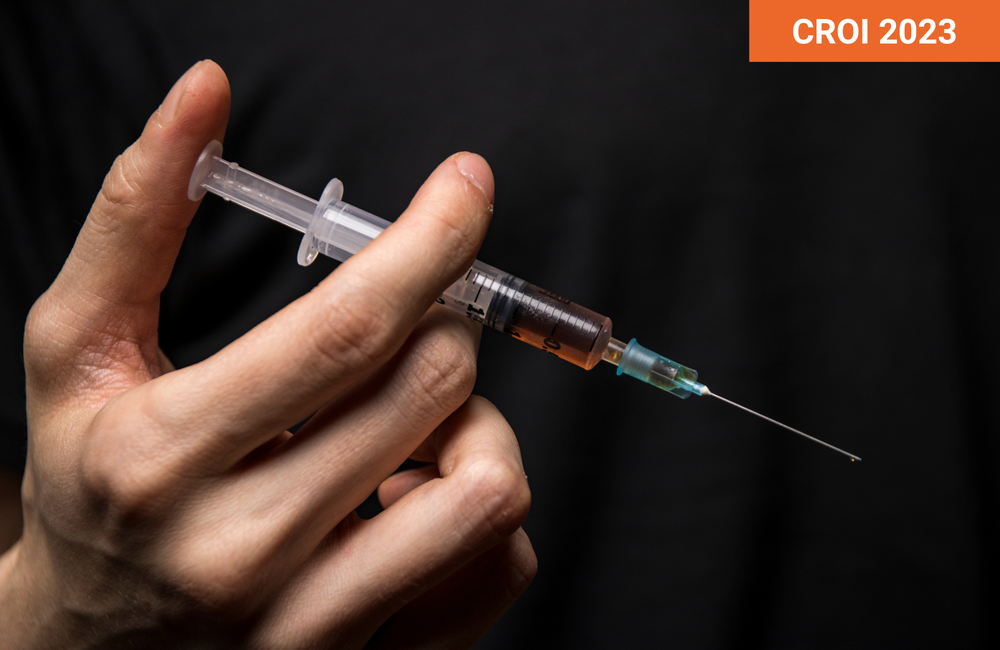 In a randomised controlled trial conducted with HIV-positive people who inject drugs in St Petersburg, Russia, three simple strategies – offering immediate HIV treatment at hospital detox services, offering the opiate antagonist naltrexone as an aid to recovery from opiate dependence, and peers providing monthly 'strength-based case management' – resulted in a doubling of participants with undetectable viral loads compared to the usual standard of care. 
Participants who were offered the enhanced care package also had better retention in HIV care compared to the standard of care and experienced rises, rather than falls, in their CD4 count. And although only a minority achieved abstinence from opiate use, three times as many did as in the standard of care. 
Dr Jeffrey Samet of Boston University presented the results of the second part of the Linking Infection and Narcology Care (LINC-II) study to the 30th Conference on Retroviruses and Opportunistic Infections (CROI 2023) in Seattle last month.
Dr Samet is Principal Investigator in URBAN-ARCH, an innovative research consortium of scientists in Boston, Russia and Uganda that probes the links between drugs, alcohol and HIV. For LINC-II, he has been working with researchers at Pavlov State University in St Petersburg, and in particular the team led by Dr Evgeny Krupitsky, who is head of Narcology Research at St Petersburg Psychiatric Hospital. 
As aidsmap outlined in January, Russia still has one of the largest HIV epidemics in any non-African country, with 1.4 million people living with the virus and six times as many new HIV diagnoses per head of population last year as any other country in Europe. 
Dr Samet said that 28% of these new diagnoses were among injecting drug users. Only 56% of people with HIV in Russia are on antiretroviral therapy (ART) and the figure is considerably lower among people who use drugs.
This is partly due to the stigma against drug users, but also two other factors. One is that, as in many other ex-Soviet countries, HIV and opiate dependency are treated by completely separate parts of the health system, by different specialists and in different hospitals. People stay in narcology hospitals to detox from opiates but only on discharge are they given information on how to see an 'infectionist' and obtain ART at a different hospital.
 The other factor is that harm reduction using opiate agonist therapy (also known as opiate substitution therapy or medication for opioid use disorder) is not legal in Russia. Opiate agonists are synthetic opiates such as methadone and buprenorphine which are offered to people who are dependant on street heroin and other illegal drugs, as a legal and less toxic substitute. Being taken orally, they also reduce the risk of HIV infection and other consequences of needle use.
LINC-II offered two interventions aimed at improving these situations. Firstly, people in the intervention arm were offered a 30-day supply of ART while they were in detox at the narcology hospital and were linked to the local HIV clinic to obtain more.
Secondly, they were offered the drug naltrexone, given first as an injection while in detox and then as four implants, each lasting three months over the course of the year-long study.
Naltrexone is an opioid receptor antagonist, blocking the effects of heroin and other opioids, and is a less powerful and slower-onset cousin of the overdose-reversal drug naloxone. It slowly decreases cravings for opioids after a number of weeks.
However a disadvantage of naltrexone is that, in order to avoid very severe withdrawal symptoms, it requires people to undergo full detoxification from opioids before it is initiated – unlike opiate agonists, which can be given when withdrawal symptoms first appear. People undergoing heroin recovery on naltrexone also experience diminished tolerance to opiates, which means they may overdose if they start taking street opiates again. Naltrexone is listed as an opiate dependency treatment by the World Health Organization, but as a second-best to opiate agonists. 
"When designing the study, we tried to be the exception [to Russian practice]," said Dr Samet, "and really pushed for methadone or buprenorphine. But is just wasn't possible."
The other component was monthly sessions of 'strengths-based case management', essentially life and health skills counselling, provided by volunteers who were living with HIV and in recovery from opiate dependency themselves.
There were 225 people altogether in the LINC-II study, 111 in the enhanced intervention arm and 114 in the standard-of-care arm. 'Standard of care' means opiate withdrawal in hospital with standard meds to reduce withdrawal symptoms, but without naltrexone or peer support, and with referral to HIV clinics only after discharge.
Sixty per cent of participants in LINC-II were men, their average age was 37, 31% were employed, and though their average length of time since their HIV diagnosis was ten years, only one-third had ever taken ART.
In the intervention arm, 74% initiated ART within a month of entering the study and 90% did so at some point during the year. In contrast only 11% in the control arm initiated ART in 28 days.
The peer case-management sessions were very popular, with 100% attending at least one session, 75% at least five, and 50% all ten. In contrast only 57% actually received a naltrexone injection at baseline, and very few came back for the implants: only 9% received all four implants.
Whereas only 23% of people in the control arm had undetectable viral loads 12 months after the start of the study, twice as many – 47% – achieved undetectability in the intervention arm.
CD4 counts rose by an average of 56 in the intervention arm during the year but declined by 8 in the control arm, though this was not statistically significant. And 51% in the intervention arm stayed in HIV care (defined as two HIV clinic appointments in the two consecutive six months of follow-up) during the year compared to 35% in the control arm.
The compound outcome of undetectable viral load and abstinence from opiate use in the previous 30 days was achieved, at six months, by 20% in the intervention arm and 9% in the standard-of-care arm. This difference was not statistically significant. But by 12 months it had increased to 28% in the intervention arm and decreased to 6% in the control arm, and this was statistically significant.
The study, Dr Samet said, was as much about probing the limits of what is legally and structurally possible in Russia in bringing together HIV and drug-dependency treatment, and testing what components of it users responded best to, as it was in measuring the specific treatment benefits. Despite the fact that LINC-II finished (as scheduled) in March last year just after the start of the war with Ukraine, Samet said, after 20 years' collaboration with Russian researchers, he retains optimism about HIV treatment improving there.
"Life is not easy for Russian opiate users, but things have improved for them," he said. "The authorities were willing to get infectionists doing clinics in the narcology hospital. It's new for them to give ART on admission, when people are still withdrawing. They do adopt innovations when the cost does not seem exorbitant, and cost-effectiveness evaluation of LINC-2 is currently underway. I am still optimistic that in the end the future will involve methadone or buprenorphine therapy."
References
Samet JH et al. Suppressing viral load in people with HIV who inject drugs in Russia: LINC-II RCT. Conference on Retroviruses and Opportunistic Infections, Seattle, abstract 203, 2023.