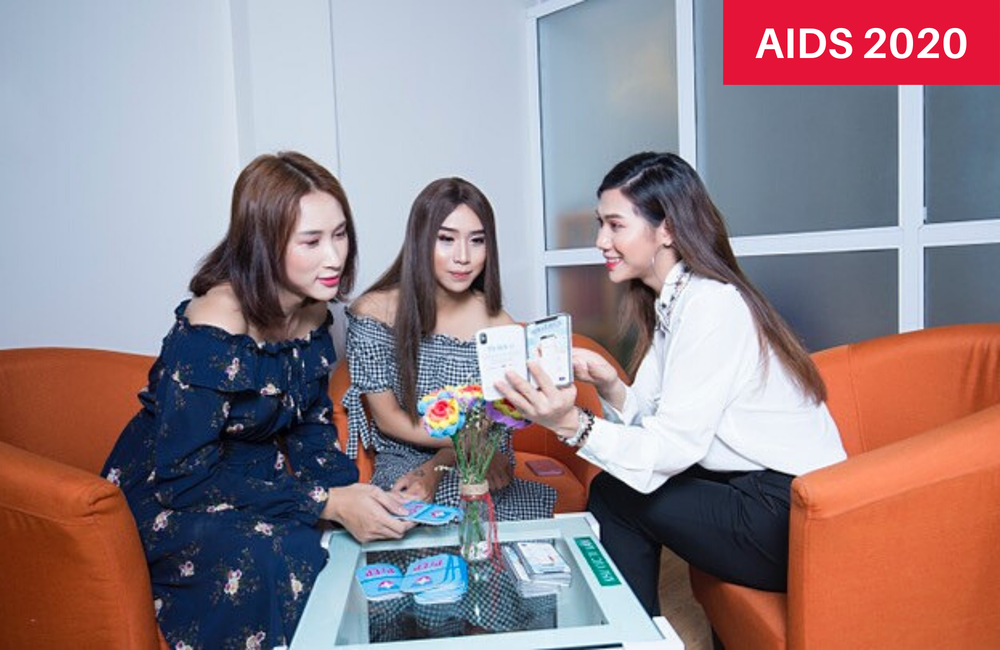 A PrEP programme in Vietnam set up for transgender women, and run largely by them, has seen the number of women enrolled in the programme increase from three in the second quarter of 2017 to 409 in the second quarter of 2020.
Retention in the programme, which was lagging behind a similar programme for gay and bisexual men until last year, has now exceeded that in the gay men's programme, with 98% of clients returning for their quarterly PrEP refills.
Dr Kimberly Green of the HIV and TB programme of the global public health NGO PATH (funded for this programme by the US international development agency USAID) presented the findings to the 23rd International AIDS Conference (AIDS 2020: Virtual) earlier this month.
The burden of HIV in Vietnam is concentrated rather than generalised, but is unusually evenly spread among the key affected populations – gay and bisexual men, transgender women, people who inject drugs, and female sex workers. HIV prevalence in transgender women is 18%. Modelling in 2013-14 showed that targeting HIV prevention at certain key groups could drastically cut HIV transmission generally.
Partly due to this, the Vietnamese government and international funders supported the establishment of 'one-stop-shop' clinics for key affected populations. The model is that leaders from the key affected populations are given national and international funding and managerial guidance to set up one-stop-shops for all services for people ranging from disadvantaged groups to entrepreneurs. In line with the country's "socialist-oriented market economy" philosophy, they largely own and run their own initiatives.
The idea of one-stop shops for key-population, community-led HIV and healthcare services has been developed since 2014, with the first clinics opened in 2016. These clinics offer integrated services for HIV (outreach, testing, PrEP and antiretroviral therapy), STIs including viral hepatitis, TB and mental health. There are currently 12 one-stop shops in Vietnam and five of them – four community-owned ones in Ho Chi Minh City and Hanoi, and one trans-friendly private clinic in Hanoi – offer community-run services for transgender women.
PrEP was available to one-stop-shop clinics from March 2017, and it was realised early on that PrEP needed better promotion among the transgender population. A survey of trans women at that time found that 61% of them considered themselves at high risk of HIV and another survey in 2018 found that by this time, 69% had heard of PrEP, but only 7.6% had ever used it.
"Transgender people need to be engaged as service providers, preferably in clinics that were transgender-owned and led."
The average number of trans women who had started PrEP in any one month up to the end of August 2018 in the one-stop-shop clinics was 3.4, which Green described as "very low enrolment". The cumulative number enrolled increased from three in the whole of the first quarter PrEP was available to 61 by the third quarter of 2018, but was plateauing. This was different from the situation in gay and bisexual men, where PrEP use was accelerating.
At this point transgender women leaders, key population-clinic staff and the PATH Healthy Markets Team formulated a new approach to PrEP provision for transgender women. Community services had found that fear both of side effects in general, but also specifically of PrEP interfering with levels of gender-affirming hormones, were deterring many trans women from starting PrEP. The approach therefore was to directly address these concerns in online and printed information provision, peer PrEP counselling given online and in-person by transgender peer PrEP experts, and small networking and engagement events.
The Tangerine Clinic of Bangkok, south-east Asia's first dedicated service for trans people, was also invited in to conduct, via its 'Tangerine Academy', a series of trainings for PrEP clinic staff and community providers in transgender-competent care.
As well as the ongoing HIV/STI services, others were added: routine hormone-level testing and advice on safe and effective use; referral to gender-affirming surgery; and substance use and mental health assessment and support. Transgender women are employed by the clinics as lay health workers and provide dedicated counselling and support, in collaboration with four existing NGOs for trans people.
This has resulted in an immediate increase in PrEP initiations to around 20 enrolments per month in the first quarter of 2019, and a near-doubling of cumulative enrolments every six months, from 132 in the second quarter of 2019, to 266 in the fourth quarter, to 409 up to March 2020. The COVID lockdown meant that there were only seven new enrolments in April and May 2020, however.
The three-monthly refill rate has also improved among transgender women. From October 2018 to September 2019, 74% of transgender women returned for three-monthly refills and testing compared with 87% of gay and bisexual men. But in the first quarter of 2020, while the return rate in gay and bisexual men had improved marginally to 90%, it improved dramatically to 98% among transgender women.
These improvements show that transgender-competent care and addressing underlying concerns about PrEP are essential for accessible services, Green told the conference. Transgender people need to be engaged as service providers, preferably in clinics that were transgender-owned and led.
She added that the promising results so far are being used to inform the development of national guidelines in Vietnam on HIV service delivery and expansion among transgender populations.
References
Green K et al. Trans-forming PrEP in Vietnam: rethinking service delivery to enhance access among transgender women. 23rd International AIDS Conference, abstract OAD0603, 2020.