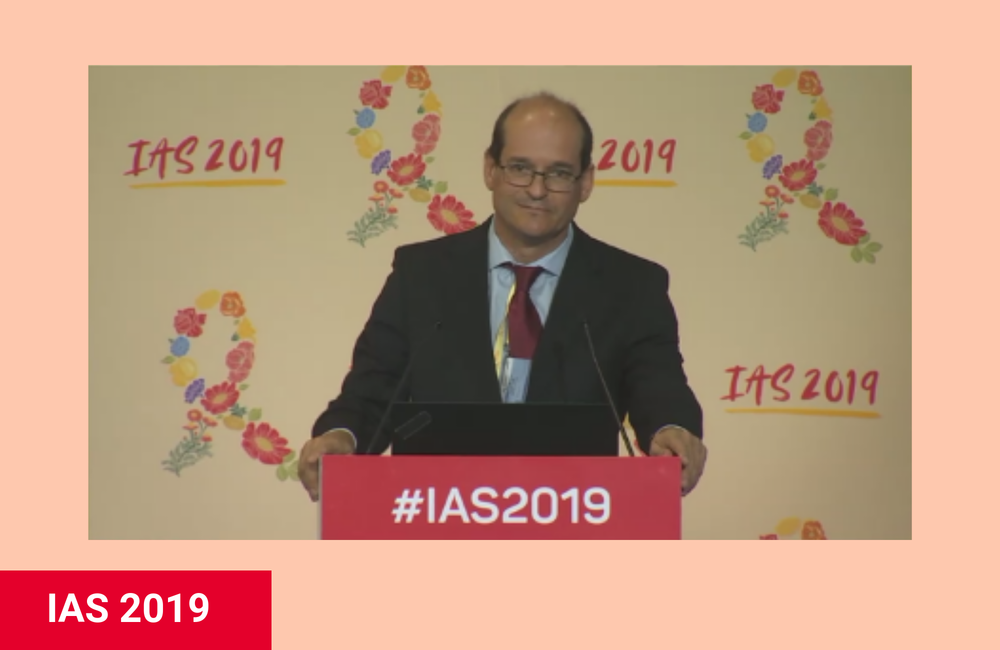 Dolutegravir-based treatment was just as effective as efavirenz-based treatment in a large randomised trial in South Africa, and treatment with the older and cheaper formulation of tenofovir was just as effective and well tolerated as treatment with a newer formulation, according to results of the ADVANCE study presented on Wednesday at the 10th International AIDS Society Conference on HIV Science (IAS 2019) in Mexico City.
However, the study also found that a high proportion of people taking dolutegravir with tenofovir alafenamide fumarate (TAF, the newer formulation of tenofovir) experienced substantial weight gain and were continuing to gain weight when they reached the 96-week follow-up point.
The ADVANCE study was designed to investigate the use of a regimen containing dolutegravir and TAF in South Africa. World Health Organization (WHO) guidelines recommend the use of dolutegravir and TAF in resource-limited settings and, along with donors, WHO is encouraging lower- and middle-income countries to switch to dolutegravir-based treatment.
Dolutegravir-based treatment is now recommended by WHO for all adults and has several advantages. Dolutegravir is highly potent and virological failure resulting in drug resistance is rare.
In contrast, resistance to non-nucleoside reverse transcriptase inhibitors (NNRTIs) such as efavirenz is widespread in sub-Saharan Africa. A South African survey conducted in 2017 found that one-in-six South Africans tested in a door-to-door sampling study had a detectable viral load and NNRTI resistance. They had acquired resistance to an NNRTI either through sexual transmission of drug-resistant virus, through exposure to nevirapine as treatment for prevention of mother-to-child HIV transmission or through failure of NNRTI-based treatment.
Using more durable regimens is likely to improve viral suppression in sub-Saharan Africa and reduce the prevalence of drug resistance over time.
Dolutegravir-based treatment has the potential to be cheap and well-tolerated. TAF also has the potential to reduce kidney toxicity and bone loss associated with the older formulation of tenofovir, tenofovir disoproxil fumarate (TDF), but its impact on these toxicities in African populations requires further research.
Another attraction of using dolutegravir and TAF together is the reduced pill size, as doses of both drugs are small in comparison to efavirenz or the older formulation of tenofovir.
The ADVANCE study recruited adults and adolescents over the age of 12 years with no history of antiretroviral therapy in the previous 30 days. Pregnant women, people with tuberculosis and people with reduced kidney function (creatinine clearance <60ml/min) were excluded from the study.
The study randomised 1035 participants to one of three arms:
TAF/emtricitabine/dolutegravir,
TDF/emtricitabine/dolutegravir, or
TDF/emtricitabine/efavirenz (600mg).
The primary study outcome was treatment failure at 48 weeks, defined as HIV-1 RNA >50 copies/ml, discontinuation or missing data.
Professor François Venter of Wits Reproductive Health and HIV Institute, University of Witwatersrand, presented 48-week results from the study.
The study population was approximately 60% female, had median CD4 counts of between 322 cells/mm3 and 349 cells/mm3. Approximately 20% had a viral load above 100,000 copies/ml.
Intent-to-treat analysis showed no significant difference between the three combinations in the proportion with viral load below 50 copies/ml at week 48 (TDF/emtricitabine/dolutegravir 85%, TAF/emtricitabine/dolutegravir 84%, TDF/emtricitabine/efavirenz 79%).
Age and employment status were strongly associated with viral suppression, said Venter. Whereas very high rates of viral suppression were seen in older people in employment, the rate of viral suppression in young unemployed people was little more than 60%, reflecting the structural factors that affect viral suppression and engagement in care in South Africa.
Virological resuppression was common for those who experienced virological failure during the study. In most cases, virological failure consisted of viral rebound below 1000 copies/ml but virological resuppression after week 48 in the dolutegravir arms was also achieved by people who experienced adherence problems and viral rebound above 10,000 copies/ml. Intensified adherence support achieved viral resuppression in almost all cases in the dolutegravir arms and in 7 of 16 cases in the efavirenz arm.
Eight cases of drug resistance occurred in the study, seven in the efavirenz arm. Three participants in the efavirenz arm developed NNRTI resistance and four developed nucleoside reverse transcriptase inhibitor (NRTI) resistance as a result of virological failure. One participant in the TDF/emtricitabine/dolutegravir arm developed NRTI resistance.
Discontinuation due to adverse events occurred more frequently in the efavirenz arm (ten participants, five due to liver enzyme elevations, two due to rash and one neuropsychiatric) than in the dolutegravir arms (one in the TAF arm due to liver enzyme elevation).
DEXA scans were carried out for all participants to measure bone mass density. Participants in the TDF groups had lower lumbar spine and hip bone mass at week 48. Although laboratory markers of renal impairment above the normal range were detected more frequently in the tenofovir groups, there was no significant difference in renal adverse events.
A questionnaire revealed no problems with sleep or anxiety associated with any study drugs.
Participants in the TAF arm gained more weight during the study and were significantly more likely to become obese during the follow-up period. These results were presented by Dr Michelle Moorhouse in a session on Monday.
Venter said that although the study confirmed the high virological efficacy of dolutegravir-based regimens in a South African setting, the findings of the ADVANCE study showed the complexity of introducing dolutegravir-based regimens. "It's reassuring that efavirenz did well in this study as efavirenz-based regimens will be needed for the foreseeable future to deal with the weight gain issue," he said.