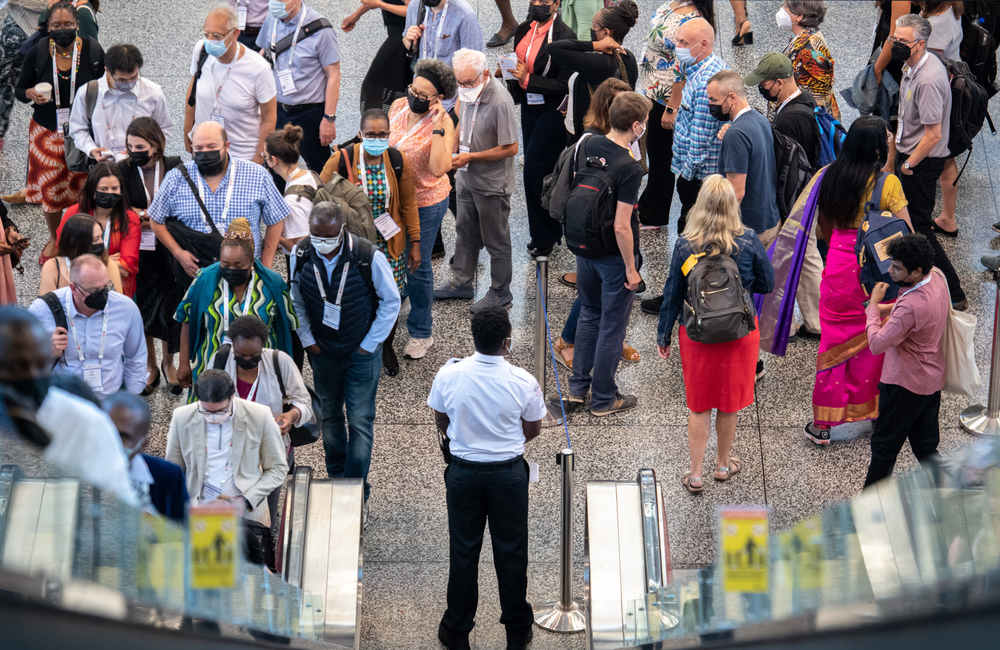 Visa issues prevented scores of scientists and activists from attending last year's International AIDS Conference in Montréal after the Canadian government allegedly failed to fulfill commitments to fast-track applications. Now, the International AIDS Society (IAS) is changing how host cities are selected, but it may take radical transparency to help make more equitable access a reality.
26 July 2022 was an unseasonably warm but clear night in Johannesburg, South Africa. In the international departures wing of the local airport, a dozen or so travelers sat perched on tall bar stools sipping local ciders and beers at the only open concession stand. Although COVID-19 restrictions had eased, the terminal hall was eerily empty except for three or four gates. Still, the waiting area for flight 187 to Newark was filling up fast.
Although the plane was bound for the United States, many on the flight were, in fact, destined for Montréal and the AIDS 2022 International AIDS Conference, which was returning to Canada after a 16-year hiatus.
Tian Johnson, head of the non-profit African Alliance, and the organisation's coordinator Anna Matendawafa were set to join them, but with just over an hour before boarding, the pair hadn't even made it through security. The Alliance works on issues such as HIV prevention and community participation, including as part of clinical trials.
"We'd arrived at the airport and basically joined the check-in queue," remembers Johnson, who uses the pronoun they, "and before we even got to the counter, these two officials came to us and said, 'Can we see your passports?'"
Johnson and Matendawafa had spent months trying to secure Canadian visas to attend the International AIDS Conference in Montréal. In fact, they had only been granted a visa about 48 hours before their flight — and coincidentally, they say, after Johnson appeared on Canadian television to speak about visa delays and rejections plaguing the conference.
Now finally at the airport, Johnson and Matendawafa handed over their documents. Their hearts sank as they watched what Johnson says was a look of disgust overcome one of the officials.
"This official said — and I will never forget this — he raised his hand and he pointed to all of the other airlines," Johnson explains.
"Do you see any of these airlines?" Johnson remembers the official asking. "Go there. They will allow you to board. Not us."
After their Canadian visas arrived late, Johnson and Matendawafa had been bumped from their original flight, which would have transited through Dubai. With few open flights, the pair managed to find seats on flight 187 to Newark, one of the airports serving New York. From there, it would be a short trip to Montréal.
But they had not had enough time to apply for US transit visas. Although Johnson suspects that's why they were not permitted to board, they say airport officials refused to provide them with a reason: "None of this would have happened if we didn't have to go through what we went through in getting a Canadian visa that we applied for months in advance."
As Johnson and Matendawafa stood stunned, the official's colleague — who had been standing to one side — looked at the pair, Johnson says, and chirped: "Oh, yeah, these people [American officials] don't want to see African passports."
Moving conferences to the global south doesn't always solve the problem
From Durban to Amsterdam, visa concerns have plagued every International AIDS Conference in the last ten years. Still, the rejections and months-long delays surrounding Montréal prompted global outrage — and made international headlines. "Organizers Blame 'Systemic Racism' for AIDS Conference Visa Fiasco," read an article from the news service, Medscape.
In Montréal's wake, the IAS is rethinking the way it solicits bids from potential host cities for not only the International AIDS Conference but also its other meetings: the IAS Conference on HIV Science and the HIV Research for Prevention conference (R4P). The society has already announced venue selection for all three of its conferences will now rotate equally between five regions: Africa, Asia Pacific, Europe, Latin America and the Caribbean, and North America.
IAS is expected to announce more changes in coming weeks. Still, many activists say the society must go further — demanding written guarantees from host countries that attendees' visas will be fast-tracked.
It may take much more.
Only 15% of the world's population benefits from liberal visa policies, according to a review of nearly four decades of visa policies between 1973 and 2013. Contrary to popular belief, the study published in the journal Population and Development Review, found there had been no steady increase in the number of restrictions.
"[Globally, restrictions] seem to mirror a structural inequality in immigration and travel rights: travel visas are generally required for citizens of countries in the 'Global South' who are often perceived by government officials and policy makers in the 'Global North' as an immigration risk," researchers write in the paper. Still, they warned that simply focusing on a North-South divide obscured regional shifts in power — and passport politics.
"Realities," they warn, "seem to be more complex."
For instance, Morocco does not require visas from travellers from Senegal, Mali, and countries from the European Union, researchers found, but asks for visas from many other African and Arab countries. Similarly, South Africa offers visa-free entry for many of its neighbours, but requires visas for many citizens of other African countries such as Nigeria, Rwanda, and the Democratic Republic of Congo.
Johnson admits that moving the International AIDS Conference to a low or middle-income country doesn't always solve access issues.
"Even when this conference was in Durban, South Africa… some Africans couldn't access it, so what are we saying?" they explain. "Our issue as activists has always been that the IAS — as a matter of principle and whether it's in Durban or Canada — should not be accepting pitches from countries that are not providing written, absolute guarantees… that delegates will receive absolute priority when it comes to accessing visas."
Canada allegedly failed to deliver on promises to fast-track AIDS 2022 visas
But the ease of visa access has always been part of negotiations with potential host countries, according to Bijan Farnoudi, IAS director of communications and public affairs.
"For Montréal, we had an agreed system with local authorities to fast-track visa applications along with a special Canadian authorities-issued conference code for AIDS 2022 delegates requiring visas," he explains. "Unfortunately, it appears that the system broke down on the Canadian side." 
Farnoudi continues: "Despite our constant queries in the run up to the conference, we received no clear explanation as to the status of affairs or why many delegates were experiencing such difficulties in their visa application despite an agreed system designed to prevent this."
Although the IAS has no figures about the economic benefit of hosting the International AIDS Conference, the society says an independent analysis by the city of Melbourne, Australia estimated the 2014 meeting contributed £65 million (US$80 million) to the local economy.
Immigration, Refugees and Citizenship Canada (IRCC) — Canada's immigration department — has publicly said it found no fault in its handling of visa applications for the International AIDS Conference. Instead, an IRCC spokesperson suggested that many applicants may have applied late or omitted the special conference code needed for fast-tracking, the Canadian Broadcasting Corporation reported in November. The IRCC never provided the IAS with figures as to how many visas were rejected.
IRCC tells aidsmap that it did prioritise visa applications for AIDS 2022 delegates and that it processed more than 93% of applications. The agency added that it also waived fees for visa processing and biometric screening.
But for many applicants like founder of Namibia's Young Women Empowerment Network Helena Nangombe, waived fees were quickly offset by the logistical costs of needing to courier her application to the closest Canadian visa processing office, nearly 2,000 km away in Pretoria, South Africa. Had she not already had biometrics on file with the country, she would have had to pay for a nearly 50-hour round-trip bus ride from her rural community in northern Namibia to the South African capital as well as accommodation.
When her visa arrived late, her organisation's funder had to rebook her flight. Only business class seats were available for one leg of the journey.
"The ticket cost could have covered another person to attend another opportunity," Nangombe says.
But after Canada allegedly failed to deliver on its promise to fast-track AIDS 2022 visas, some activists say more radical transparency around host bids may be one of the only ways to hold countries to account.
Where in the world? There is no perfect country
Preparations for International AIDS Conferences begin about four years ahead of the meeting, Farnoudi explains. Initially, the IAS opens a call for letters of interest from potential host cities. These letters are evaluated by the conference committee based on several criteria, such as whether key populations are criminalised, the availability of infrastructure like internet and hotels, and a country's ability to provide financial support for the meeting and scholarships.
The IAS conference committee is composed almost equally of representatives elected by the IAS's roughly 16,000 members and representatives from civil society networks.
"These conferences are expensive and we invest a ton of money into scholarships and hybrid technology to make this event more inclusive," explains Farnoudi, who adds that additional money is spent on the IAS Education Fund, which takes conference research to low-income countries via regional meetings, webinars and fellowships. "We need whoever hosts the conference to support us financially to make all of this possible."
Next, short-listed cities are invited to submit bids that are more carefully examined before the conference committee proposes one or two potential candidates to the executive board for a final decision.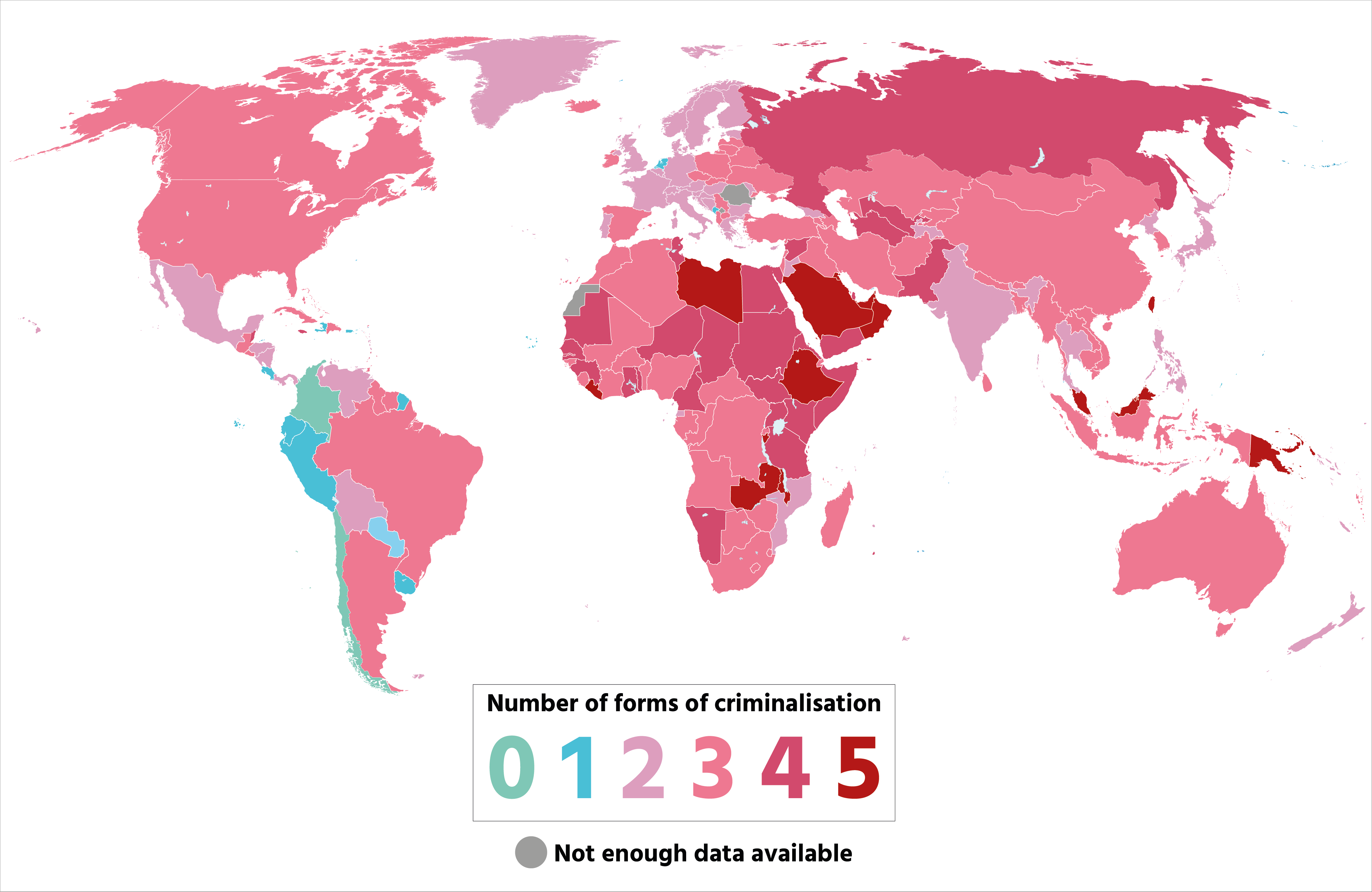 Erika Castellanos is the executive director of Global Action for Trans Equality and serves as a civil society representative on the conference committee. When judging potential hosts, Castellanos says she usually leaves logistics like hotel availability to the IAS secretariat. Instead, she hones in on aspects like visa requirements, laws, and access to medication — including methadone — that will affect civil society attendees.
"First of all, we will try to find a place where our communities would be welcomed and where our communities will not be at risk," explains Castellanos, who adds that civil society representatives on the committee work to leverage their respective knowledge of the communities they represent, from people who use drugs to sex workers. "When discussions are happening, I'll go to activists from those countries and talk — in confidence — about how the situation is there and that's how I make a decision to recommend [a city]."
However nearly every country has problematic laws. A 2021 review published in the BMJ Global Health found that almost 90% of nations globally criminalise drug use in full, while about three-quarters similarly police sex work. In nearly 40% of countries, being in a same-sex relationship is either partially (24) or completely (39) illegal. UNAIDS report that 21 countries criminalise or prosecute transgender people.
Meanwhile, data from UNAIDS and the University of Georgetown showed that 119 countries criminalise or prosecute HIV transmission, non-disclosure of or exposure to HIV – or a combination of all three.
"I'm not always happy with what is recommended but that's where the hard decisions come in," Castellanos says. "Sometimes, you need to select the lesser of two evils."
And there is no such thing as a perfect host country.
"As a trans person who has constant issues when travelling — with the immigration officers, with being detained, with being searched, sometimes physically — I know how difficult it is," says Castellanos, whose own visa for AIDS 2022 was delayed. "I was following the discussion on social media during the conference, and people were giving some examples of [cities where the meeting could have been held] — and I've had bad experiences in those same countries."
"Canada said they were going to expedite visas. They just didn't keep their word"
In the last decade, the IAS has received an average of four bids for each of the four International AIDS Conferences. Although bids are confidential, the IAS says about half were from European cities while a quarter came from Canadian or American cities. Only two African countries bid to host an International AIDS Conference in the last ten years.  Durban, South Africa — one of these cities — hosted the 2016 conference. The only other African bid, for AIDS 2022, lost out to a city in south-east Asia — which was supposed to host AIDS 2022.
"We were going to go to a lower-middle income country, but the host country wanted to influence what we were allowed to do at the conference," Farnoudi explains. "We're not prepared to sacrifice the independence of the HIV response as it expresses itself through the largest HIV gathering on the globe."
He continues: "So we pulled out and quickly needed someone to jump in, and that was Montréal."
And — on paper — Montréal looked so good, Castellanos says.
"The Canada government in their bidding, and in their offer, stated that they were going to expedite the [visa] process," she explains. "They just didn't keep their word."
Castellanos worked with the IAS conference committee to troubleshoot visa issues, providing details of cases they knew of to Canadian authorities for follow-up. In one instance, the committee was able to secure a formal apology for one attendee who was asked to provide an HIV test result at a local Canadian embassy to secure a visa. This is not official Canadian policy.
Still, she says she does not believe Canada intended to break its promise.
"I just don't think they realised the nightmare it would be," she continued. "But for me, it was an eye-opener because you can no longer take for granted what countries offer on the bidding."
The next IAS Conference on HIV Science will be held in July in Brisbane, Australia. The country's Department of Home Affairs did not respond to aidsmap's queries about whether it would fast-track visas or ensure streamlined applications for attendees. But it says they are already engaging with IAS organisers.
Can more transparency help keep countries accountable?
Traditionally, IAS conference bids — which involve government ministers and ambassadors —  have been confidential.
"I don't think there would be any country that would want the world to know that they bid and were not selected," Castellanos says.
But she is also clear that, in Montréal's fallout, people are demanding more information about how countries are selected.
"It's no longer acceptable to keep everything in secret, although some level of confidentiality is needed due to the process," she says. "I also think the IAS and civil society organisations in the organising committee have heard loud and clear: It cannot always be in global north countries." 
Already, there are fears that the IAS' recent decision to treat Asia Pacific as a single region for its conference rotation may lead to Australia – rather than Asian countries – being disproportionately represented as a host.
Still, although it's unlikely that failed bids will ever be released, Castellanos believes increasing transparency may be key to bringing countries to book for inequalities in access.
"How can you assure countries deliver what they offer?" she asks. "Perhaps...to disclose the bidding of the host country that was selected because I think if civil society knew that Canada actually offered [to fast-track visas] there would have been even more mobilisation… to hold the government accountable."
Still, for some activists, changes to the IAS system may come too late. Johnson says they and others have already agreed not to attend global north conferences in-person if they need a visa.
"We're just not doing it because it's brutal, it's violent, and it's horrible," they say. "We can convene without the IAS in ways that make sense to our communities, to our hearts, to our minds, and to our work."
They conclude: "I think they've lost a lot of goodwill."