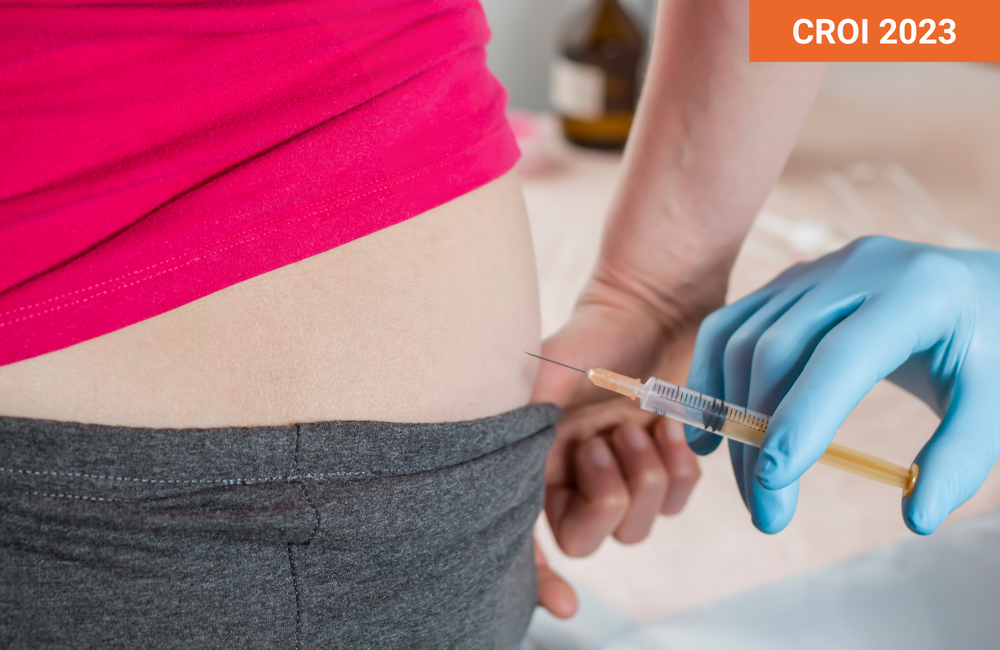 People with HIV who switched from bictegravir to injectable cabotegravir and rilpivirine rarely experienced substantial changes in body weight, Dr Darrell Tan of St Michael's Hospital, Toronto, reported at the 30th Conference on Retroviruses and Opportunistic Infections (CROI 2023) in Seattle on Tuesday.
The study found that even though participants were switching away from a combination containing tenofovir alafenamide, a drug strongly associated with weight gain when it is combined with an integrase inhibitor, few experienced any substantial reduction in weight.
People taking integrase inhibitors as first-line treatment have been shown to gain more weight than people taking regimens that do not contain an integrase inhibitor. Weight gain is greatest when an integrase inhibitor is combined with tenofovir alafenamide.
Not all integrase inhibitors have the same impact on weight. Some studies have shown that people gain more weight when taking dolutegravir and bictegravir than when taking elvitegravir. Weight gain is greater in people receiving first-line treatment than in people who switch to an integrase inhibitor from another class of drug.
Cabotegravir is a new integrase inhibitor that is given as a long-acting injection together with an injection of the non-nucleoside reverse transcriptase inhibitor rilpivirine every two months. In the clinical trials that led to the licensing of the long-acting treatment, there was no significant difference in weight gain between previously untreated people who received the injectable treatment and those who receive dolutegravir, abacavir and lamivudine. But in treatment-experienced people, switching to the injectable treatment resulted in greater weight gain than sticking with existing treatment.
But in the licensing study in treatment-experienced people (ATLAS), only a third of participants were taking an integrase inhibitor when they entered the study. Since that study was carried out, it has become unusual for people to start treatment with anything other than an integrase inhibitor. What's unclear is whether switching from one integrase inhibitor to another affects body weight or other metabolic measures.
The SOLAR study compared continuing treatment with the combination Biktarvy (bictegravir / tenofovir alafenamide / emtricitabine) with switching to injectable cabotegravir / rilpivirine. Virological outcomes reported to CROI on Wednesday showed that the injectable regimen was non-inferior to remaining on Biktarvy. On Tuesday, Dr Tan reported the weight and metabolic outcomes of the study.
People with HIV were eligible to join the SOLAR study if Biktarvy was their first antiretroviral regimen and they had had a fully suppressed viral load for at least six months.
SOLAR randomised 687 people with HIV in a 2:1 ratio to switch to injectable cabotegravir / rilpivirine or continue on Biktarvy. Participants had the option of taking oral lead-in doses of cabotegravir and rilpivirine for a month to achieve stable blood levels or to skip the lead-in doses and begin injectable treatment immediately. Out of 454 people randomised to injectable treatment, 175 opted for oral lead-in dosing.
Study participants had a median age of 37 years, 17% were female, 21% were Black and 69% were White. The median weight at randomisation was 81kg in the injectable arm and 79kg in the Biktarvy arm. The median body mass index was 26 kg/m2 in the injectable arm and 25.4kg/m2 in the Biktarvy arm. At baseline, 38% and 34% of participants respectively were in the overweight body mass category and 21% and 23% were classified as obese.
Body weight was assessed at month 11 in the injectable groups and month 12 in the Biktarvy or oral lead-in groups and showed little change in either group (median change of -0.4kg in the injectable group, +0.05kg in the Biktarvy group). Median changes in body mass index, total body fat and total muscle mass were minimal in both groups. Within those groups, similar proportions experienced weight gain or weight loss. For example, at month 12, 14% in each group had lost at least 5% of body weight, while 12% of the injectable group and 11% of the Biktarvy group had experienced weight gain of between 5% and 10%.
Eight percent of participants in the injectable group and 9% in the Biktarvy group moved from the overweight to obese body mass categories during the study, while 7% in the injectable group and 13% in the Biktarvy group moved from the normal to overweight body mass category.
Seventeen percent of participants had metabolic syndrome at baseline and there was no change in the proportion with metabolic syndrome in either group by month 12. Forty-two percent of the injectable group and 43% of the Biktarvy group had insulin resistance at baseline; the proportion with insulin resistance increased slightly to 45% in the injectable group and remained the same in the Biktarvy group at month 12. The study investigators say that their findings on weight and metabolic changes support the use of injectable cabotegravir and rilpivirine as a maintenance treatment in people with HIV who already have suppressed viral load.
References
Tan D et al. Weight and metabolic changes with cabotegravir + rilpivirine long-acting or bictegravir. Conference on Retroviruses and Opportunistic Infections, Seattle, abstract 146, 2023.