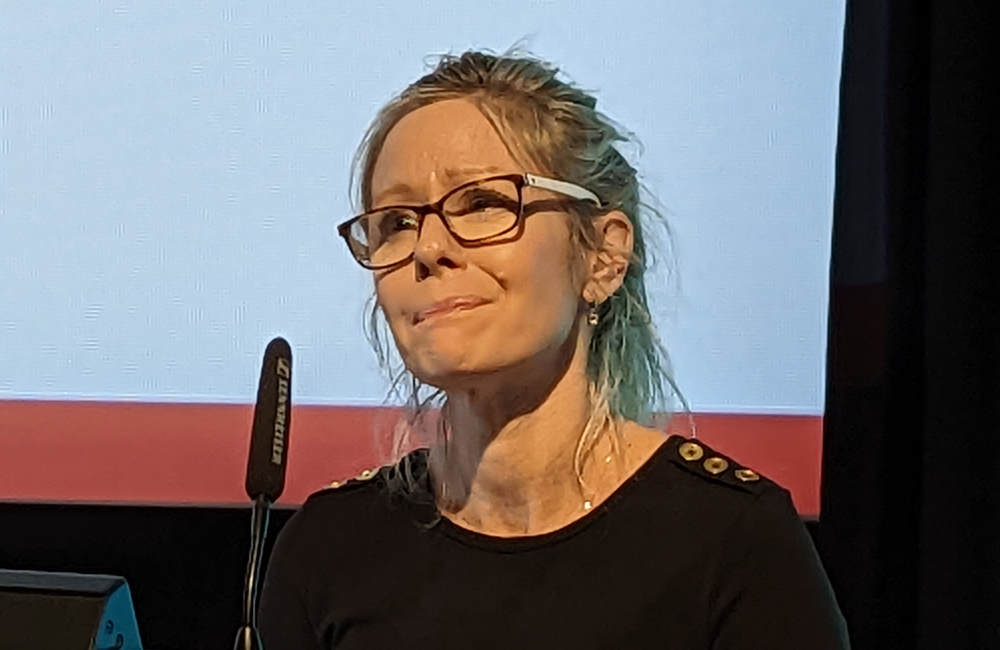 Injectable antiretroviral therapy (ART) will never reach its potential until people with unsuppressed viral loads can have it, the British HIV Association's Autumn Conference heard last month in London.
Three presenters from the National HIV Nurses Association (NHIVNA) told the meeting that the criteria for injectable cabotegravir and rilpivirine were so strict that very few patients are eligible for them.
Linda Panton, a Senior Charge Nurse for NHS Lothian, said that while Scottish eligibility criteria included people with "a concerning adherence pattern despite undetectable viral load" and "people who describe a real risk of stopping treatment if they continue on oral ART", they could not at present be prescribed for people who due to struggles with adherence actually did have a detectable viral load.
And NHIVNA Chair Liz Foote described the process of applying for long-acting injectables on compassionate grounds for a young patient who did have a detectable viral load and declining CD4 count, due to multiple psychosocial vulnerabilities.
Injectable cabotegravir and rilpivirine were licensed for use as ART in Europe in December 2020 (as Vocabria and Rekambys) and in the US in January 2021 (where the two drugs go under a single brand name, Cabenuva).
Since injectable ART started to be used, it has proved popular with some patients and highly effective, but its introduction has not been simple, requiring reconfiguration of services and staff training.
Linda Panton told the conference that so far just 22 patients out of roughly 5000 on ART in Scotland (0.4%) have started injectable ART, one of whom has gone back to oral therapy. After initial excitement from patients, clinicians and the voluntary sector, there have been fewer referrals than expected from consultants and less interest from patients. In Dundee, 17 out of 351 patients at the city's HIV clinic were identified as potentially benefitting from long-acting injectable ART but only four actually fitted the criteria and of those, two declined it.
As well as the requirement to have an undetectable viral load (under 50 for at least the last six months) and "concerning" levels of adherence, patients have to have "a psychological or physical barrier to oral antiretroviral therapy".
Studies have shown that patients have many motivations for seeking injectable ART, including: fear that having pills around will lead to disclosure, anxiety about maintaining adherence, disliking the daily reminder of HIV, and physical or psychological difficulty in swallowing pills.
Injectables also pose new demands on the health service: doubling of appointments, of viral load tests and of nursing time (including time devoted to following up missed appointments); co-ordination of supplies that need cold storage with the hospital pharmacy; and space for the patients to sit after receiving an injection (it's suggested they wait at least 30 minutes).
Patients who have started the injections comment favourably. One said, "It's so nice not to have to remember to swallow tablets every day" and another said, "I'm able to relax going through airport customs now". However, one patient found it difficult to trust the injections, worrying that their effect would not last for the full eight weeks and realising that for them, a daily oral pill offered reassurance.
Most patients mentioned injection site pain in the hip, especially from the rilpivirine. This was helped by giving paracetamol before the injection and making sure the injections were taken out of the fridge in time to be at room temperature.
The main reason patients declined the injectables was due to the doubling of appointments needed. This is especially an issue for patients in rural areas; in Scotland many people travel from afar to receive their HIV care in the central belt cities. Some were worried that employers might ask questions about extra appointments.
Getting injectables for a vulnerable patient
It is people who cannot achieve viral undetectability who might most benefit from the injectables, but so far they can't, because the crucial registration studies, ATLAS and FLAIR, were conducted in patients virally undetectable on ART. Patients whose therapy was failing due to adherence, side effects or other issues were not included.
The US National Institutes of Health is currently recruiting people who are not virally undetectable due to adherence difficulties for the LATITUDE study. Even here, however, patients will have to stick to an oral ART regime and achieve a viral load under 200 for at least three months before they can even have a 50% chance of starting the injectables, though there will be financial incentives for lowering viral load.
These requirements appear to be aimed at avoiding further viral failure and two-class resistance, but there seems to be some hesitancy among clinicians to believe that injectable therapy might make all the difference to treatment success among patients who have struggled with adherence in the past.
Liz Foote told the conference that even in the UK, with over 91% of people with HIV diagnosed and virally suppressed, there was only a small group of patients who struggled with adherence and virological failure.
A caseload audit in West Sussex and Brighton & Hove among patients supported by the community HIV nursing team (and therefore already with support needs) found that 45% "struggled with adherence" and 26% had a detectable viral load. Of these, 10% had chosen to stop taking ART – "a small but significant number."
She described one such patient who was under the care of the community team. She had experienced trauma throughout childhood and suffered with a significant learning difficulty which meant that she struggled to adhere to her ART; she had never achieved an undetectable viral load since diagnosis. She also had multiple socio-economic problems, especially with housing.
Because of her difficulty in keeping hospital appointments, the HIV team cared for this complex patient in the community, but due to her adherence issues her CD4 counts started to decline. The HIV team became increasingly worried about her wellbeing and safety, not just due to the CD4 count decline but also other psychosocial issues. The team applied for the use of long-acting injectables outside the terms of their licence, on compassionate grounds. This application was at first refused due to concerns about her lack of engagement with services, but was upheld on appeal.
The patient received her first cabotegravir and rilpivirine injections in the clinic, but subsequent injections were given in her home by community HIV nurses. At the time she had her first injection her viral load was 28,000, but this declined to below 50 in just two weeks and was below 30 within six weeks.
There are many more patients like her around, but currently very few who get the injectables. A study published in August found that up to July there had been 35 patients prescribed cabotegravir and rilpivirine in ten countries under the conditions of the single-patient compassionate request programme operated by the manufacturers ViiV and Janssen. Of these, 28 had a detectable viral load (average 60,000) when they started and 63% became virally undetectable.
As for the above patient, "the injections have transformed her life", Liz Foote said. Once the pressure of trying to deal with her HIV was taken off, she was able to work on her other psychosocial needs, especially her housing.
Jonathan Roberts from Brighton's Lawson Unit clinic introduced a patient, Josh, who recounted his own experience of starting injectables this year. One of his motives was that he works in a public-facing job and was worried about customers seeing him in the regular HIV clinic. So far, he has received three injections. He said that his first was painful because the nurse injected it into the more normal posterior side of the gluteal muscle whereas the recommended site is to the side, just behind the hip bone. He also described initial anxiety about not knowing if it was "working".
However, over the long-term he has felt in better physical health: "I don't know if it's psychological or not, but I feel much less fatigue than I did on the orals".
Jonathan Roberts told aidsmap: "We are in the process of applying for off-label long-acting injectables for a second vulnerable patient with adherence problems; they won't be the last."