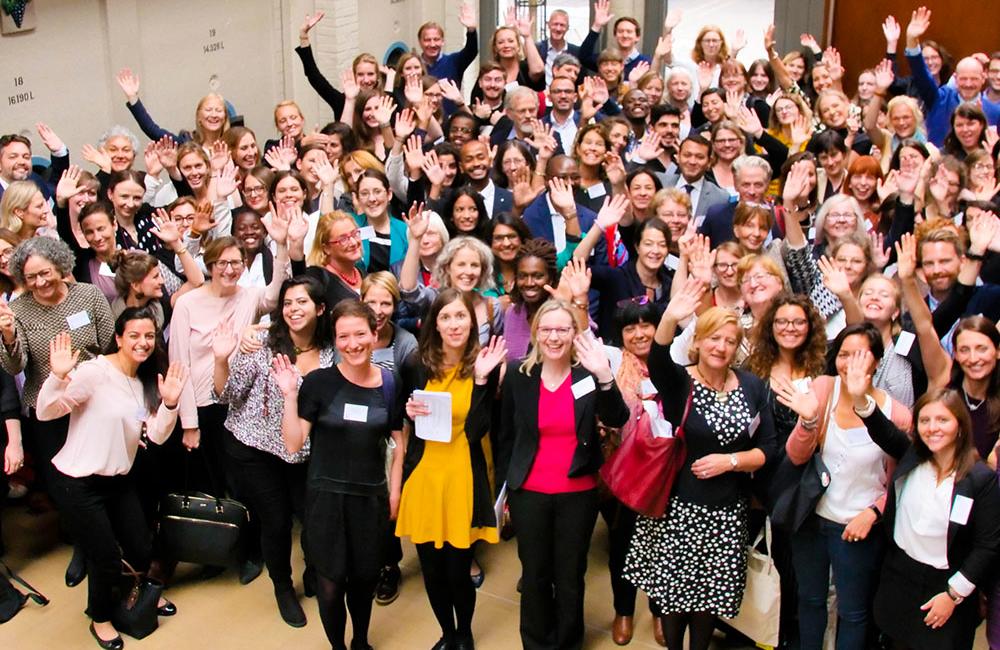 On 27-28 September 2017, EuroNGOs brought together over 200 people from 33 countries to discuss the rise of populism and its impact on issues relating to sexual and reproductive health and rights (SRHR). Over two days, conference participants discussed, debated and navigated their way to a new consensus on how to respond to this challenging context and promote SRHR in the face of populist opposition.
Deborah Rubbens is the co-ordinator of the EuroNGOs network, which brings together non-governmental organisations (NGOs) and other partners working in SRHR in Europe. We spoke to Deborah about promoting sexual and reproductive health and rights in this new political context and how the EuroNGOs network is rising to the challenge.
The 2017 EuroNGOs conference was entitled, Re:Frame. Promoting SRHR in a time of growing populism. Where have there been political shifts in Europe that are impacting on sexual and reproductive health and rights?
'Even though we see that a lot of progress has been made over the years, sexual and reproductive health and rights are not yet universally respected and observed. The current political environment we're operating in feels like a setback for the community.
'Worldwide, we're seeing a rise in populist movements and conservative thinking that threatens the progress we've made. With pushback from governments and reduced funding, the space for civil society is shrinking and our work is really being challenged. The election of US President Donald Trump has had significant consequences for the SRHR community.
'Also in Europe, we're seeing a rise in right-wing nationalist movements and a growing opposition to SRHR at both national and European levels – for example, the rise in popularity of the French Front National, the Alternative für Deutschland in Germany, and similar movements in Poland, Austria, Italy and Hungary, to name a few. As we heard at the conference, these movements tend to be anti-choice and anti-feminist.
'It isn't just organisations that are affected. Our members tell us about individuals – and especially young people – in a lot of these countries who are really feeling the threat and being impacted by this backlash against their rights.
'Some of this opposition is not just at the national level but also at the European level. An example is 'One of us', a European federation that brings together organisations across Europe to oppose SRHR. In response, members of the European Parliament established 'All of Us' to advocate for a woman's rights to make decisions regarding her own body and sexuality. The people behind 'All of Us' spoke at the EuroNGOs conference about their work and how they aim to respond in a positive way to the SRHR opposition.'
How have the US President's actions impacted SRHR in Europe?
'The most obvious impact is financial. With the re-instatement and expansion of the Global Gag Rule, there's a significant reduction in funding for SRHR. Agencies like UNFPA (the United Nations Population Fund) have lost funding, many NGOs are impacted, and that trickles down to beneficiaries, with projects that may need to shut down or change scope. There's a direct impact there.
'It also seems that President Trump's statements and ideas have a larger impact. People see that these statements are coming from a powerful nation like the United States and that makes it seem to them like it's okay to have those ideas. It sets a negative example. Opposition to SRHR is not something new, it's now just so much more visible by having such a powerful person making these statements.'
Could you give us some examples of the resistance that has sprung up in the face of threats to sexual and reproductive health and rights?
'Luckily, we've seen some really amazing responses, in the form of marches, campaigns and social movements. One of the highlights has been the EU initiative, 'She Decides', which brought together global leaders, in response to the Global Gag Rule, to speak out in support of SRHR and to pledge financial support. Another highlight was the enormous financial commitment made at the recent FP2020 summit. We're definitely seeing a number of governments trying to fill the gap that is left by the reinstatement of the Global Gag Rule.
'We're also seeing a lot of grassroots approaches and movements. One of our conference sessions focused on that, diving deeper into what makes a successful movement.
'We talked about the 'Black Protest' (Czarny Protest) in Poland, which managed to turn the abortion debate into a national debate and brought together many people who would otherwise not participate in the political debate to bring attention to the issues surrounding abortion.
'We also talked about the Coalition to Repeal the Eighth Amendment in Ireland, which is an alliance of around 100 cross-party and cross-sectoral organisations. They've been lobbying and using media to bring the conversation around abortion to the forefront. In 2018, Ireland will hold a referendum to determine whether or not to repeal the ban on abortion, so bringing that visibility to the issue makes a significant difference.
'Then of course, there's the Women's March, and all sorts of other marches taking place, including here in Brussels, that try to get SRHR recognised as one of the fundamental human rights, even by European institutions.
'Bringing citizens together who usually don't get involved in politics can make a big change. Grassroots movements, when people come together in their hundreds or even thousands, create a lot of energy and that can be really uplifting.'
What were the highlights of the conference for you?
'We wanted to make sure, given the topic that we chose, that it wouldn't be a gloomy assessment of the situation, but that people would get the chance to talk about some great approaches, based on shared values and positive frameworks. I think everyone had the chance to think about how we can change our approaches to make sure it's a positive movement where we stick together and move forward to the best of our abilities. Some of the speakers at the conference specifically talked about the importance of value-based thinking and evidence.
'We were very lucky to have the conference reception at the Belgian Parliament. The Belgian Deputy Prime Minister, Alexander De Croo, attended and even spoke at the opening session. It was inspiring to see openness to and support for the SRHR issues we are highlighting, at the highest level.
'Finally, I was inspired by the diversity of the participants and the ability of the conference to bring people together to create a positive movement, based on evidence, values, and human rights.'
The conference highlighted the idea of reframing SRHR messages for this era. Could you tell us about those discussions and whether there were any conclusions or recommendations for advocates?
'The idea of reframing was threaded throughout the conference, so it could be discussed in different settings, bringing together ideas from different groups of people. One of the main takeaways from the conference was that we need to re-frame the language we use and move away from the term 'populism', even though that was in the conference title! We want to move away from this 'us and them' thinking, but instead use a common language that enables everyone to talk about a woman's rights and freedoms.
'Using a common language and focusing on the right to happiness, freedom and health is key, and conference participants agreed that this is the way forward to make an impact.
'Because we can all agree that we want freedom, happiness, and health, it gives us a common starting point and allows us to build a bridge, rather than immediately starting on the defence.'
What's next for the EuroNGOs network?
'EuroNGOs is at a crossroads right now, as a network. At our Annual General Meeting our members made a decision that EuroNGOs is going to evolve into a more inclusive European SRHR Partnership that acts as a platform for linking, but also for strategizing and implementing. The goal of the SRHR Partnership will be to set the SRHR agenda for Europe and then to work with our members to ensure that agenda is implemented. It's a higher level of ambition than we had before.
'We're looking to broaden the network, so that we're not going to focus only on NGOs, but also on civil society networks, foundations, academia, and the private sector, and not only within the SRHR community, but also across related areas like gender and human rights. We're going beyond the international agenda to also engage on national levels. We're seeing a growing need for work on SRHR within Europe and emanating from Europe, so we want to capture those aspects through the work we do.
'It's definitely an exciting time! I invite all organisations that work in SRHR within Europe to connect with us so that we can jointly plan and strategize, collaborate and co-ordinate efforts to achieve the right to sexual and reproductive health for all.'
Information from the conference is available on the EuroNGOs website, including a full written report and short video clips with key messages from conference participants.
EuroNGOs is a membership network, which currently includes 35 NGOs in 23 European countries that work on SRHR. Find out more about joining the evolving network on the EuroNGOs website.
This eFeature appeared in the December 2017 edition of the Eurobulletin.