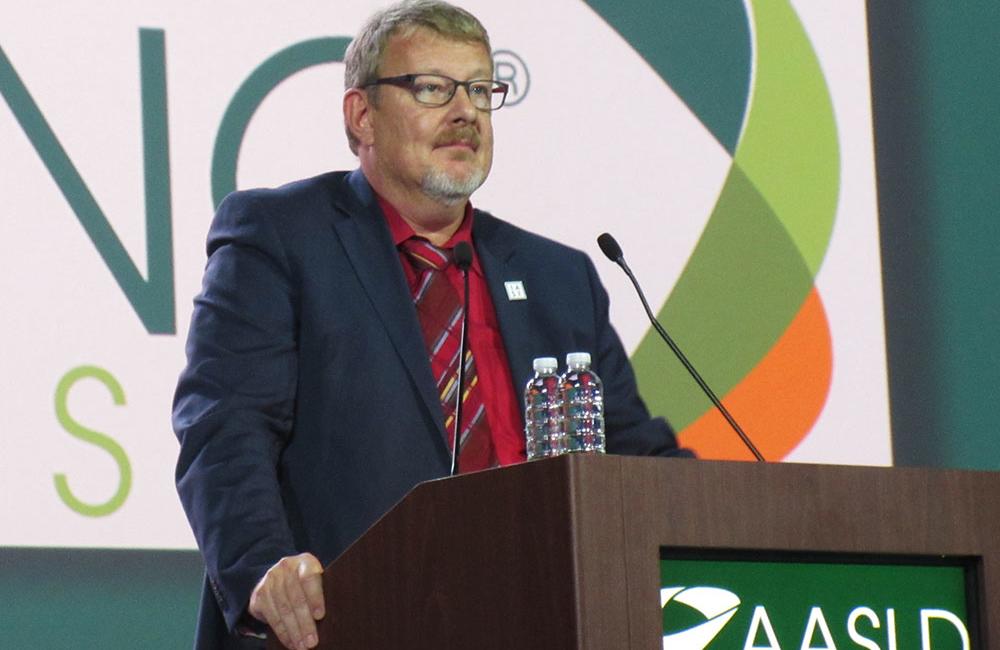 Merck's grazoprevir/elbasvir combination cured 93% of people with HIV and hepatitis C co-infection, was well-tolerated and did not appear to interact with antiretrovirals, according to final results from the C-EDGE Co-infection study presented at the 2015 AASLD Liver Meeting last month in San Francisco. These results confirm that people with HIV/HCV co-infection respond as well to interferon-free therapy as those with HCV alone.
About one-third of people with HIV worldwide are thought to be co-infected with hepatitis C virus (HCV). Over years or decades chronic hepatitis C can progress to serious liver disease including cirrhosis and liver cancer. People with HIV/HCV co-infection have faster liver disease progression than those with HCV alone, on average, and liver disease is a leading cause of death among people living with HIV. While people living with HIV do not respond as well to interferon-based hepatitis C treatment, there is growing evidence that this is not the case for new direct-acting antiviral agents used in interferon-free regimens.
Jürgen Rockstroh of Bonn University in Germany presented final results from the phase 3 C-EDGE Co-infection study, which tested the NS3/4 protease inhibitor grazoprevir and NS5A inhibitor elbasvir in a fixed-dose co-formulation. Results were previously presented in part at this year's EASL International Liver Congress and published in the August 2015 edition of The Lancet HIV.
Grazoprevir/elbasvir is undergoing US Food and Drug Administration review with a decision expected in January 2016.
C-EDGE Co-infection included 218 previously untreated participants with HIV/HCV co-infection in Europe, the US and Australia with HCV genotypes 1a (66%), 1b (20%), 4 (13%) or 6 (1%). More than 80% were men, 77% were white, 17% were black and the mean age was 49 years. The median baseline CD4 T-cell count was 568 cells/mm3 and 16% had liver cirrhosis.
Participants could either be untreated for HIV with a CD4 count above 500 cells/mm3 (3%) or on stable antiretroviral therapy (ART) with more than 200 cells/mm3 and undetectable HIV RNA (97%). Antiretrovirals permitted in this study were raltegravir (Isentress; 52%), dolutegravir (Tivicay; 27%), or rilpivirine (Edurant; 17%); 75% used tenofovir (Viread, also in Truvada) and 22% used abacavir (Ziagen, also in Kivexa or Epzicom) as a NRTI backbone.
All participants in this open-label trial received grazoprevir/elbasvir in a once-daily single-tablet regimen without ribavirin for 12 weeks. The primary endpoint was sustained virological response, or continued undetectable HCV RNA at 12 weeks after finishing treatment (SVR12).
The overall SVR12 rate was 93.1% in an intention-to-treat analysis. Response rates were similar for HCV genotypes 1a, 1b and 4 (93.1%, 93.2% and 92.9%, respectively), and both people with genotype 6 were cured.
Five people – four with genotype 1a and one with genotype 4 – relapsed after completing treatment; four of these were on ART and one was HIV treatment-naive.
In addition, two people were apparently reinfected after achieving sustained response (both had HCV genotype 1 at baseline and genotype 3 at week 12 of follow-up) and eight participants were lost to follow-up or discontinued treatment for reasons unrelated to virological failure.
In a modified analysis excluding the reinfections and people lost to follow-up or non-virologic failure, the overall SVR12 rate was 97.6%, and again was similar across genotypes.
There were no significant differences in response according to sex, age, race/ethnicity, high or low baseline HCV RNA or cirrhosis status. All 34 participants with cirrhosis were cured, as were 96.0% of patients without cirrhosis.
63% of participants had no NS5A resistance-associated variants (RAVs) at baseline and their SVR12 rate was 98%, while 37% had NS5A RAVs and their SVR12 rate was 94% – not a significant difference.
Sustained response rates also did not differ significantly according to NRTI backbone (97.5% with tenofovir and 95.7% with abacavir) or third antiretroviral (96.4% with raltegravir, 100% with dolutegravir and 94.6% with rilpivirine).
Treatment with grazoprevir/elbasvir was generally safe and well-tolerated, with no drug-related serious adverse events or discontinuations for this reason. The most common side effects were fatigue (13%), headache (12%) and nausea (9%).
Two participants experienced transient detectable HIV viral load during treatment but subsequently achieved undetectable HIV RNA without changing antiretrovirals. There was no notable change in CD4 cell count from baseline to treatment week 12.
"High rates of SVR were achieved in patients with HCV genotype 1, 4 and 6 and HIV coinfection receiving the all-oral, fixed-dose combination of [grazoprevir/elbasvir]," the researchers concluded. "With high SVR, low rates of adverse events, once-daily administration and suitability for use in patients also receiving antiretroviral therapy, [grazoprevir/elbasvir] represents another highly effective treatment option for patients with HCV/HIV coinfection."
Rockstroh noted that the SVR12 rate in C-EDGE Co-infection was similar to those seen in other C-EDGE trials of previously untreated and treatment-experienced HIV-negative people, and adverse events occurred with about the same frequency, adding to the evidence that people with HIV/HCV co-infection respond as well as HIV-negative people and no longer need to be considered a 'special population'.
After the presentation Jay Hoofnagle of the US National Institutes of Health said he would not necessarily assume that HCV reinfection had taken place, since simultaneous infection with multiple genotypes can occur and it might be that treatment eliminated genotype 1 while leaving genotype 3. Rockstroh, however, noted that cohort studies do suggest reinfection rates of around 25% among co-infected men who have sex with men, underlining the need for behavioural risk reduction.
References
Rockstroh JK et al. High efficacy of grazoprevir/elbasvir (GZR/EBR) in HCV genotype 1, 4, and 6-infected patients with HIV coinfection: SVR24 data from the phase 3 C-EDGE coinfection study. AASLD Liver Meeting, abstract 210, 2015.