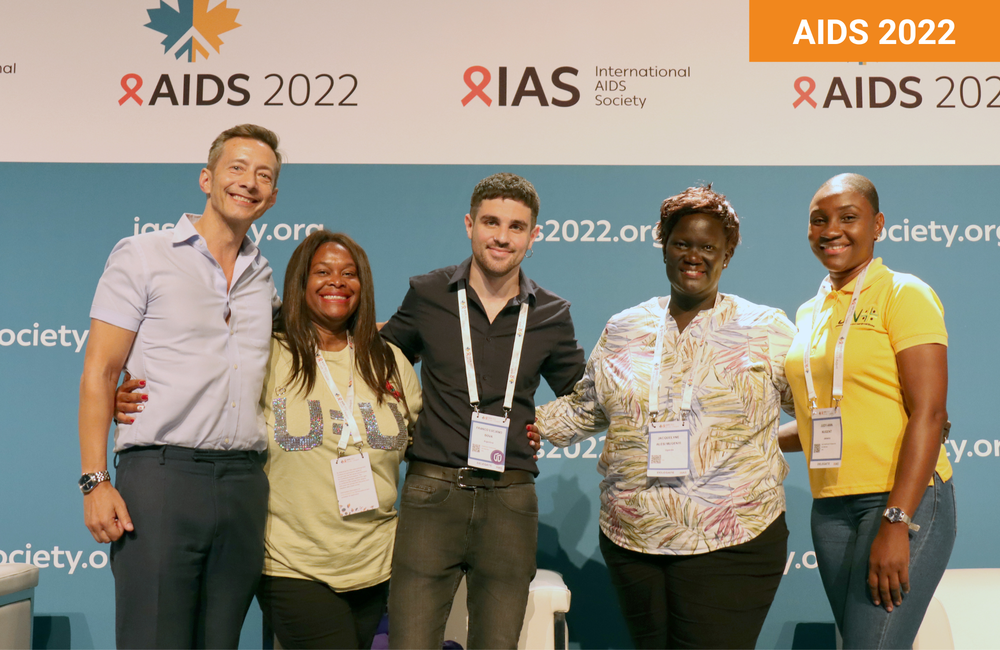 Advocates from around the world came together at the U=U Global Summit at the 24th International AIDS Conference (AIDS 2022) in Montreal last month to share successes and challenges that continue to hamper full-scale integration of the 'Undetectable = Untransmittable' (U=U) message in diverse global contexts.
A central theme was that structural barriers – especially poverty, limited access to treatment and viral load testing, stigma, and widespread inequalities – continue to shape health outcomes. HIV criminalisation is also a formidable barrier in many contexts, and advocates discussed the possible role of U=U in challenging HIV criminal laws.
The Caribbean
Judy-Ann Nugent, from the Jamaican Network of Seropositives (JN+), spoke about challenges in the Caribbean, where there has been limited U=U buy-in from healthcare providers and people living with HIV. She emphasised the role of stigma, poverty, weak health systems and low levels of literacy in limiting treatment uptake and adherence.
"Simply put, if people are not fed, paid – have enough money or food – if their basic needs are not met, taking HIV medication will not be a priority for them," she said.
However, there has been progress, with 70% of all people living with HIV in the region accessing treatment in 2021 and incidence continuing to drop. According to the latest UNAIDS data, 84% of people living with HIV in the Caribbean know their status, 83% are on treatment and 87% are virally suppressed.
To promote more widespread awareness of U=U, Nugent recommended that U=U messaging is embedded in funding agreements with PEPFAR and the Global Fund so that countries are required to take proactive steps to integrate U=U into national programmes in order to receive funding. PEPFAR's updated country guidance for 2022 does just this, making extensive mention of the need for countries to integrate U=U messaging along the HIV care continuum.
Latin America
Dr Franco Bova, from the Argentinian organisation Asociación Ciclo Positivo, shared that only 60% of those on treatment are virally suppressed in Latin America, falling far short of the previous 90 and the current 95 targets for viral suppression. It is also one of the regions where HIV incidence has increased since 2020. Bova said poverty and inequality perpetuate new infections and are barriers preventing people living with HIV from achieving viral suppression.
Various approaches have been successful at creating awareness of U=U in the region. In Argentina, activists have worked with community-based organisations, NGOs, universities, and local government to spread the U=U message at large public events, such as Pride, and through social media. Bova spoke about some successful strategies used in other Latin American countries, such as storytelling in Mexico, music videos and concerts in Venezuela and official government campaigns in Brazil. He also highlighted important gaps that make it challenging to speak about U=U at all. For instance, in Peru, the Ministry of Health does not collect any data on viral suppression.
Bova's organisation is promoting a virtual platform, Indetectable LAC, to bring stakeholders in Latin America and the Caribbean together to share information and to enable better networking in the regions.
The Middle East and North Africa
HIV infections increased by 33% in this region from 2020 to 2021. It is one of only three global regions, along with Latin America, and eastern Europe and central Asia, where HIV is still on the rise. In 2021, only 67% of people living with HIV knew their status, 50% were on treatment and 44% were virally suppressed.
"The Middle East and North Africa is the region where the international HIV community has failed," stated Arda Karapinar, founder of Red Ribbon Istanbul, Turkey's leading HIV civil society organisation. He emphasised the distinct contextual challenges in the region. HIV-related stigma, combined with conservative religious attitudes towards sex and limited human rights, present formidable challenges in getting the U=U message out.
However, he also spoke of how passionate local activism can result in change and create awareness. "I know from my own experience in Turkey how sometimes, just one activist from a country or a region, dedicated to creating a change in society for the benefit of all, may be highly sufficient. There are great activists in the region who are defending U=U. They continue to work despite countless risks."
Karapinar argued that Turkey is uniquely positioned between Europe and the Middle East, and can act as a meeting point and a safe harbour for those hoping to improve HIV outcomes and U=U awareness in the Middle East and North Africa region.
United Kingdom
Activist Fungai Murau spoke about the gaps that still exist in U=U awareness, even in the UK. She shared the story of a young woman who had acquired HIV vertically and had never heard about U=U. "Children who acquired HIV vertically in the UK are being transferred from adolescent clinics to adult clinics without being told about U=U," she said. "Because we are assuming that paediatric doctors should not be talking to young girls about sex. This is not correct. We need to change that. We need to ensure that by the time they transfer to adult clinics, we have closed that gap."
She advocated for integration across different healthcare services in the UK. "My HIV clinic is my champion, but my GP or my dentist may not know about U=U."
Criminalisation in the United States
The US is one of the leading countries criminalising people with HIV under laws ranging from non-disclosure to alleged transmission. Convictions under these laws can result in lengthy prison terms and registration as a sex offender.
While some activists have argued that U=U should be used as a basis for decriminalisation, Catherine Hanssens, founder of the Center for HIV Law and Policy, spoke about the potential pitfalls of being overly reliant on U=U when advocating for HIV decriminalisation, particularly because of the structural barriers to achieving viral suppression in the US.
Hanssens emphasised that advocacy on behalf of an individual is very different from advocacy for equitable policy and law reform. While it may certainly be beneficial to show proof of undetectability (and subsequent lack of ability to transmit HIV) in individual cases, there might be unintended negative consequences if advocates call for undetectable status to be codified into laws – especially for the groups most likely to be targeted by HIV criminalisation.
If viral load is a factor in determining whether a person is guilty, it can lead to using a person's failure to stay in health care or to achieve viral suppression as evidence of guilt. It can also lead policymakers and prosecutors to believe, and argue, that people living with HIV who are not undetectable pose a significant risk of transmission to sexual partners. "Current science makes it clear that HIV is not easy to transmit," Hanssens said. "And even when transmitted, it is easily survivable with appropriate treatment."
She argued that efforts to reform HIV criminal laws should be based on whether intent to harm was present or not, and the fact that HIV is a manageable chronic illness with appropriate treatment, not a death sentence.
References
U=U Global Summit. The Good Fight: Advocacy, policy and the law, Session 5. The 24th International AIDS Conference, Montreal, pre-conference sessions.
View the details of this session on the conference website.
U=U Global Summit. A Worldwide View: Challenges and successes, Session 6. The 24th International AIDS Conference, Montreal, pre-conference sessions.