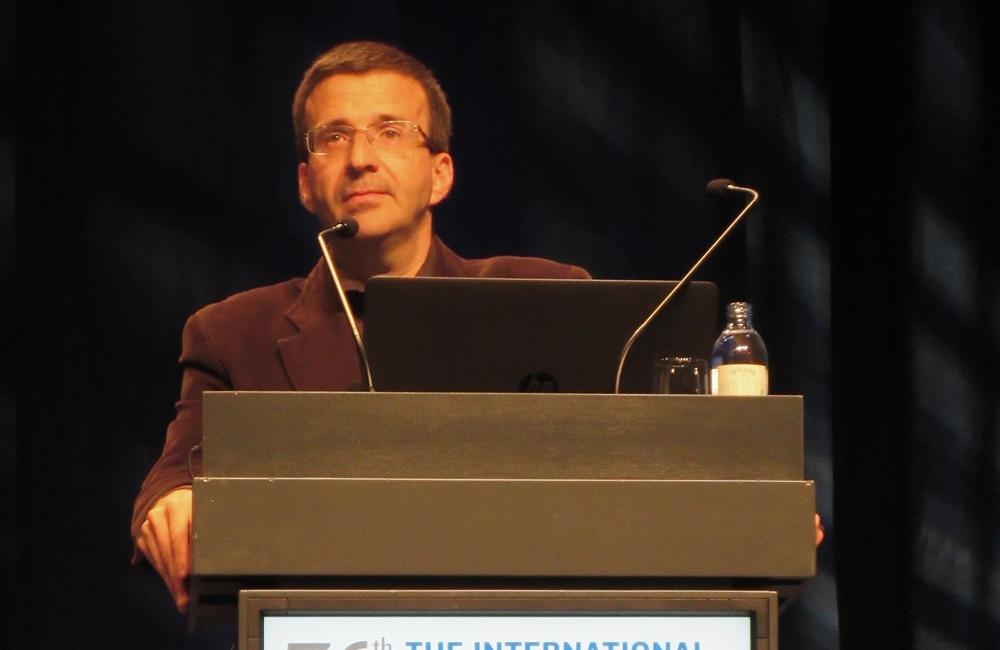 A 12-week course of treatment with two direct-acting antivirals in development by Merck plus ribavirin cured 95% of people with hepatitis C who had experienced failure of a previous treatment combination containing a protease inhibitor, Dr Xavier Forns of the Hospital Clinic, University of Barcelona, told the International Liver Congress in Vienna, Austria, on Thursday.
Merck's combination of direct-acting antivirals consists of grazoprevir (a NS3/4 protease inhibitor) and elbasvir (an NS5A inhibitor). The combination is being studied as a once-daily, single-tablet regimen, with or without ribavirin. The two drugs are active against multiple genotypes of hepatitis C.
The C-SALVAGE study was designed to investigate the efficacy of grazoprevir/elbasvir in people with genotype 1 hepatitis C virus (HCV) monoinfection who had failed to achieve a cure after a previous course of antiviral treatment containing pegylated interferon and either telaprevir, boceprevir or simeprevir.
Protease inhibitor (PI) activity after first PI failure is not well understood. There is some evidence that resistance to protease inhibitors persists, but until the C-SALVAGE study was carried out it was unclear to what extent Merck's protease inhibitor-based regimen might be successful in the population of people who had failed to benefit from a first- or second-generation protease inhibitor.
For Merck, it is important to establish that a regimen containing grazoprevir can cure HCV in the vast majority of people who failed to benefit from the first generation of protease inhibitors, telaprevir and boceprevir, or the second-generation protease inhibitor. In the cases of people previously treated with boceprevir and telaprevir, up to half of patients with more advanced liver disease may have failed to achieve a cure, leaving a substantial unmet need.
The study excluded participants with decompensated cirrhosis or hepatocellular carcinoma (liver cancer), and people with HIV and hepatitis C co-infection.
The study recruited 79 people, of whom 42% were women and 34% had cirrhosis. Thirty-eight per cent had genotype 1a infection.
The majority of participants had received prior treatment with telaprevir (54%); simeprevir treatment was less common (10%). Thirty per cent of participants had experienced virological non-response or viral breakthrough during protease inhibitor treatment. The remainder had experienced viral breakthrough during the post-protease inhibitor period of pegylated interferon treatment, or viral relapse after completion of all treatment.
A high frequency of resistance mutations associated with prior protease inhibitor treatment was identified at baseline by sequencing of the NS3 region of HCV. Of 73 study participants with sequencing data available, 41% had at least one protease resistance mutation.
Overall, 96.2% of participants achieved a sustained virologic response 12 weeks after completing treatment (SVR12), with no substantial difference according to the protease inhibitor to which participants were exposed previously.
All but one participant completed the 12-week course of treatment; one person discontinued treatment due to a serious adverse event. None of the five serious adverse events reported during the study (bacterial pharyngitis, laryngeal squamous cell carcinoma, asthma, appendicitis, and urinary tract infection) were considered to be associated with the study drugs.
A total of 17.9% of participants had a ribavirin dose reduction. In all cases these patients achieved SVR12.
References
Forns X et al. C-SALVAGE: Grazoprevir (GZR; MK-5172), elbasvir (EBR; MK-8742) and ribavirin (RBV) for chronic HCV-genotype 1 (GT1) infection after failure of direct-acting antiviral (DAA) therapy. J Hepatology 62:S189, (50th International Liver Congress), abstract O001, 2015.