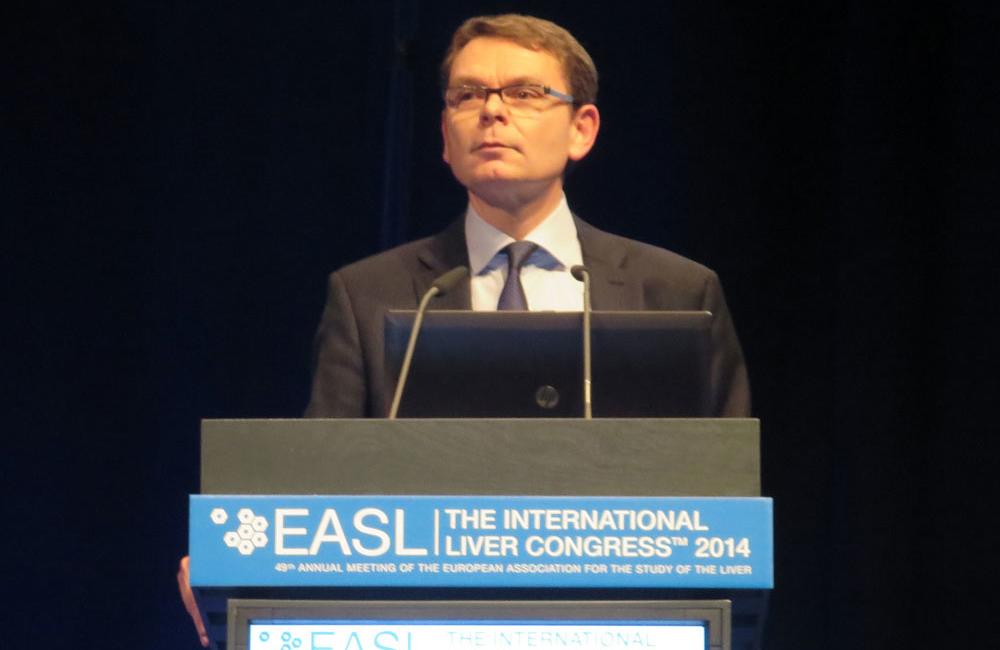 A combination of two direct-acting antivirals developed by AbbVie cured 100% of previously untreated patients with hepatitis C genotype 4 infection when used with ribavirin, Christophe Hézode reported on Friday at the 49th Annual Meeting of the European Association for the Study of the Liver (EASL) in London.
Genotype 4 hepatitis C virus (HCV) is the predominant form of hepatitis C in Egypt, Nigeria, Cameroon and Gabon. Genotype 4 accounts for approximately 20% of hepatitis C infections worldwide and is becoming the most frequent genotype in people newly diagnosed with hepatitis C in France, Tarik Asselah of the Hopital Beaujon, Paris, told a conference satellite meeting organised by AbbVie. Between 7 and 20% of hepatitis C infections in France, Italy and Spain are genotype 4 infections, due in part to migration within the Mediterranean region and from sub-Saharan Africa.
Genotype 4 infection has been considered hard to treat compared to genotypes 2 and 3. Not all direct-acting antivirals are active against genotype 4, or else they have been tested in very small populations.
The PEARL-1 study examined the safety and efficacy of the protease inhibitor ABT-450 and ritonavir booster (150/100mg once daily), in combination with the NS5A inhibitor ombitasvir ABT-267 (250mg once daily) with or without ribavirin. (AbbVie is also developing these agents as part of a three-drug combnation that also includes the non-nucleoside NS5B polymerase inhibitor dasabuvir [ABT-333], which is not active against genotype 4.)
The study population comprised previously untreated and treatment-experienced people with HCV genotype 4, who did not have cirrhosis. 
All study participants received treatment for twelve weeks. People who had not taken treatment before were randomised to receive therapy without (n = 43) or with (n = 42) ribavirin. The treatment-experienced patients (n = 49) all received ribavirin.
Most were white (84.1-91.8% by arm) and male (54.5-73.5% by arm). Between 86.4% and 67.3% had fibrosis stage F0 or F1 by study arm. In the treatment-experienced study arm, 34.7% had relapsed on a previous regimen of pegylated interferon and ribavirin, 18.4% had shown a partial response and 46.9% had shown null response.
Mean HCV load at baseline was approximately 6.10 log10 iu/ml.
All 42 treatment-naive patients in the ribavirin-containing arm achieved SVR12. The SVR12 rate was 90.9% in the ribavirin-sparing arm: one patient was lost to follow-up, one patient experienced viral breakthrough before completion of treatment and two patients experienced viral relapse after completing treatment and prior to the week 12 post-treatment follow-up visit.
All 49 treatment-experienced patients had an end-of-treatment virological response and SVR4 results were presented for 37 treatment-experienced patients, all of whom had undetectable virus. SVR12 results will be required in order to determine if all patients have achieved a cure.
No participant in the study stopped treatment due to side-effects and the only serious adverse event occurred as a result of a car accident unrelated to treatment. The most common side-effects were tiredness and headache. Three patients in the treatment-experienced arm had transient elevations in bilirubin, and four patients experienced haemoglobin declines (one in the ribavirin-sparing arm). None required a ribavirin dose reduction.
"All-oral, interferon-free, 12-week regimens of ABT-450/r + ombitasvir resulted in high SVR12 rates in treatment-naive HCV genotype 4-infected patients ...[and] an SVR4 rate of 100% in treatment-experienced patients receiving ABT-450/ritonavir + ombitasvir + ribavirin," concluded the researchers.
References
Hezode C et al. Results from the phase 2 PEARL-1 study: interferon-free regimens of ABT-450/R + ABT-267 with or without ribavirin in patients with HCV genotype 4 infection. 49th Annual Meeting of the European Association for the Study of the Liver (EASL), abstract 58, London, 2014.