A round-up of the latest HIV news, for people living with HIV in the UK and beyond.

Dementia in men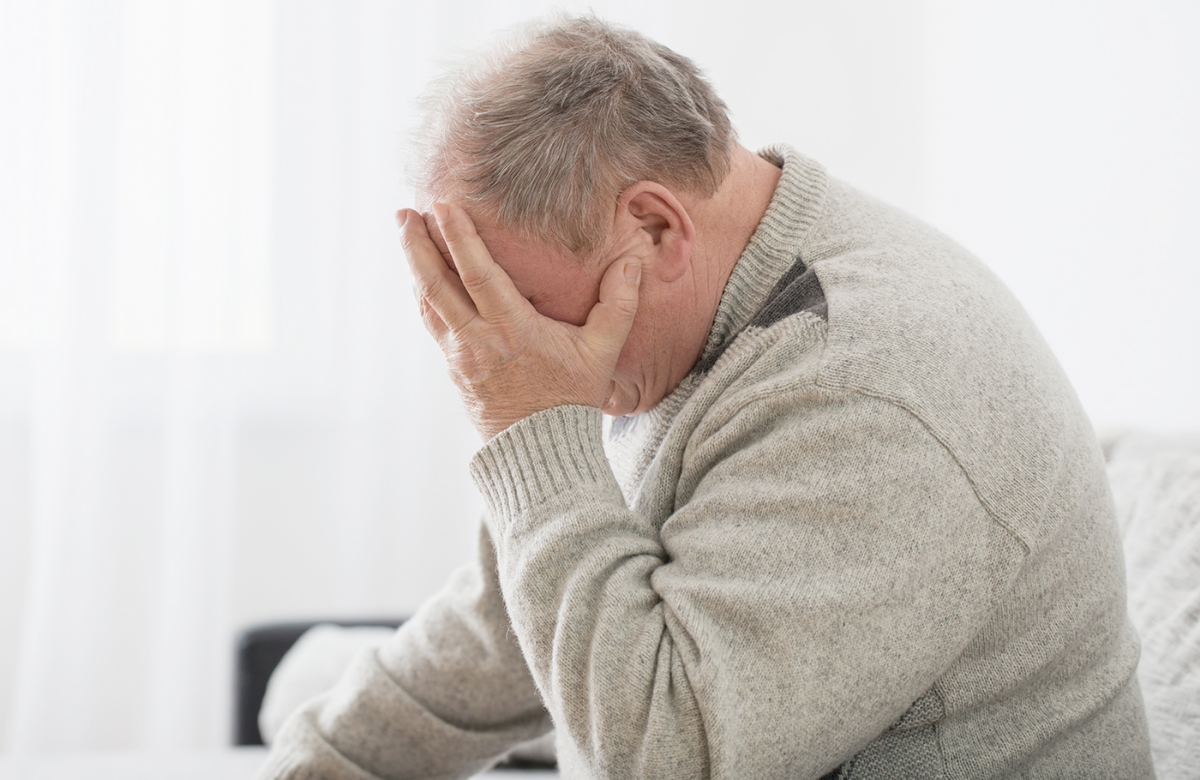 Cognitive impairment or dementia can have multiple causes. They include stroke and other cerebrovascular conditions that reduce blood flow to the brain, Alzheimer's disease, and HIV-associated neurocognitive disorder. The latter occurs when HIV itself (or the response of the immune system to HIV) directly affects the brain and causes cognitive disorders. This form of cognitive impairment is more common in people who had a low CD4 count before they began HIV treatment.
A US study looked into whether men who age with HIV have a higher risk of dementia than their HIV-negative counterparts. They compared 1114 former military personnel who were living with HIV with 1114 of their colleagues who were HIV negative.
Reviewing eleven years of medical records, they looked for diagnoses of dementia of any cause – except for dementia caused by alcohol or drug abuse. There were cases of dementia in 57 of the HIV-positive participants (5%), compared with 33 among their HIV-negative counterparts (3%).
The average age of participants was 62 years. The researchers estimated that around 20% of military veterans with HIV would be expected to be diagnosed with dementia by the age of 70, whereas in those without HIV, 20% would receive this diagnosis by the age of 76.
When looking at these figures, it's important to note that large numbers of the participants in this study had risk factors for dementia, including long periods of not taking HIV treatment, high blood pressure, stroke, depression and heavy alcohol or drug use. Rates of dementia may not be as high in other settings.
The type of dementia was unspecified in two-thirds of cases. The types that were specified were HIV-associated neurocognitive disorder (19%), vascular dementia (10%) and Alzheimer's (7%). Apart from HIV-associated neurocognitive disorder, the pattern was similar in the HIV-negative group, but there were more cases in the men with HIV.
---
aidsmapLIVE: A long life with HIV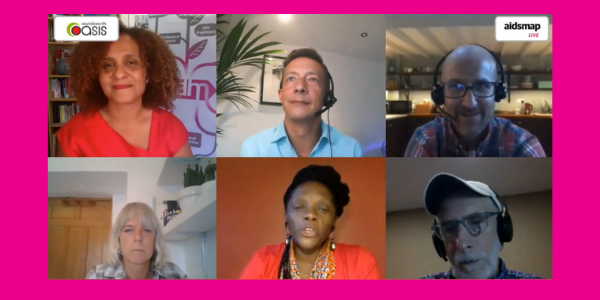 Last week, NAM's Susan Cole hosted an ageing and HIV aidsmapLIVE special, 'A long life with HIV'. Her guests were writer and activist Bob Leahy; trans writer and campaigner Juno Roche; HIV advocate and treatment rights campaigner Winnie Ssanyu Sseruma; HIV doctor at The Royal Free Hospital with expertise in ageing issues Dr Tristan Barber; and NAM's Executive Director Matthew Hodson.
---
Taking your own samples for STI tests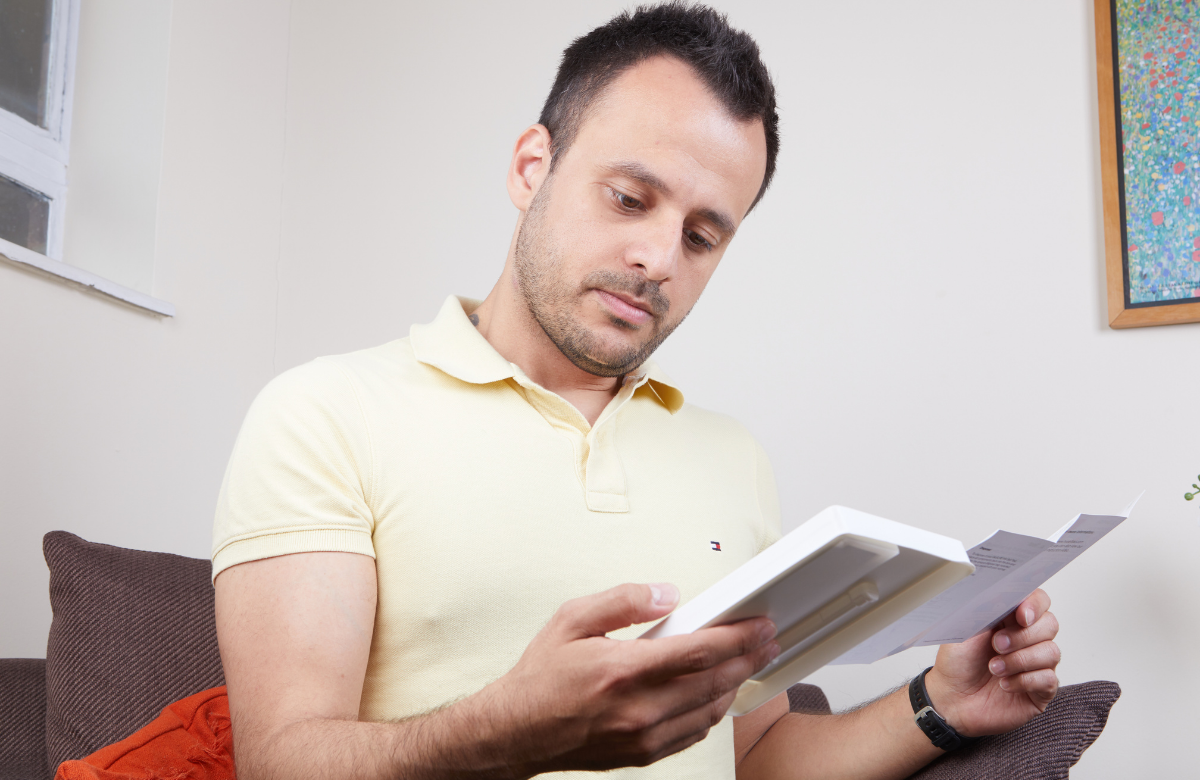 Chlamydia and gonorrhoea are common STIs and can infect not only the genitals but also the rectum and throat. The majority of chlamydia and gonorrhoea infections among gay men are in the rectum and throat and often don't have any symptoms.
When you have a sexual health check-up, the doctor or nurse may take a sample from your rectum or throat to check for infections. Or they may give you a kit and ask you to take your own samples.
You might be wondering whether taking the sample yourself is as reliable as having a healthcare worker do it. As there hasn't been much research on this before, a group of doctors in Leeds in the UK did a study to find out.
They compared the accuracy of healthcare worker-collected samples and self-sampling for the detection of chlamydia and gonorrhoea, both in the rectum and throat. They also compared the time needed and possible economic benefits of self-sampling.
The study comprised of women and gay men with varied sexual experience. A healthcare worker took their samples and compared them against self-taken samples.
There were no marked differences in the diagnostic accuracy of samples taken by healthcare workers and patients for rectal and throat gonorrhoea and chlamydia.
The researchers also discovered that if testing had been guided by the information given by patients about the types of sex they had had, a large number of infections in the throat and rectum would have been missed. Many of the rectal infections were in individuals who had not told the healthcare worker they had had anal sex.
Self-sampling was also likely to save costs to the NHS due to reduced manpower needed.
---
PrEP in Europe webinar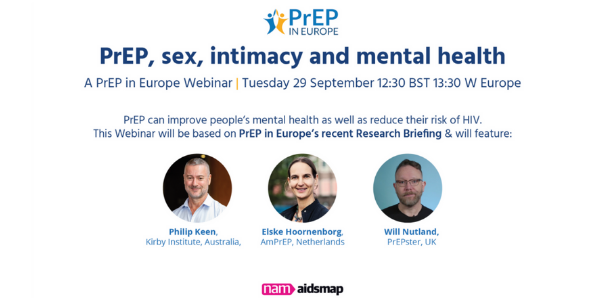 On Tuesday 29 September, PrEP in Europe held a special webinar on PrEP, sex, intimacy and mental health.
The webinar was based on PrEP in Europe's recent research briefing and included presentations from Philip Keen (Kirby Institute, Australia), Elske Hoornenborg (AmPrEP, the Netherlands) and Will Nutland (PrEPster, UK).
---
How HIV clinics can assess what really matters to patients
A group of researchers, clinicians and people with HIV in the UK have come together to develop a 'patient reported outcome measure'. It is a brief questionnaire which HIV clinic staff can use to find what concerns their patients have, whether they are medical or non-medical.
Professor Richard Harding explained in an interview with us: "What's really interesting in clinical encounters is that the person living with the condition thinks, 'the doctor or nurse will ask me about what matters', so they are waiting to be asked, and the clinician is thinking, 'if there is something of major concern, the patient will tell me'. So many of those issues are never brought to the clinical encounter.
"What we need is some kind of mechanism to make it clear that, within this clinical encounter, all kinds of problems are important and relevant, and we need to make sure patients are asked about them every time," he said.
The issues the tool covers includes physical problems (such as pain and gastro-intestinal symptoms), cognitive problems (including issues around memory and sleep), psychological problems (such as anxiety and depression), social issues (including problems with social isolation and intimacy), welfare issues (such as immigration and finance), and information needs (particularly around ageing, long-term outcomes, co-morbidities and treatment decisions).
"By having this routine measure, you get a more detailed assessment, the patient is better able to express their needs, communication improves, you get better use of clinician time, and you improve patient-reported outcomes," Harding told us.
---
The search for an HIV cure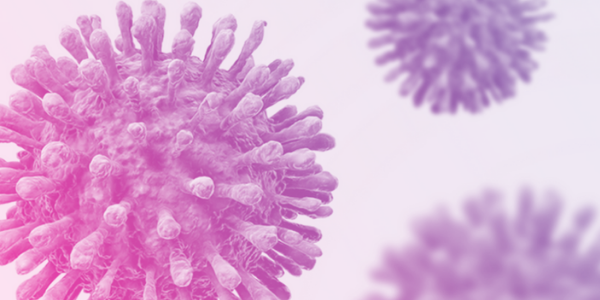 Two people have been cured of HIV after bone marrow transplants replaced all the cells of their immune systems and another possible cure without a bone marrow transplant was reported in 2020, although it's too early to say if HIV has been completely cleared in this case.
Find out more about the search for an HIV cure in our recently updated About HIV page.
---
Weight gain and genetics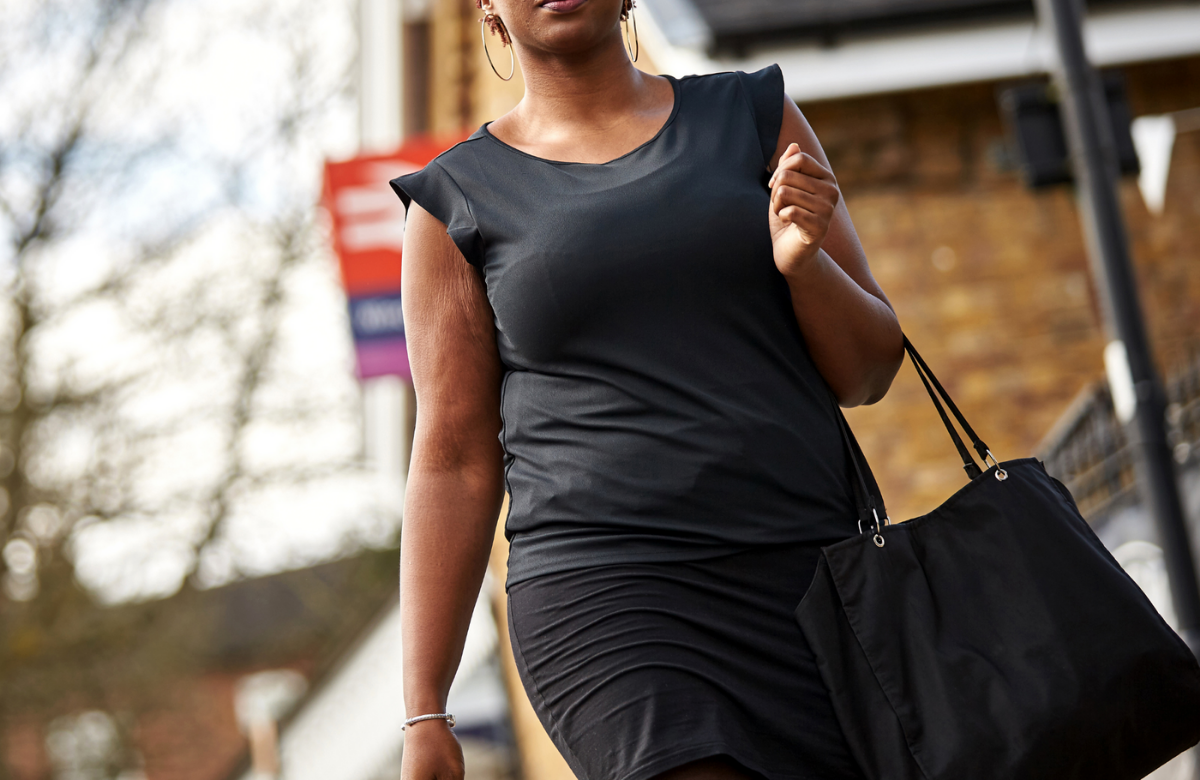 Genetic variations in a liver enzyme could explain why some people put on unwanted weight after switching from efavirenz to an integrase inhibitor, a new study suggests. Slow metabolism of efavirenz due to the CYP2B6 gene – leading to higher blood concentrations of the drug – was associated with greater weight gain after switching from efavirenz to integrase inhibitors.
---
Editors' picks from other sources
Timothy Ray Brown, the first person to be cured of HIV, died on Tuesday 29 September 2020. He delivered messages of hope for the HIV community through social media and interviews until nearly the end of his life. The passing was announced on his Facebook page by his partner, Tim Hoeffgen, and various friends.
On 21 September, South African Nurse Clinician Angela Motsusi coined the hashtag on Facebook.
Sex can be a difficult topic to discuss at the best of times but in COVID, with uncertainty about risk factors for transmission of the virus, it is extremely hard to get most people to open up about the issues it raises. Here some thoughtful HIV-positive people – some in lockdown states, some not – have put their perspectives down to help us to get our head around what having sex (or choosing not to) involves at the moment.
Successfully navigating through these stages during one's HIV diagnosis requires information, communication, emotional support, guidance, and direction.