Four days on, three days off HIV treatment just as effective as continuous therapy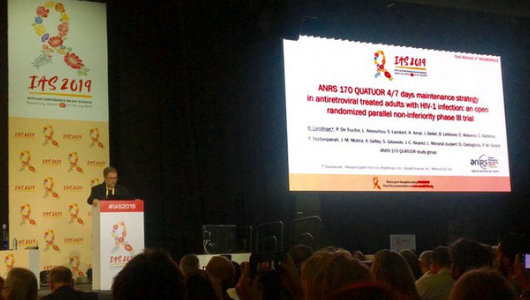 Roland Landman presenting at IAS 2019. Image source: @agenceANRS
Taking HIV treatment four days a week was just as effective as daily treatment for people who already had a fully suppressed viral load, a randomised trial presented at the 10th International AIDS Society Conference on HIV Science (IAS 2019) in Mexico City has found.
People living with HIV are recommended to take antiretrovirals every day, but there is evidence that sufficient blood levels of some antiretrovirals persist for several days, keeping HIV under control even when a single dose is missed. Although long-term adherence to antiretroviral therapy is good, many people with HIV say it is hard to maintain perfect adherence year after year and have expressed interest in treatment strategies that would reduce the burden of taking medication.
Following a previous pilot study, the French national HIV research agency ANRS designed the QUATUOR study, which recruited 647 people who had had a fully suppressed viral load for at least 12 months and had no drug resistance mutations.
Participants were taking a variety of antiretroviral regimens, and they were randomised to continue taking their medication seven days a week or to change to taking medication on four consecutive days (Monday to Thursday).
The study's primary outcome was the proportion of participants with therapeutic success at week 48, defined as undetectable viral load and no interruption of the assigned treatment strategy. Results for the four-days strategy were non-inferior to the daily strategy. What's more, no difference was found in the virological safety of the two strategies between regimens based on protease inhibitors, integrase inhibitors or non-nucleoside reverse transcriptase inhibitors (NNRTIs).
Lead investigator Dr Roland Landman said that the four-day strategy reduced the cost of treatment by 43%.
Participants will be monitored for a further 48 weeks to confirm the durability of the strategy.
Islatravir plus doravirine may offer new dual therapy option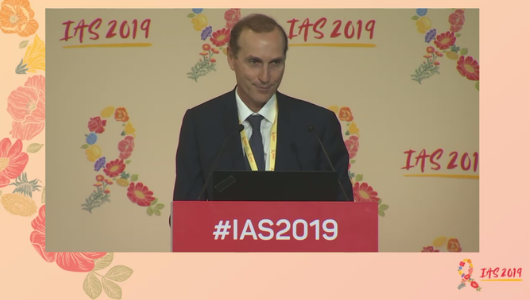 Image from the livestream of Jean-Michel Molina at IAS 2019
Islatravir, previously known as MK-8591, the first nucleoside reverse transcriptase translocation inhibitor (NRTTI), plus the recently approved non-nucleoside reverse transcriptase inhibitor (NNRTI) doravirine (Pifeltro) may offer a potent and well-tolerated two-drug regimen for HIV maintenance therapy, according to a study presented at IAS 2019.
Dr Jean-Michel Molina of the University of Paris presented findings from a phase IIb study evaluating the safety and efficacy of islatravir plus doravirine versus doravirine, tenofovir disoproxil fumarate (TDF) and lamivudine, which comprise the Delstrigo single-tablet regimen.
During the first part of the study, lasting 24 weeks, participants were randomly assigned to receive one of three doses of islatravir (0.25mg, 0.75mg or 2.25mg) plus doravirine and lamivudine, or Delstrigo.
In the second part of the study, those who achieved an undetectable viral load (below 50 copies/ml) on the three-drug combination dropped lamivudine and stayed on islatravir and doravirine as a two-drug regimen to week 48. Some people who had slower viral suppression stayed on the three-drug combination for longer.
At 24 weeks, 89.7%, 100.0% and 87.1% of people using the 0.25mg, 0.75mg and 2.25mg doses of islatravir, respectively, had a viral load below 50 copies/ml and were therefore eligible for part two of the study, as did 87.1% of those taking Delstrigo.
At 48 weeks, 89.7%, 90.0% and 77.4% of people taking the respective islatravir doses maintained viral suppression, as did 83.9% of those on Delstrigo.
"These results provide evidence for the antiviral properties of islatravir in combination with doravirine as a potential once-daily dual regimen for people living with HIV-1," Molina said.
Merck, the company developing islatravir, has indicated that it plans to embark on phase III trials of islatravir plus doravirine. Islatravir alone is also being evaluated in a long-acting implant for pre-exposure prophylaxis (PrEP).
ADVANCE trial shows dolutegravir is highly effective in South Africa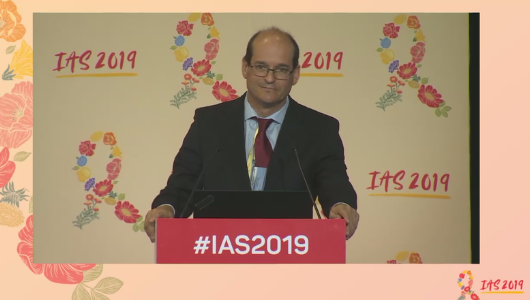 Image from the livestream of François Venter presenting at IAS 2019. 
Dolutegravir-based treatment was just as effective as efavirenz-based treatment according to results of the ADVANCE study presented at IAS 2019. Treatment with the older and cheaper formulation of tenofovir (tenofovir disoproxil fumarate –TDF) was as effective and well tolerated as treatment with the newer formulation (tenofovir alafenamide fumarate – TAF).
Dolutegravir-based treatment is now recommended by the World Health Organization for all adults. The ADVANCE study was designed to investigate the use of a regimen containing dolutegravir and TAF in South Africa.
The study recruited 1035 adults and adolescents over the age of 12 years who had not taken antiretroviral therapy in the previous 30 days. The participants were randomised to one of three treatment regimens: TAF/emtricitabine/dolutegravir, TDF/emtricitabine/dolutegravir, or TDF/emtricitabine/efavirenz.
Professor François Venter presented results from the study. There was no significant difference between the three treatment combinations in the proportion of people who had a viral load below 50 copies/ml at week 48.
An advantage to dolutegravir is that virological failure resulting in drug resistance is rare. In contrast, resistance to non-nucleoside reverse transcriptase inhibitors (NNRTIs) such as efavirenz is widespread in sub-Saharan Africa. In this study, there were eight cases of drug resistance. Three of the participants in the efavirenz arm developed NNRTI resistance and four developed nucleoside reverse transcriptase inhibitor (NRTI) resistance. One participant in the TDF/emtricitabine/dolutegravir arm developed NRTI resistance.
People taking efavirenz were more likely to stop treatment due to side-effects (ten participants vs one taking dolutegravir).
DEXA scans were carried out to measure bone mass density. Participants in the TDF groups had lower lumbar spine and hip bone mass at week 48. Although laboratory test results showed markers of kidney impairment more frequently in the TDF groups, there was no significant difference in kidney-related side-effects.
However, the study found that a high proportion of people taking dolutegravir with TAF experienced substantial weight gain.
Who stops taking PrEP?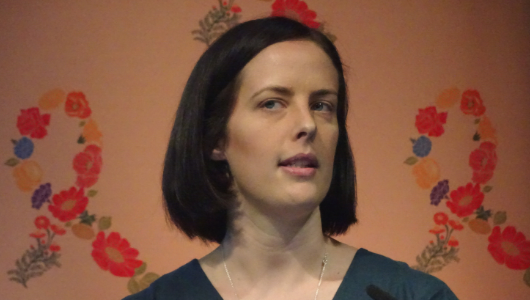 Kathleen Ryan of Monash University. Photo by Gus Cairns. 
Several studies presented at IAS 2019 looked at who stopped taking pre-exposure prophylaxis (PrEP) after starting it in demonstration projects. The most consistent finding was that young people have difficulty maintaining PrEP use.
PrEPX was a demonstration roll-out study undertaken by the state of Victoria in Australia. Participants were mostly gay and bisexual men in their thirties who had had condomless anal sex in the three months before enrolling. The average age of participants was 34, with 25% aged under 29. Nearly all were cisgender gay or bisexual men, apart from 39 transgender women (1.1%). Nearly three-quarters had had condomless anal sex in the three months before enrolling, 13% had used methamphetamine, and 5% had injected drugs.
Eighty-five people (2.4%) officially withdrew from the study, but 877 people discontinued participation without notice (25%) and 275 of these never returned after their first prescription. People who discontinued could restart and 197 people did so.
Certain groups of people were more likely to discontinue PrEP. People under 29 were 75% more likely to discontinue than those aged over 40. People who had injected drugs were 64% more likely to discontinue and people who had used methamphetamine 34% more likely. People who were referred for PrEP by their clinician were 27% more likely to discontinue than people who came to the clinic asking for PrEP.
Discontinuing PrEP did not lead to discontinuation from sexual health services and diagnoses of sexually transmitted infections (STIs) were just as common in people who discontinued PrEP as in people who kept taking it. This suggests that they were at as much risk of HIV after stopping PrEP as they would have been if they had never started it. Dr Kathleen Ryan, who presented the study, said that it was a concern that people's "perceived risk may be lower than their actual risk".
Trial vaccine could protect against HIV for more than five years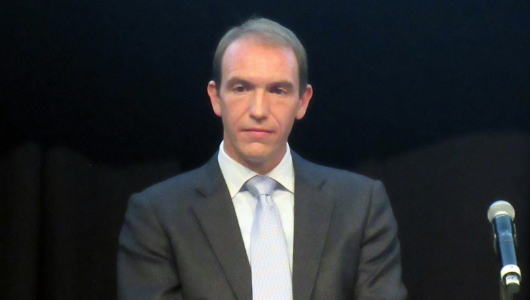 Daniel Stieh, presenting the ASCENT study, at IAS 2019. Photo by Liz Higheyman. 
New results from a phase IIa vaccine study, APPROACH, announced at IAS 2019, indicate that the antibody and cellular immune responses induced by the vaccine last for at least two years, and that a protective antibody response could last for at least five years if it declines at a rate typical of other vaccines.
Six-month results from APPROACH were announced two years ago at IAS 2017. The study's data were used to decide which vaccine to use in an efficacy study, Imbokodo, which is now underway in five southern and eastern African countries.
Just as important as the strength of the immune response elicited by a vaccine is its duration. The results presented at IAS 2019 show that the antibody response produced by the APPROACH vaccine peaked after the last inoculation in the four-injection regimen, and declined about tenfold in the first five months afterwards. Subsequently, however, it has scarcely declined any further during the following two years.
Dr Frank Tomaka said that modelling studies projected that the blood level at the fifth year would still exceed the average levels seen in pre-clinical monkey studies, where the vaccine protected two-thirds of the animals from HIV.
In a separate presentation, Dr Daniel Stieh reported the final results of a second phase IIa vaccine study, ASCENT. These results have settled the question of which vaccine formulation to use in the forthcoming phase III efficacy study, MOSAICO, which will launch this autumn in North America, South America and Europe.
The vaccines used in APPROACH and Imbokodo are designed to work against clade C, the most common variety of HIV in Africa. However, the most common variety of HIV in men who have sex with men worldwide is clade B.
The aim of ASCENT was to broaden the applicability of the vaccine so that it would produce useful responses in people with non-clade C varieties of HIV. This was done by splitting the booster dose of vaccine into two booster doses of half the size – one designed for clade C, and one for a 'mosaic' of various HIV antigens from other viral clades.
The ASCENT vaccine was given to 152 people in the US, Rwanda and Kenya. There had been concern that by halving the clade C booster dose, the immune response to that virus would be weaker. However, there was no sign of the antibody response to clade C being any weaker than to other viral strains, and responses to clade B improved.
Results from Imbokodo are expected in late 2022 and from MOSAICO in late 2023.
Three forms of PrEP stigma in Kenya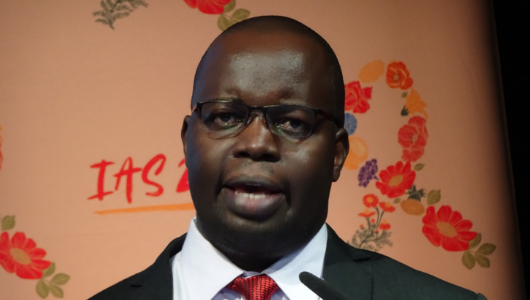 Daniel Were at IAS 2019. Photo by Gus Cairns.
Stigma remains a significant barrier to the uptake and continued use of pre-exposure prophylaxis (PrEP) by key populations in Kenya, according to qualitative research presented at IAS 2019.
Dr Daniel Were of the Jilinde Project and Jhpiego said that adolescent girls and young women, men who have sex with men (MSM), and female sex workers continue to experience high levels of external as well as internalised stigma.
Jilinde is a four-year project that aims to demonstrate an effective model for PrEP scale-up with key populations in Kenya and it provides PrEP at 93 sites. In order to better understand how stigma presents a barrier to PrEP uptake and continuation, 22 focus groups and 30 in-depth interviews were conducted with 222 participants.
Three main types of stigma emerged:
Product stigma: "I have kept it a secret because the bottle is similar to that of ARVs. Someone who doesn't know about PrEP could think you have HIV." – 20-year-old young woman.
Identity stigma: "MSM is seen as something bad, they take it as a curse…" – 20-year-old MSM. This form of stigma was mainly cited by MSM and sex workers.
Behaviour stigma: "My mother told me I have taken those drugs because I want to be a prostitute…" 22-year-old young woman. This was mainly cited by adolescent girls and young women.
Stigma was experienced as coming from peers, sexual partners, family members and healthcare providers and was expressed as prejudice, discrimination and stereotyping. Participants spoke about the real-life implications of stigma, including intimate partner violence, loss of business (for sex workers), reputational damage and healthcare provider discrimination.
At a conference symposium, Ntando Yola of the Desmond Tutu HIV Foundation provided insights into uptake of PrEP in South Africa among young people. He highlighted the importance of services that are convenient, adolescent-friendly and integrated (especially with contraception).
Both presenters emphasised prioritising tailored interventions that include sensitivity training for healthcare providers and raising awareness of PrEP to normalise and destigmatise it.
Scientific analysis from Clinical Care Options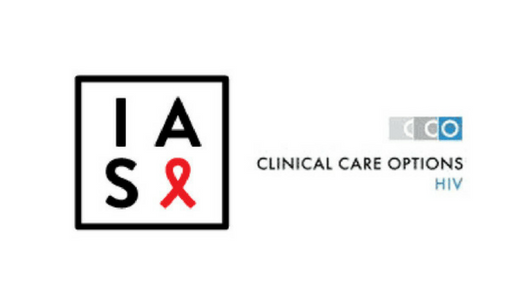 Clinical Care Options is the official provider of online scientific analysis for IAS 2019 through capsule summaries, downloadable slides, rapid expert webinars, and ClinicalThought commentaries.