mRNA vaccine protects monkeys against HIV-like virus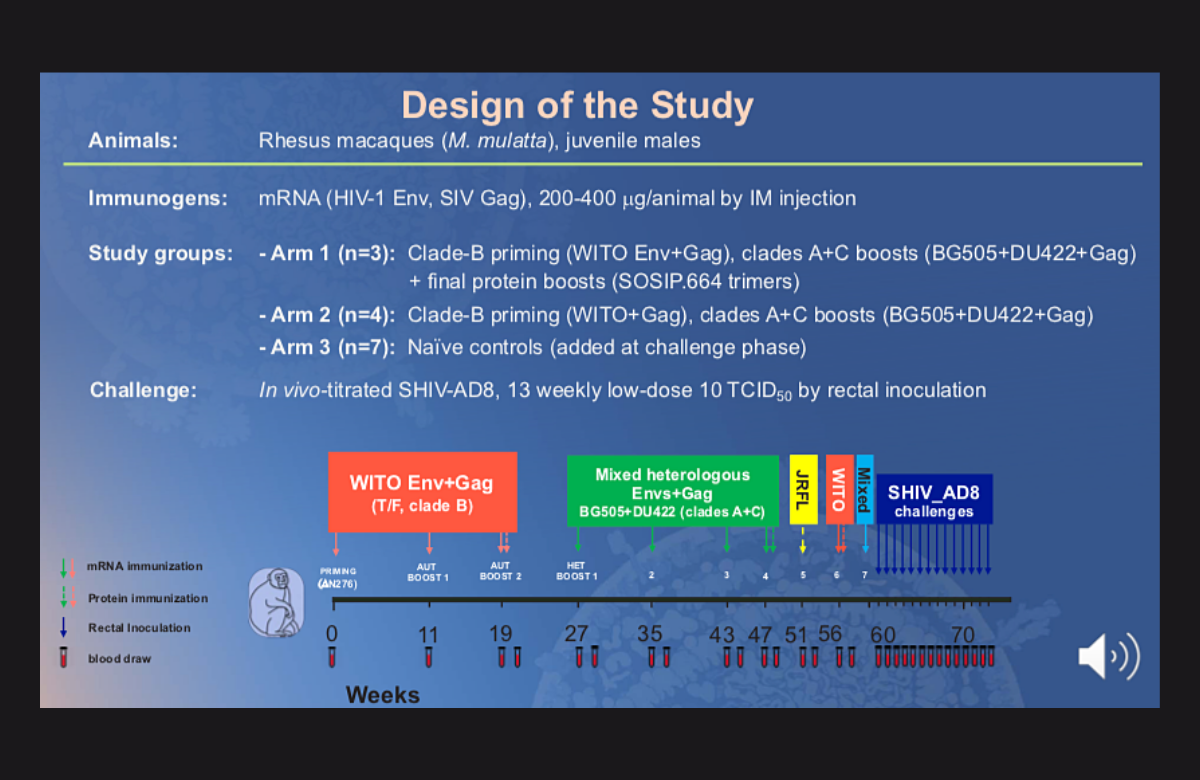 The same messenger RNA (mRNA) approach used for the highly effective Pfizer-BioNTech and Moderna COVID-19 vaccines also shows promise for protection against HIV, according to a presentation at the virtual Conference on Retroviruses and Opportunistic Infections (CROI 2021).
Dr Peng Zhang of the US National Institute of Allergy and Infectious Diseases (NIAID) and colleagues, in collaboration with Moderna, are using lipid nanoparticles, or fat bubbles, to deliver small lengths of a nucleic acid that delivers instructions for making proteins. mRNAs are found throughout the cell and act as messengers, hence the name.
In this study, seven macaque monkeys received one of two vaccine regimens while another seven received placebo injections.
All of the monkeys first received three injections over 20 weeks of a vaccine containing mRNA for HIV subtype B, the predominant type in Europe and North America. They then received four injections over 20 weeks of a second vaccine mixing mRNA from HIV subtypes A and C, which are predominant in eastern and southern Africa. Three monkeys also received protein boosters.
The monkeys were then exposed rectally to an HIV/SIV hybrid virus every week for 13 weeks.
All seven animals in the placebo group became infected within about a month and a half, starting after the second exposure. All vaccinated monkeys remained free of SHIV for about the first month, but then started to become infected; a few, however, remained uninfected at two months, after all the exposures.
There was an 85% reduction in the risk of infection overall: a 76% reduction for the monkeys that received the mRNA vaccines alone, and an 88% reduction for those that had the mRNA vaccines plus the boosters.
---
Dolutegravir superior to standard-of-care treatment in children and adolescents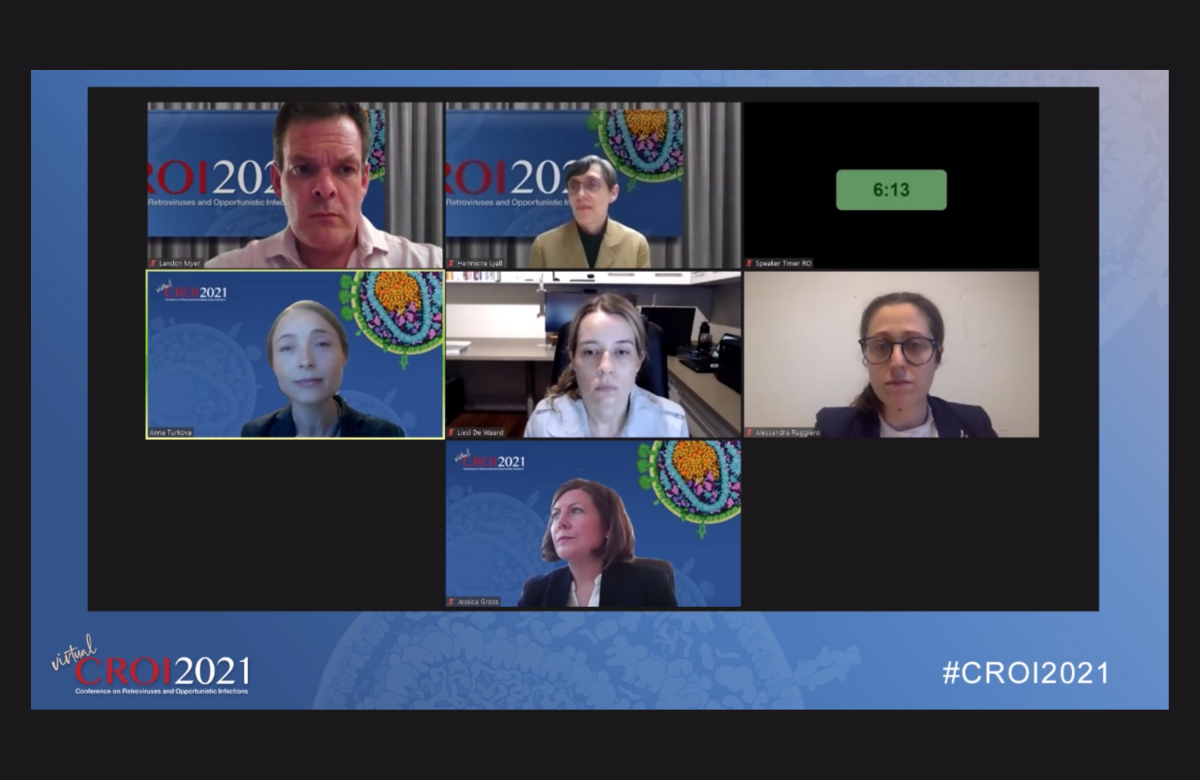 Dolutegravir-based treatment was superior to treatment based on efavirenz or a boosted protease inhibitor in children and adolescents, both as first- and second-line treatment, a large international study presented to CROI 2021 has concluded.
Dolutegravir, an HIV integrase inhibitor, is recommended as the core component of antiretroviral treatment for all adults in resource-limited settings. Simplifying treatment for children and adolescents has proved more challenging due to the need to dose medicines for smaller children by weight, as well as drug resistance in children experiencing first-line treatment failure.
In 2019, the World Health Organization (WHO) recommended that children should receive dolutegravir too, but the recommendation was labelled 'conditional', meaning that further evidence was needed.
The ODYSSEY study compared dolutegravir-based treatment to the standard of care for first- and second-line treatment in children and adolescents weighing 14kg and over. It recruited 311 participants in the first-line arm and 396 participants in the second-line arm.
Participants were recruited in South Africa (20%), Thailand (9%), Uganda, (47%) and Zimbabwe (21%), with the remainder recruited in Germany, Portugal, Spain and the UK.
Among participants randomised to the standard of care, this was usually an efavirenz-based regimen for first-line treatment and a protease inhibitor-based regimen for second-line treatment.
After 96 weeks of follow-up, 14% of participants in the dolutegravir arm and 22% in the standard-of-care arm had experienced clinical or virological treatment failure, a statistically significant difference of -8%. The effect was seen for both first- and second-line therapy.
There was no difference in deaths or severe clinical events between the study arms, nor in the number of serious side effects, but children in the standard-of-care arm were more likely to need to modify their treatment regimen as a result of a side effect.
"These results support WHO guidelines and current roll over to dolutegravir-based regimens for children starting first- or second-line antiretroviral therapy, allowing harmonisation with adult treatment programmes," the study investigators concluded.
---
People with HIV and hepatitis B should have ongoing monitoring for liver cancer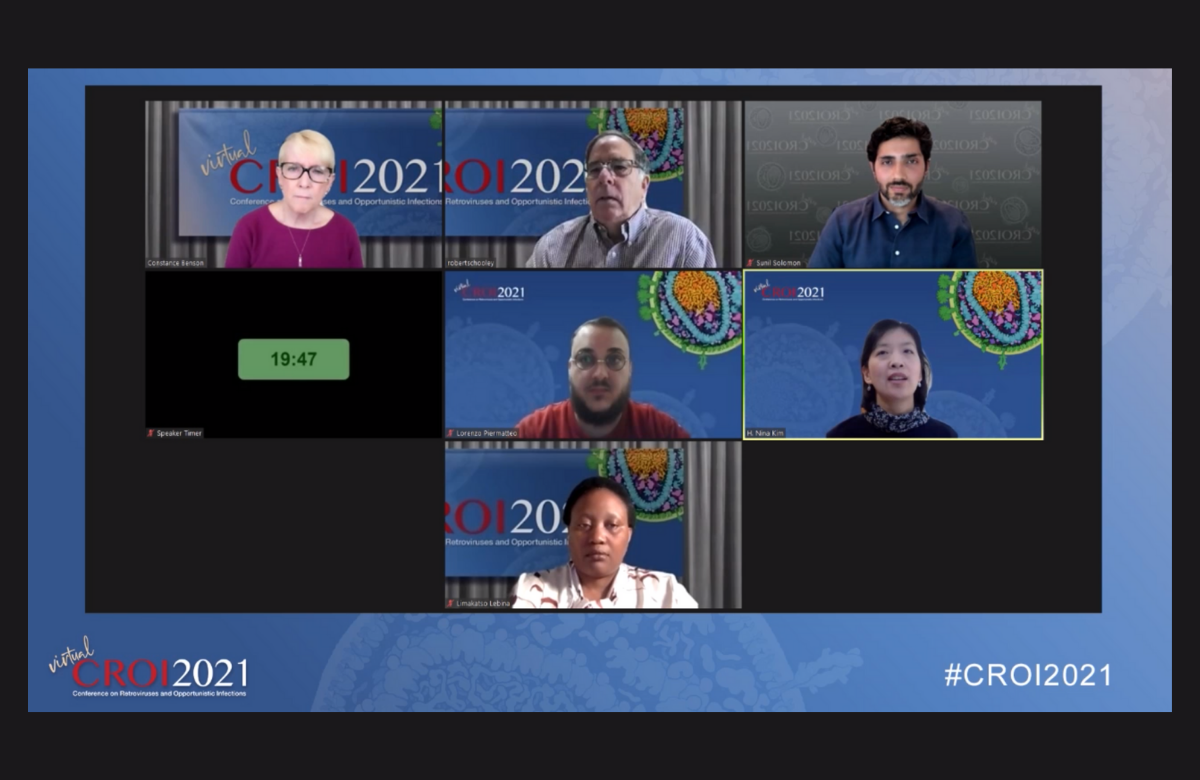 People with HIV and hepatitis B co-infection remain at risk for developing hepatocellular carcinoma (HCC) despite antiviral treatment and should undergo regular monitoring for liver cancer, according to research presented at CROI 2021.
Researchers examined data covering 1995 to 2016 from 8354 people with HIV and hepatitis B co-infection. There were 115 cases of HCC in the group in that time. Older age, heavy alcohol use and chronic hepatitis C were independent risk factors for liver cancer. However, there was no significant association with HIV viral load or CD4 percentage.
Hepatitis B viral load data was available for around two-thirds of the study participants. In this subgroup, having hepatitis B DNA over 200 IU/ml nearly tripled the risk of developing HCC, and the odds were more than fourfold higher for those with levels exceeding 20,000 IU/ml.
Looking at the effect of hepatitis B treatment, sustained hepatitis B virus suppression for a year or more was associated with a 58% reduction in HCC risk, while suppression for four years or more reduced the risk by 66%.
Presenting the findings, Dr H Nina Kim of the University of Washington in Seattle said, "Our findings underscore that antiviral therapy reduces but does not eliminate the risk of HCC."
---
Targeted screening improves TB diagnosis in people with HIV in South Africa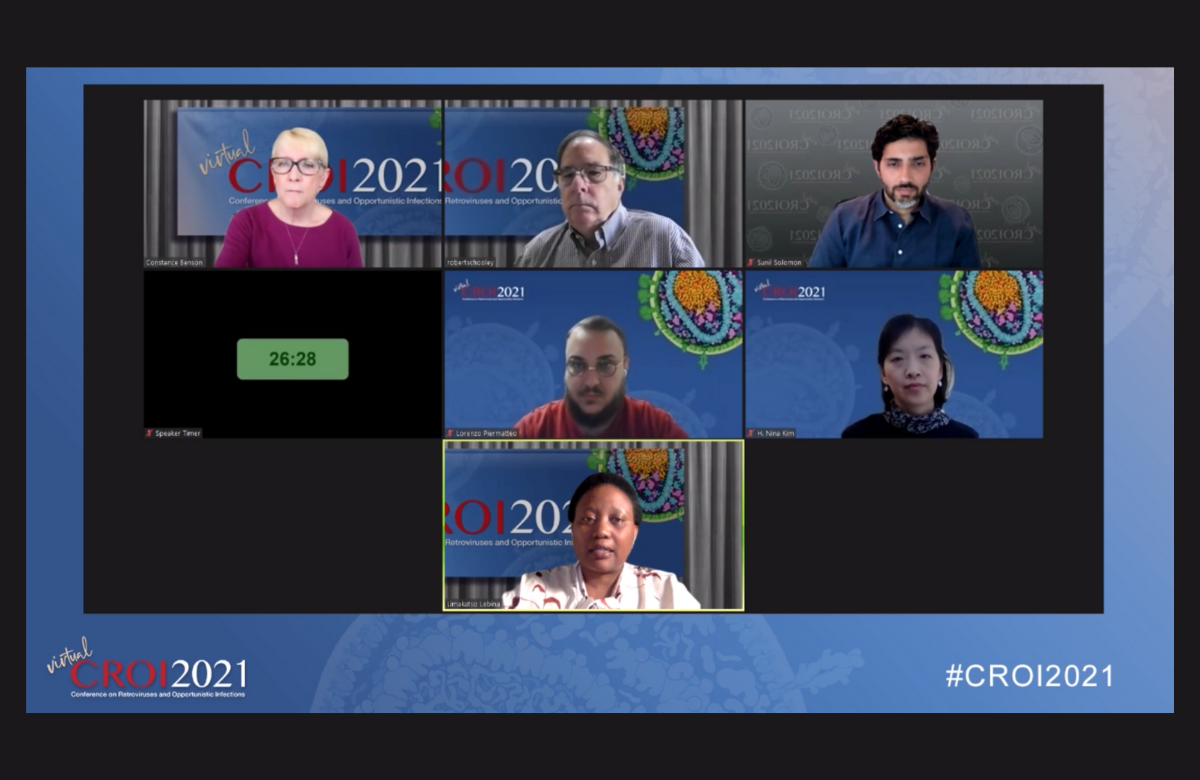 Screening everyone with HIV and others at high risk of tuberculosis (TB) for active TB increased diagnosis rates by 17% compared to testing people who had potential symptoms of TB such as cough and fever, Dr Limakatso Lebina of the University of Witwatersrand reported to CROI 2021.
Around 150,000 cases of TB are missed each year in South Africa and people die or pass TB on to others before their illness is detected.
TB screening in most resource-limited settings relies on asking people about symptoms and this performs poorly in identifying TB cases in people on antiretroviral treatment and very badly in pregnant women with HIV, where it misses 70% of TB cases.
Over the past 15 years international donors and governments in southern Africa have invested in the GeneXpert diagnostic platform. Using this as the primary test for TB and screening everyone at high risk of TB has the potential to improve rates of diagnosis.
The Targeted Universal Testing for TB (TUTT) study was designed to investigate whether screening everyone with HIV, anyone with a history of TB in the past two years and anyone who reported close contact with someone with TB in the past year would increase TB diagnoses by 25%.
The study was carried out in primary healthcare clinics in KwaZulu-Natal, Western Cape and Gauteng provinces. Sixty clinics were randomised to either carry out targeted screening or to only test people who have symptoms. The study enrolled 32,000 patients in the intervention clinics, 71% living with HIV.
Of those tested, 6% were positive for TB. Rates were 5% among people with HIV, 7.5% among TB contacts and 12.2% among people who had previously had TB.
The investigators calculated that TB diagnoses increased by 17% in intervention clinics compared to the standard-of-care clinics in the follow-up period.
---
Social networks key to PrEP uptake in rural Kenya and Uganda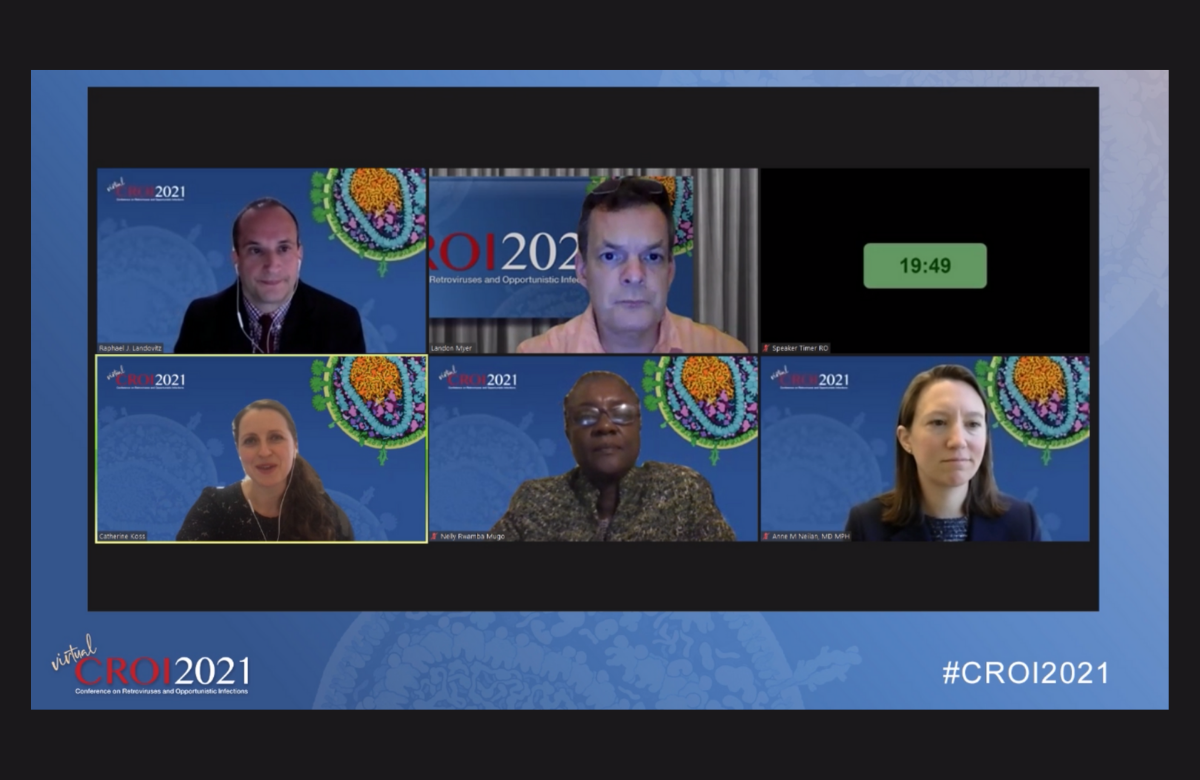 Men and women at an elevated risk of HIV exposure were 57% more likely to start PrEP (regular medication to prevent HIV infection) if they had a social network contact who had already started using PrEP, Dr Catherine Koss from the University of California, San Francisco told CROI 2021.
The Sustainable East Africa Research in Community Health (SEARCH) project offers intensified health care, universal HIV testing, increased PrEP access and antiretroviral treatment to rural communities in Kenya and Uganda.
While it has been assumed that peer support may be a crucial factor in the uptake of PrEP, little is known about the influence of social networks on PrEP uptake in sub-Saharan Africa, Koss said.
During population-level HIV testing activities, community members were asked to name social contacts in one of five domains (health, money, emotional support, food or free time). While researchers recorded the social networks of 220,332 individuals, their analysis focused on 8898 people assessed as being at higher HIV risk who had at least one network contact. This group had a mean of 2.15 connections per person.
Of this sample, 14% had a network contact who had started PrEP in the previous year and 18% had contact with a person living with HIV. Overall, 29% of the 8898 participants started PrEP themselves.
The researchers looked at whether or not having a network contact who started PrEP would predict PrEP uptake in an individual. After taking factors such as age, sex, having a partner living with HIV, polygamy and mobility into account (known predictors of PrEP uptake), the answer was yes – they were 57% more likely to start taking PrEP themselves.
"Interventions that leverage existing peer networks and strengthen social connections to other PrEP users are promising approaches to foster PrEP uptake," Koss concluded.