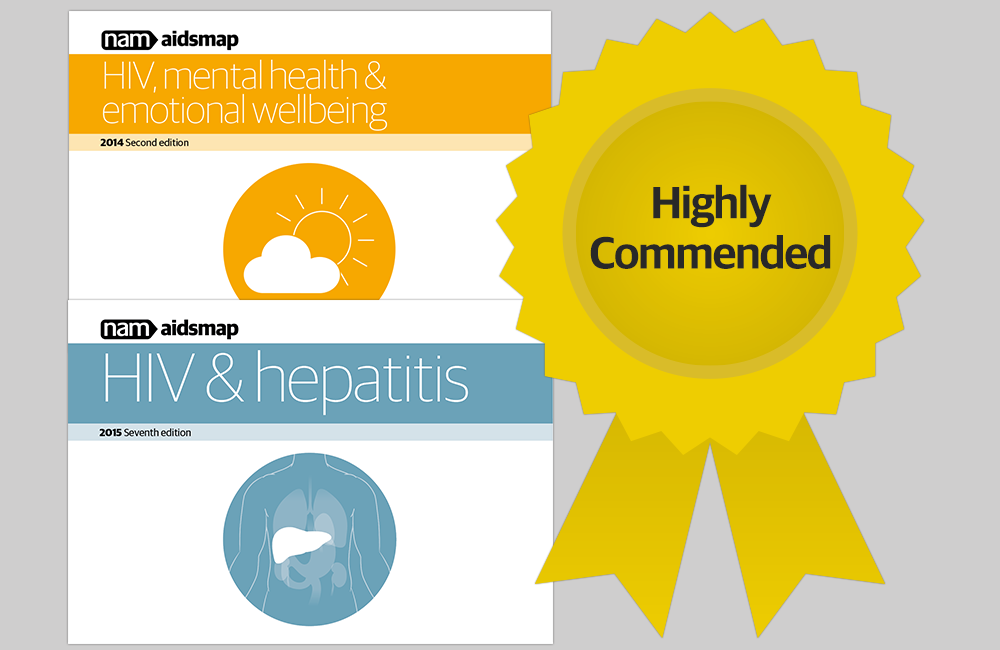 Two of NAM's booklets, HIV & hepatitis and HIV, mental health & emotional wellbeing, have been highly commended at the British Medical Association (BMA) Patient Information Awards, held in London earlier this week. You can read both booklets online at www.aidsmap.com/booklets
HIV & hepatitis
HIV & hepatitis is for people living with HIV who want to know more about hepatitis A, B and C. The booklet was revised in 2015 to include the updated British HIV Association (BHIVA) guidelines on the management of hepatitis viruses in people with HIV, and information on new treatments for hepatitis B and C.
As part of the judging process for the awards, we had some positive feedback from the BMA:
"This is a very informative and easy to read booklet which conveys a lot of information in a small space. There is a lot of information in this booklet, but it is very readable and split into different sections, with a contents page so the reader can find exactly what they want very easily. Face-to-face interviews and patient review panels etc are used to gather opinion and feedback throughout the process."
HIV, mental health & emotional wellbeing
This booklet provides an introduction to emotional wellbeing and mental health for people living with HIV. Emotional difficulties and problems with mental health can affect anybody, but living with a long-term illness like HIV can mean people are more likely to experience mental health problems.
The BMA said:
"I like this handy little booklet which provides a lot of information clearly and concisely. I'm particularly impressed with the way the resource has involved patients in its production and also the plans for dissemination, promotion and evaluation which are creative and well-thought-out. I am also pleased that thought has been given to providing the information in alternative formats if these are required (eg large print)."
The BMA Patient Information Awards
The awards are held every year, and their stated aim is to "support and encourage patient-centred care in meeting the needs of patients through the production and dissemination of accessible, well-designed and clinically balanced information which will promote both greater awareness and understanding of health matters, and patient choice."
Thank you
During the process of developing, reviewing and publishing all our resources, we work with people living with HIV and people working in HIV, including health professionals and staff in support organisations.
A huge thank you to everyone who was involved in producing these booklets and also to Wandsworth Oasis for funding towards the development of both booklets.
NAM's Patient Information Subscription Scheme
UK-based HIV and GUM clinics can order copies of HIV & hepatitis and HIV, mental health & emotional wellbeing, and all our other booklets and basics leaflets, through our online portal as part of our patient information subscription.
To find out if your clinic is registered or for information on joining the scheme, please contact Zoë at zoe@nam.org.uk or call 020 7837 6988.