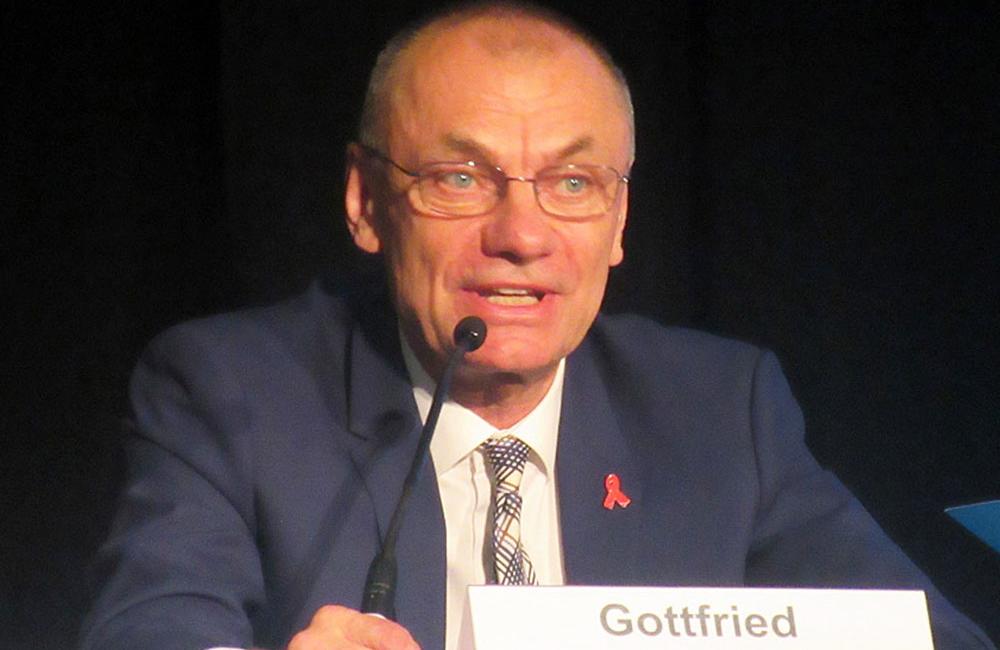 The World Health Organization (WHO) released updated guidelines today calling for antiretroviral therapy for everyone diagnosed with HIV regardless of CD4 cell count and pre-exposure prophylaxis (PrEP) for people at substantial risk of HIV infection.
WHO estimates that if these recommendations are widely adopted worldwide, they could avert 21 million deaths and prevent 28 million new infections by the year 2030.
"These new recommendations will have tremendous impact on peoples' lives, if rapidly implemented," said Gottfried Hirnschall, director of WHO's Department of HIV/AIDS. "So we must work together to support countries to translate them into action and results."
"These timely recommendations will make it easier for the poorest and most vulnerable populations everywhere to access the best treatment and services that modern science can provide and that are already available in the world's richest countries," added UNITAID executive director Lelio Marmora.
HIV treatment for all
Dr Hirnschall and others gave a preview of the new recommendations and explained the process behind them at the 8th International AIDS Society Conference in Vancouver this past July. This week's early release of the guidelines was done ahead of a full release expected later this year, due to its public health importance.
The new WHO guidelines state that, "Antiretroviral therapy should be initiated in all adults living with HIV at any CD4 cell count." The same recommendation applies to infants, children, adolescents and pregnant women with HIV. People with advanced immune suppression or clinical symptoms of AIDS should be prioritised for treatment.
The recommendation for universal treatment was informed by the large START trial, which showed the benefits of early antiretroviral therapy. The WHO guidelines team had advance access to these study findings after a data monitoring committee stopped the trial ahead of schedule because there was enough evidence to show an advantage of early treatment.
At the IAS meeting, Jens Lundgren of the University of Copenhagen reported that people with high CD4 counts (>500 cells/mm3) who were randomly assigned to start treatment immediately had a 57% reduction in serious AIDS-related events, non-AIDS events or death, compared with people who waited until their CD4 cell count fell below 350 cells/mm3 or they developed clinical symptoms.
Another presentation at the conference confirmed previous results from a study of heterosexual couples in Africa (HPTN 052), showing that HIV-positive people who start treatment immediately instead of waiting for their CD4 cell count to drop had a 93% lower risk of transmitting HIV to their partners.
"[START] clearly indicates that antiretroviral therapy should be provided for everyone regardless of CD4 count," Lundgren told Aidsmap in Vancouver. "Now we have evidence that aligns individual benefit and prevention benefit without evidence of harm."
PrEP for people at risk
The new WHO guidelines state that, "Oral PrEP (containing [tenofovir disoproxil fumarate]) should be offered as an additional prevention choice for people at substantial risk of HIV infection as part of combination prevention approaches."
The WHO does not specify a specific PrEP regimen. Gilead Sciences' Truvada (tenofovir plus emtricitabine) has been most extensively studied for PrEP and is the only PrEP option approved by the US Food and Drug Administration. Tenofovir alone was also evaluated in some PrEP trials. Generic versions of tenofovir and emtricitabine – as well as the older off-patent drug lamivudine, which is similar to emtricitabine – are available in many countries.
The large international iPrEx trial showed that once-daily Truvada reduced the risk of HIV infection for men who have sex with men (MSM) by 92% among participants with blood drug levels indicating regular use. More recently, the UK PROUD and French Ipergay studies both found that Truvada PrEP – daily in PROUD, "on demand" before and after sex in Ipergay – lowered the risk of HIV infection for gay men by 86%.
The updated WHO guidelines reaffirm an earlier recommendation, released prior to the 2014 International AIDS Conference in Melbourne, that PrEP could be used as part of a "comprehensive prevention package" for at-risk men who have sex with men. WHO did not then – and does not now – recommend that all gay men should take antiretrovirals for HIV prevention.
The new revision extends this recommendation to all population groups. While WHO broadly defines "substantial risk" as an HIV incidence greater than three per 100 person-years – a level seen in some groups of gay and bisexual men, transgender women, and heterosexual men and women with untreated HIV-positive partners – it acknowledges that individual risk varies within groups.
"The new recommendation will enable a wider range of populations to benefit from this additional prevention option," according to the guidelines. "It also allows the offer of PrEP to be based on individual assessment, rather than risk group, and is intended to foster implementation that is informed by local epidemiological evidence regarding risk factors for acquiring HIV."
Ensuring access
Under the new recommendation, the number of people eligible for treatment will increase from 28 to 37 million worldwide, according to WHO. UNAIDS estimated that 15 million people were on treatment as of March 2015, representing 41% of adults and 32% of children living with HIV.
The new guidelines stress that in order to effectively implement the recommendations, countries will need to ensure that testing and treatment for HIV are readily available and that people on treatment are given support to stay in care and maintain good adherence.
"Providing antiretroviral treatment upon diagnosis is the best way to preserve the health of people living with HIV and PrEP ensures prevention equity for all," added International AIDS Society president Chris Beyrer. "This sends a signal that I hope will inspire governments, funders, and the international community to act now."
Expanded access to treatment and PrEP are key tools to reach the UNAIDS 90-90-90 targets, which include 90% of people living with HIV being aware of their status, 90% of those receiving antiretroviral therapy and 90% of those having undetectable viral load.
"Everybody living with HIV has the right to life-saving treatment," said UNAIDS executive director Michel Sidibé. "The new guidelines are a very important step towards ensuring that all people living with HIV have immediate access to antiretroviral treatment."
But others caution that people with HIV should not be compelled or coerced to start antiretroviral therapy before they are ready.
"As a network of people living with HIV, we are committed to ensuring that universal access to treatment and prevention is a reality for all," said Global Network of People Living with HIV (GNP+) executive director Suzette Moses-Burton. "However, it is imperative that access to care is offered without coercion, upholding the rights and dignity of people living with HIV. We call upon governments to ensure that the freedom to make choices about treatment and prevention is upheld as they revise their national guidelines and programmes."