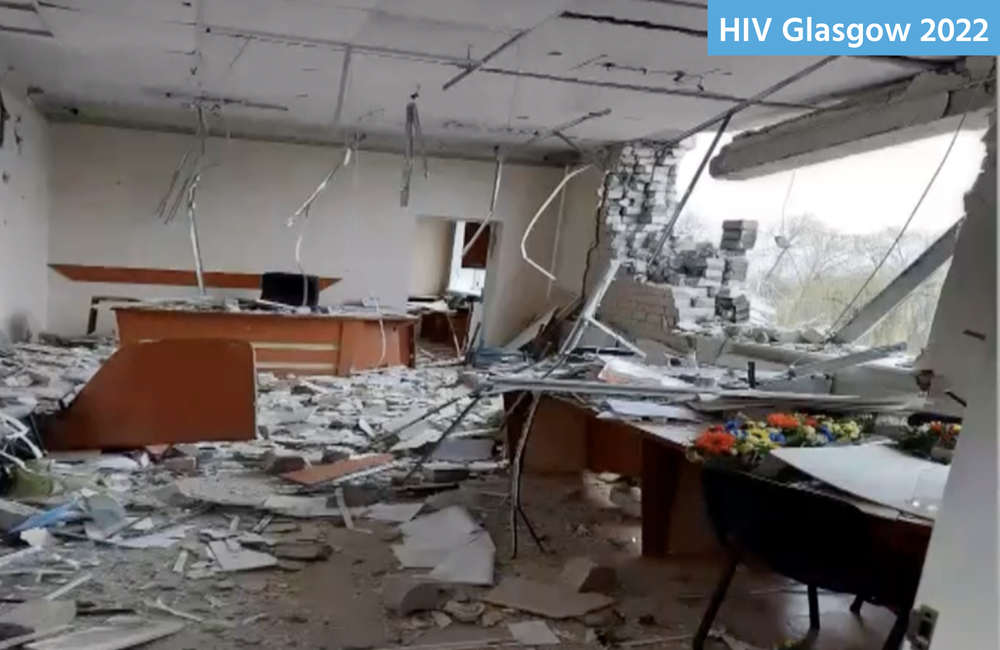 More than half the people on PrEP in Ukraine started it this year, and the country is hoping to further develop its PrEP services, Anna Koval of the Public Health Center of the Ministry of Health of Ukraine told the International Congress on Drug Therapy in HIV Infection (HIV Glasgow) this week.
This is a remarkable achievement in a country where HIV clinics have been damaged or destroyed, much of the population is on the move, and many medical staff have been redeployed or relocated due to the war.
The continued expansion of PrEP, Koval said, has been possible only because of the partnership of community and non-governmental organisations (NGOs), who have taken over most HIV testing and referral work, freeing medical staff solely to prescribe PrEP.
The total of 8700 people who have ever started PrEP is still only around half the annual number of people diagnosed with HIV in Ukraine; so far this year about 9000 people with HIV have started antiretroviral therapy (ART), a 7% increase on last year. 
Ukraine adopted PrEP in 2017 as part of its strategy to end HIV as a significant infection, in line with the UN's sustainable development goals. Despite the war, the Health Ministry continues to work on updating guidelines – most recently in line with the World Health Organization's July 2022 operational guidance for simplified and differentiated PrEP delivery. This guidance has proved very useful in a situation where simplification and decentralisation of services has been imperative.
Currently, there are over 8700 people on PrEP in Ukraine and just over half of those – 4559 – have started it in 2022. Of those starting PrEP this year, 42% have been gay and bisexual men; 30% have been the HIV-negative partner in a serodifferent couple (most of them women); 18% have been people who inject drugs (the majority men); 2% have been female sex workers; and 7% are others. Most are aged 25-44. 
When Russia invaded Ukraine on 24 February, there were 250 medical facilities that could dispense PrEP; 31 have now been destroyed, damaged beyond repair, or are behind Russian lines. Far from reducing services due to the destruction, much of the PrEP work has been reallocated, if it was not before, to local NGOs. In some areas, there is a single nurse or doctor who can accept NGO referrals, prescribe PrEP and keep other sexual health services going.
Every Ukrainian province except Russian-occupied Luhansk has at least one NGO offering HIV testing and PrEP assessment, often operating partially as mobile units. Even the province of Donetsk, partly occupied by Russian separatists, has four NGOs capable of referral.
There were about 500 PrEP initiations per month in the period leading up to the war. Anna Koval commented: "In March, PrEP referrals went down to only 185. Everyone was in shock. But then they started going up again and in June, we saw the biggest number of new starts ever – 732."
The war has led to a major geographical shift in where services are provided. Ukraine's higher-incidence areas for HIV have tended to be in the east or south, nearer the front line, often because these were areas historically with higher numbers of injecting drug users. Odesa was one of the cities that started to provide PrEP early. In January 2021 there were 38 PrEP users in Odesa province, in June 2021 280, in January 2022 880 and in June 2022 1334.
And yet Odesa is actually the area with the second-slowest rise in the number of PrEP starts during 2022; the slowest was Kherson, currently the focus of intense fighting, with PrEP prescriptions only increasing by 9% in 2022, from 167 in January to 182 in June. The rate of increase in PrEP initiations in Odesa, comparing the increase in the first six months of 2021 to the first six months of 2022, went down eightfold.
However, many more people are now testing and being assessed for PrEP in the west of Ukraine. Lviv, described by Koval as a "huge transport hub where everyone meets on their way out of or back into Ukraine", had no PrEP referrals in January 2021 and only 16 in January 2022. By June it had made 166 and the number of referrals is on track to expand further.
The fact that the populations at risk of HIV are quite varied has meant that Health Ministry and other PrEP demand-creating campaigns have had to be varied, though there is an emphasis on targeting young people (so far only about 60 young people under 20 are on PrEP). The Health Ministry is determined to expand PrEP provision and has recently started introducing PrEP into prisons, with over 25 prisoners receiving it so far. 
"We want to further decentralise, to prescribe PrEP outside hospitals, and to implement more self-testing and telemedicine," Koval said, adding that a pilot project to investigate injectable cabotegravir PrEP was also under consideration. "We still plan for a future, but our plans need to be mobile, because our situation is." As an example, she said that gay and bisexual soldiers fighting on the front had been asking for renewal prescriptions to be issued every six months instead of every three months, as they could not get back to their home clinic that often.
Another Ukrainian provider, Sergiy Antoniak of the Gromashevsky Epidemiological Institute in Kyiv, gave additional information about the provision of ART and PrEP at the European AIDS Clinical Society Standard of Care meeting in Brussels two weeks ago.
He provided the picture above of the HIV clinic in Chernihiv in northern Ukraine, partly destroyed by a missile, but still being operated by a single healthcare worker. 
He commented that there has been an increased demand for both PrEP and post-exposure prophylaxis (PEP) too.
"This is partly because of something that, unfortunately, tends to increase during wartime – rape, and not only of women but men too," he told the meeting.
"But it is also that, because of mobility, the temporary breakup of families, and just because of the feeling that life could be short, sexual conventions tend to loosen during wartime.
"What we are trying to do is to ensure that at least the disaster of war does not become an HIV disaster afterwards."
References
Koval A et al. New challenges of PrEP implementation during Russian-Ukrainian war. International Congress on Drug Therapy in HIV Infection (HIV Glasgow), abstract O12, 2022.
Antoniak S. Impact of the war on HIV services delivery in Ukraine. EACS Standard of Care for HIV and Co-infections in Europe meeting, Brussels, 13-14 October 2022.
Visit our EACS Standard of Care conference page on aidsmap for news from the meeting.
Update: this article was amended on 14 November 2022 to correct Anna Koval's affiliation.