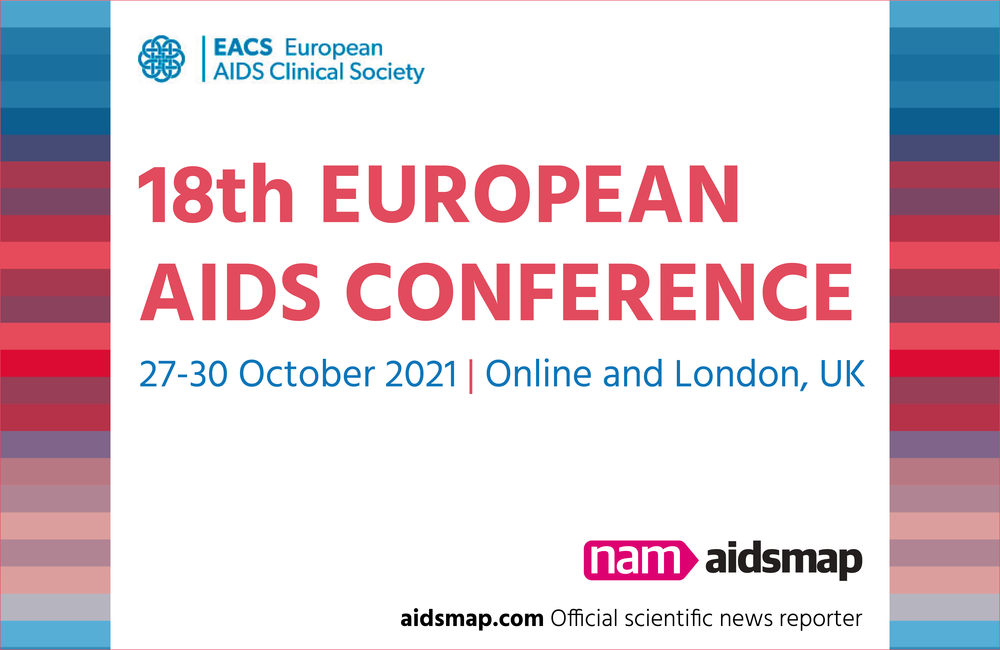 The 18th European AIDS Conference, organised by the European AIDS Clinical Society (EACS), is taking place at the Excel Centre in London and online from the 27 to 30 October. NAM aidsmap's Executive Director, Matthew Hodson, is the Local Community Co-Chair, alongside Dr Sanjay Bhagani, President of EACS, and Dr Annemarie Wensing.
NAM aidsmap is delighted to be continuing its partnership with EACS as the official scientific news reporter for the conference. You'll be able to find all our news stories and bulletins from the conference on our EACS 2021 webpage.
The European AIDS Conference is a biennial conference which aims to bring together scientists from all over Europe to share the latest research on clinical aspects of HIV.
"The COVID-19 pandemic has impacted HIV services all over the globe and there is a need to share lessons learned from this crisis. More than ever, we must work together to get the HIV response back on track and move towards the elimination of HIV/AIDS as a global public health threat. Strong co-operation between clinicians, scientists, community organisations, public health agencies, academic institutions, activists and industry will be crucial if we are to succeed," said Matthew Hodson.
"The UK and London especially have seen great success in HIV testing, diagnosis and treatment but achieving the goal of ending new HIV infections, here in the UK and internationally, is a great challenge. We will only succeed if we address the causes of health inequalities, which all too often mirror other inequalities in society. I hope that EACS 2021 will help to raise community voices, including those of LGBTQ+ people, of sex workers and drug users and of all people who experience racism. Our communities have shown extraordinary resilience, not least over the last 18 months, and EACS will provide an opportunity to celebrate that, as well as address the continuing gaps in healthcare provision, and explore new biomedical solutions to the challenges that HIV presents."
This year's conference will feature research on:
COVID-19 vaccines and immune response in people living with HIV
New data on hepatitis C and co-morbidities
Planning for the implementation of injectable antiretroviral therapy and PrEP in Europe.
The scientific programme for the conference is now available online. In the programme, you can view details of all the sessions including oral presentations, lectures, workshops, e-posters and meet-the-expert discussions.
As well as being official scientific news reporter, and our Executive Director's role as Local Community Co-Chair, NAM aidsmap's involvement in the conference this year also includes two staff members presenting at sessions. Editor Gus Cairns will be part of panel discussions on COVID-19 and HIV cure, while Susan Cole, our Community Engagement, Marketing and Membership Manager, will be presenting at a symposium on innovation in HIV and patient needs and part of panels discussing COVID-19 and HIV vaccines.
Sharing knowledge, changing lives
NAM aidsmap will be reporting on key research presented at the conference, publishing news online and sending out three summary bulletins by email, one during the week of the conference and two the following week. The bulletins will be available in English, French, Spanish, Portuguese, Russian and Italian. If you already receive NAM's regular email bulletins, you will automatically receive our conference bulletins. If you don't, make sure you sign up so you don't miss out.
NAM works to change lives by sharing information about HIV and you can help by sharing links to research presented at the conference. Please feel free to: