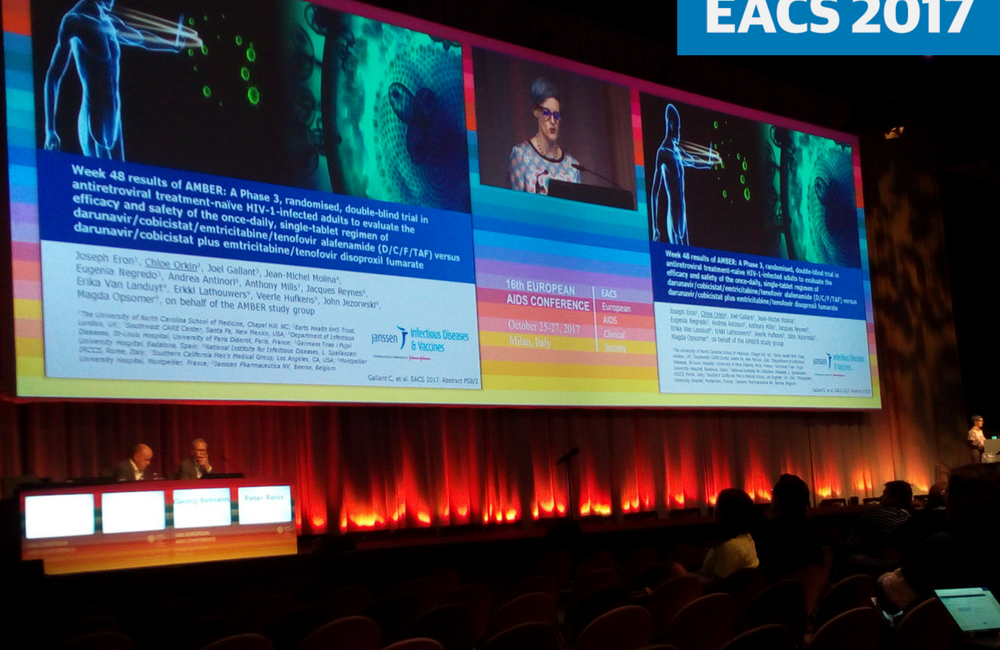 The single-pill combination of darunavir, cobicistat, tenofovir alafenamide and emtricitabine (Symtuza) is just as effective as a multi-pill combination of darunavir, cobicistat, emtricitabine and the older formulation of tenofovir (tenofovir disoproxil) in previously untreated people with HIV, Professor Chloe Orkin of the Royal London Hospital reported at the 16th European AIDS Conference (EACS 2017) in Milan on Friday.
The combination of darunavir, cobicistat, tenofovir alafenamide and emtricitabine is already licensed in the European Union as treatment for HIV infection. The once-daily combination pill is marketed as Symtuza.
The AMBER study was designed to evaluate the safety and efficacy of Symtuza in previously untreated people when compared to darunavir/cobicistat, emtricitabine and tenofovir disoproxil.
The study recruited 725 participants in Europe and North America, predominantly male (88%) and white (83%) with a median baseline viral load of 4.5 log10 copies/ml (31,600 copies/ml) and median CD4 cell count of 453 cells/mm3. Seven per cent had CD4 counts below 200 cells/mm3 and 18% had viral loads above 100,000 copies/ml.  
Baseline drug resistance testing found a high prevalence of mutations associated with resistance to the non-nucleoside reverse transcriptase inhibitor drug class (16.3%) suggesting substantial onward transmission of drug-resistant virus. At least one mutation associated with protease inhibitor resistance was present in 2.1% of participants at baseline.
Participants were randomised equally to receive Symtuza or the control regimen.
After 48 weeks of treatment 91.4% of the Symtuza group had viral loads below 50 copies/ml compared to 88.4% of the control group, demonstrating the non-inferiority of Symtuza to the control regimen.
Virologic failure occurred in 4.4% of the Symtuza group and 3.3% of the control group. No participant experiencing virological rebound developed resistance to darunavir or tenofovir; one developed resistance to emtricitabine.
Discontinuations due to adverse events occurred less frequently in the Symtuza group (1.9 vs 4.4%) although the incidence of serious adverse events (4.7 vs 5.8%) and grade 3-4 adverse events (5.2 vs 6.1%) was similar in the two study arms. The most common adverse events were diarrhoea, rash and nausea.
Reductions in kidney function as measured by eGFR were significantly smaller in those treated with Symtuza than in the control arm after 48 weeks (p < 0.001) and mean reductions in spine and hip bone mineral density at weeks 24 and 48 were also significantly smaller in the Symtuza group.
Participants in the Symtuza study arm had significantly greater increases in total cholesterol, LDL cholesterol and triglycerides by week 48 of treatment; but, overall, 1.7% of the Symtuza group needed to start lipid-lowering therapy compared to 0.6% of the control group, a non-significant difference (p = 0.18). 
References
Orkin C et al. Week 48 results of AMBER: A Phase 3, randomised, double-blind trial in antiretroviral treatment (ART)-naïve HIV-1 infected adults to evaluate the efficacy and safety of the once-daily, single-tablet regimen (STR) of darunavir/cobicistat/emtricitabine/tenofovir alafenamide (D/C/F/TAF) versus darunavir/cobicistat (DRV/c) plus emtricitabine/tenofovir disoproxil fumarate (FTC/TDF). 16th European AIDS Conference, 25-27 October, Milan, abstract PS8/2, 2017