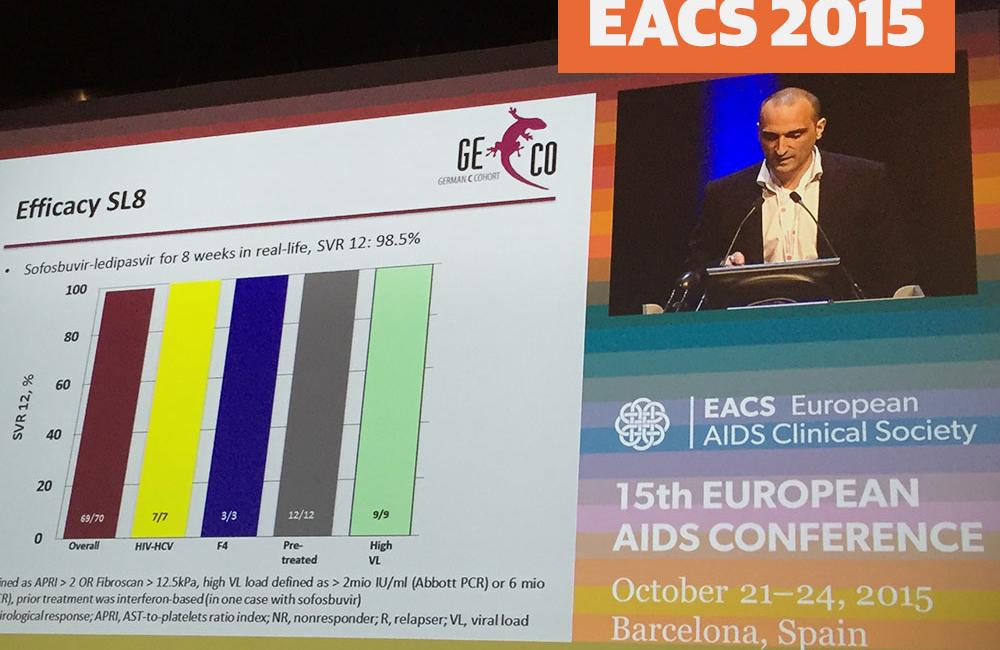 Most people with hepatitis C virus (HCV) in the GECCO German hepatitis C cohort who were treated with sofosbuvir/ledipasvir (Harvoni) for 8 weeks in a real-world clinical setting achieved sustained virological response, even those who are advised to stay on treatment for 12 weeks due to factors such as liver cirrhosis, prior treatment experience or high HCV viral load, according to a presentation at the 15th European AIDS Conference last week in Barcelona, Spain.
The advent of direct-acting antiviral agents (DAAs) in interferon-free regimens has brought about a revolution in hepatitis C treatment, but there is still room to improve therapy, for example making treatment shorter and offering better options for the most difficult-to-treat patients. While 12-week post-treatment sustained virological response (SVR12) rates now exceed 90% in clinical trials, real-world experience does not always match up.
Patrick Ingiliz of the Centre for Infectiology in Berlin reported findings from an analysis of real-life hepatitis C treatment using DAAs in the GECCO cohort, an ongoing multi-centre cohort that includes patients at eight sites in Germany.
Short-course DAA therapy might be an attractive option to reduce treatment costs or reduce the duration of drug toxicity, the researchers noted as background.
Prescribing information for Gilead Sciences' sofosbuvir/ledipasvir coformulation, marketed as Harvoni, states that previously untreated people with HCV genotype 1 or 4, with or without cirrhosis, and treatment-experienced people without cirrhosis, should take sofosbuvir/ledipasvir for 12 weeks. Treatment-experienced people with cirrhosis should extend treatment to 24 weeks, while genotype 1 treatment-naive people without cirrhosis and low HCV viral load can consider shortening it to 8 weeks. People with HIV and HCV co-infection should receive the same regimens as those with HCV alone.
Among treatment-naive participants without cirrhosis in the ION-3 trial, SVR12 rates were 94% using an 8-week regimen and 96% using a 12-week regimen, with people in the 8-week arm being more likely to relapse after finishing treatment.
GECCO was started in February 2014 and more than 1000 patients have started interferon-free DAA treatment to date. The current analysis focused on 148 participants (13% of the total) treated with sofosbuvir/ledipasvir for 8 weeks.
In this subgroup half were men, the median age was 52 years and a third had injection drug use as a transmission risk. Almost all (97%) had HCV genotype 1, with 2% having genotype 4. Median pre-treatment HCV viral load was 810,000 IU/ml, 18% had received prior hepatitis C treatment and 3% had cirrhosis according to FibroScan or APRI biomarker scores.
The group included 28 people with HIV and HCV co-infection (19% of the total) with a median CD4 count of 531 cells/mm3. Compared to the group as a whole, participants with co-infection were more likely to be men (82%), more likely to have acquired HCV via sex (50%) and more likely to have HCV genotype 4 (11%). They had a lower median HCV viral load (490,000 IU/ml) and two people (7%) had cirrhosis.
Ingiliz reported SVR4 rates at 4 weeks post-treatment for 105 people who had reached this time point. The overall SVR4 rate was 99.0%, with a single person having detectable HCV RNA. SVR4 rates were 100% for subgroups with various factors previously associated with poorer response, including HIV and HCV co-infection, prior treatment, cirrhosis, high HCV viral load and genotype 4 – though some of these numbers were small. SVR4 is not yet considered a cure, as a small proportion of people still relapse after this point.
Looking at the 70 people who reached 12 weeks post-treatment, the overall SVR12 rate was 98.5%, again with one person having detectable HCV viral load. Response rates remained at 100% for the subgroups, but the numbers were even smaller.
Sofosbuvir/ledipasvir was generally safe and well-tolerated with no treatment discontinuations. The most common side-effects were headache (10%), fatigue (7%), nausea (3%) and joint pain (2%).
Based on these findings the researchers concluded, "Sofosbuvir plus ledipasvir for 8 weeks achieved excellent response rates in a German real-life setting," adding that "HIV co-infected patients responded as well as HCV monoinfected patients."
Ingiliz noted that SVR rates were high even for participants who were treated "outside the recommendations" for this short regimen, including people with treatment experience, cirrhosis, high viral load and genotype 4.
Asked whether these results show that sofosbuvir/ledipasvir can be used outside of current recommendations, Ingiliz replied that he would not advise doing so. "Maybe from a cost perspective, but not from a virological one," he said. "People with high viral load may still need longer treatment."
References
Ingiliz P et al. Sofosbuvir plus ledipasvir for 8 weeks in HCV-mono- and HIV-HCV-coinfected patients – results from the German hepatitis C cohort (GECCO). 15th European AIDS Conference. Barcelona, abstract PS7/5, 2015.