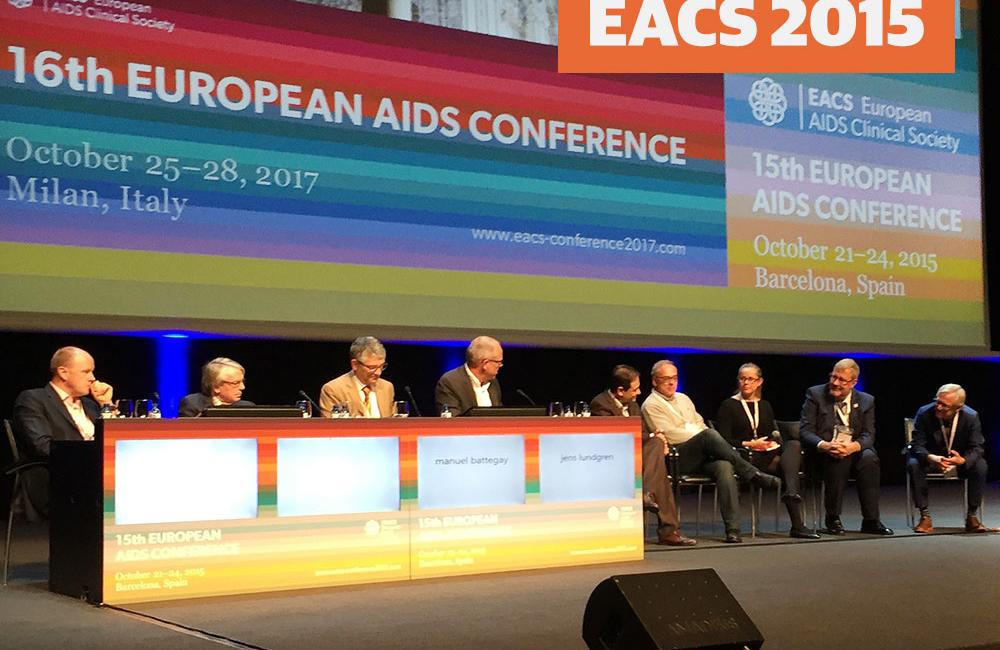 Treatment for all on diagnosis now recommended
The new European AIDS Clinical Society (EACS) HIV clinical guidelines, released last week at the 15th European AIDS Conference, bring Europe into line with the rest of the world by recommending HIV treatment upon diagnosis for all patients.
This is the first time since 2006 that all internationally-written guidelines have agreed on their 'when to start' recommendations. As a measure of what has changed since then, in that year the guidelines by EACS, the World Health Organization (WHO), the US Department of Health and Human Services (DHHS), the International AIDS Society USA (IAS-USA) and the British HIV Association all agreed that treatment was only strongly recommended for people with CD4 counts below 200 cells/mm3. They did not recommend treatment for people with CD4 counts over 350 cells/mm3, and recommended it only with caution for people with CD4 counts between 200 and 350 cells/mm3. Now, in line with all other guidelines, EACS recommends that treatment is offered to all people diagnosed with HIV, though they still reserve a category of "strong recommendation" for people diagnosed with CD4 counts below 350 cells/mm3.
"When to start was the easiest part to write", commented Dr José Gatell, the Conference co-chair, referring to the START study, which showed that treatment is beneficial at all CD4 counts.
What to start with
The guidelines show much less harmony when it comes to what to start with, however. This partly reflects very new information this year about the effectiveness of the integrase inhibitor drugs raltegravir and dolutegravir, and also partly reflects whether guidelines are primarily intended to apply to patients in low- or high-income countries.
In terms of what is still called the 'backbone' of two nucleoside reverse-transcriptase inhibitor (NRTI) drugs, the international guidelines are reasonably in agreement, recommending tenofovir and emtricitabine (Truvada) unanimously. Abacavir and lamivudine (Kivexa/Epzicom) are recommended as an equal first choice by EACS, DHHS and IAS-USA, but recommended only as an alternative choice by BHIVA (largely due to questions over its potency in people with high viral loads). WHO does not recommend abacavir/lamivudine since many lower-income countries lack the ability to test people beforehand for the B*5701 genetic variation in their immune system that indicates likely hypersensitivity to abacavir.
There is less agreement over the third agent, however. The biggest disparity in views is over the drug efavirenz (Sustiva/Stocrin, also in Atripla). This former mainstay of HIV treatment, which has been in the drug arsenal since 1998, is still recommended by the WHO as their one preferred third agent for first-line HIV treatment, either as a component of Atripla or alongside tenofovir and emtricitabine, Atripla's other components. This partly reflects the fact that the WHO decided not to change its recommendations on what to start with when it changed its recommendation on when to start this year.
In contrast the DHHS guidelines, also revised this year, do not include any of the non-nucleoside (NNRTI) drugs, of which efavirenz is one, in their five recommended first-line regimens. Instead they recommend only regimens based on the integrase inhibitor drugs and on one remaining protease inhibitor, darunavir.
As a measure of how fast things have changed, the IAS-USA guidelines, released only last year, were still recommending regimens based on efavirenz and on two other NNRTIs, etravirine and rilpivirine, in its eleven recommended starting regimens, and also the protease inhibitor atazanavir, which is not even recommended as an alternative by the DHHS (or by the WHO, which recommends no protease inhibitors, partly due to their larger cost).
EACS compromises between the DHHS and IAS-USA positions. They recommend six first-line regimens. Four use integrase inhibitors as their third drug (Truvada plus dolutegravir, Truvada plus raltegravir, the combination pill Triumeq (which is Kivexa plus dolutegravir), and the combination pill Stribild (which is Truvada plus boosted elvitegravir). They also recommend the NNRTI-based Complera/Eviplera pill, which is Truvada plus rilpivirine, and the PI-based Truvada-plus-ritonavir-boosted darunavir.
In a panel discussion during a session presenting the new EACS guidelines, Marco Vitoria of the WHO writing group defended the retention of efavirenz.
He said: "Even though with efavirenz there is an increased relative risk of side effects, the absolute risk remains small and dolutegravir" (which is the first non-boosted, once-daily integrase inhibitor) "will not be available as a generic drug for at least two years."
EACS treasurer Nathan Clumeck questioned WHO's decision to have, as its only recommended regimen, one that has a low genetic barrier to resistance (resistance to efavirenz arises very quickly in conditions of partial adherence).
Stefano Vella, answering for WHO said: "We did consider a PI-based regimen as first-line therapy but ruled them all out owing to cost, practicality and side effects. We have been using efavirenz in low-income countries for years with good effects on mortality."
José Gatell said that this was the reason EACS has decided to retain one NNRTI-based regimen. The integrase inhibitors were still relatively new and dolutegravir had only recently been licensed: in contrast "NNRTIs are used all over the world", he said, and the EACS guidelines are also used on lower-income countries.
PrEP and PEP
Other changes in the new guidelines include a positive recommendation for pre-exposure prophylaxis (PrEP), which brings them into line with the US, WHO and BHIVA. PrEP is "recommended" for "men who have sex with men and transgender individuals, who are inconsistent in their use of condoms with casual partners or with HIV-positive partners who are not on treatment," and "may be considered" for "heterosexual men and women who are inconsistent in their use of condoms and are likely to have HIV-positive partners who are not on treatment."
The guidelines emphasise that PrEP is a medical intervention that may have side effects, does not protect against other STIs, "may not provide full protection against acquiring HIV" and should be prescribed and supervised by a doctor experienced in sexual health.
The guidelines recommend that PrEP can be prescribed as a daily or intermittent regimen, in the latter case taken as it was in the Ipergay study (a double dose in the 24 hours before sex then one dose each on the two following days after sex).
EACS have also changed their recommendations for post­-exposure prophylaxis (PEP). They no longer recommend PEP if the source partner is HIV-positive with an undetectable viral load, a change that finally brings them into line with BHIVA, and they recommend Truvada plus darunavir/r or raltegravir as regimens.
Hepatitis C co-infection
The hepatitis C (HCV) recommendations now exclude the use of pegylated interferon and ribavirin as first choice (though, recognising that some countries are still using them, dosing advice for interferon/ribavirin regimens is included in the appendix pages that are only available online rather than in the printed guidelines).
The recommendations include six direct-acting antiviral (DAA) regimens for hepatitis genotype 1, 4 and 6, three for genotype 3, two for genotype 2 and one for genotype 5. This is because some drugs only work for certain genotypes.
Co-morbidities and ageing
Another change is not so much in specific recommendations as emphasis. The section on the Prevention and Treatment of Co-morbidities in people with HIV now includes a specific statement: "We recommend multi-disciplinary care for aging HIV patients with multiple co-morbidities and chronic immune activation to preserve good quality of life and prevent frailty."
Georg Behrens, who co-ordinated the co-morbidity section, said that this section – which includes recommendations for dealing with everything from cancer to depression – is the one that has most expanded since the last guidelines, necessitating removing a number of sections to the web-only version of the guidelines. The challenge in writing guidelines for co-morbidities, he said was deciding what to leave out: "If you tested for every co-morbidity that can be raised in people with HIV, patients would never leave the clinic."
This is because as the HIV-positive population ages, it is becoming clearer that certain conditions that arise with age can be more frequent or more severe in people with HIV. More "aggressive" monitoring of kidney function is recommended in people with an even slightly depressed glomerular filtration rate (GFR) and progressive decline, and much more use of depression screening is recommended.
Practicality and affordability
Some people in the audiences commented on the practicality of some recommendations – integrase-inhibitor-based regimens, PrEP, HCV DAAs – in eastern Europe. Jürgen Rockstroh, who co-ordinated the co-infection guidelines, commented that huge and illogical disparities in drug prices were also partly to blame, citing the contrast between Germany, which paid high prices for HCV DAAs, and Portugal, which had managed to negotiate much lower ones.
Guidelines chair Jens Lundgren said he always encouraged his students to work at placements in eastern Europe – "it reminds me of what things used to be like here, you still see people dying of AIDS." He urged that EACS do more to liaise with eastern European doctors and support their fight for better treatments for their patients.