New sections on drug-drug interactions, the ageing patient, dose adjustment and ART during pregnancy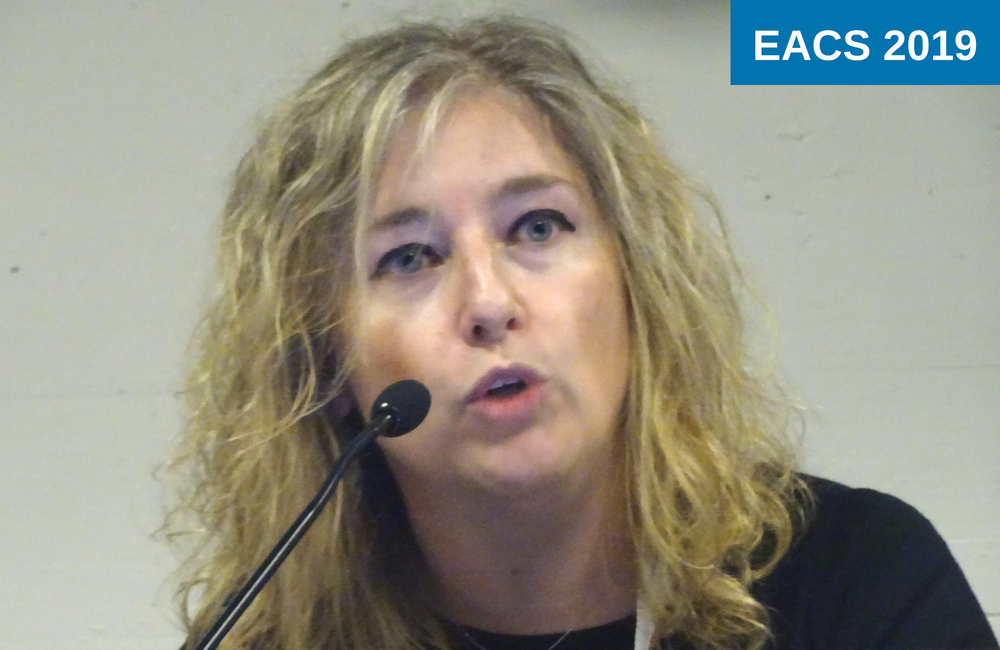 The tenth edition of the European AIDS Clinical Society Guidelines was launched at the society's 17th European AIDS Conference (EACS 2019), in Basel, Switzerland last Thursday. Its expansion in size – from 109 pages in the ninth print edition first published two years ago to 283 pages today, plus numerous online-only supplementary tables – is evidence of the complexity of needs it seeks to address. In particular, as the average age of people with HIV increases, much of its new material has been developed with the needs of the ageing person with HIV in mind.
Dr Lene Ryom of Denmark's Centre of Excellence for Health, Immunity and Infections (CHIP), who is EACS's Guidelines Co-ordinator, told the conference that "These guidelines attempt to meet the holistic needs of patients," and drew particular attention to the completely new section on drug-drug interactions, which brings together information that has up until now been scattered throughout the document. This means that physicians and patients can now go to one section when looking for drug interactions that may happen in patients with co-morbidities, rather than having to hunt for them in separate sections.
Dr Catia Marzolini of the University Hospital of Basel, who chaired the group that wrote this section, said that the interactions of all widely used antiretrovirals (ARVs) with the most commonly used drugs from other classes all now appear in 12 tables like this for easy comparison. Interactions with drugs ranging from statins to antidepressants to contraceptives are all included.
There is also a specific section on antiretroviral therapy (ART) regimens to prescribe alongside TB therapy, where drug interactions are particularly difficult. This needs to be used alongside the recommendations for TB and multidrug-resistant TB therapy, which are still within the opportunistic infections section.
Two new ARVs, bictegravir and doravirine, are added, and some old ARVs like didanosine and stavudine (d4T) are removed.
Other innovations in the section written especially with the older person in mind include a comprehensive guide to the dose-adjustment of ARVs for people with renal insufficiency (kidney problems), and an interesting list of the top ten drug classes to avoid in older people living with HIV. They are ranked by their likelihood of causing adverse interactions: the worst classes are the first-generation antihistamines and bronchodilators often used to treat chronic obstructive pulmonary disease (COPD) and the tricyclic antidepressants like amitriptyline, which have the same side effects.
For the first time transgender people with HIV are also catered for, with a new table called Dosage recommendations for hormone therapy when used at high doses for gender transitioning, containing dose adjustments that may be needed for gender affirming hormones when combined with particular ARVs.
There is also an expanded table on drugs/strategies to consider for people who have swallowing difficulties.
Now that nearly all European countries recommend immediate treatment on diagnosis, the guidelines concentrate more on what is likely to be the most tolerable and resistance-proof regimen. They generally recommend two nucleoside reverse transcriptase inhibitors (NRTIs) plus a non-boosted, once-daily integrase inhibitor with a high genetic barrier to resistance – which in practice means dolutegravir or bictegravir.
The two NRTIs are listed as abacavir/lamivudine; tenofovir disoproxil or tenofovir alafenamide (TDF or TAF) plus emtricitabine; or, when available and appropriate, TDF plus lamivudine.
However, for the first time ever, a dual therapy is included among first-line recommended ARTs: dolutegravir plus lamivudine, with the provisos that this should only be given to people with baseline viral loads below 500,000 and CD4 counts above 200.
This dual therapy is also supported as a possible switch option for people with viral suppression who need to simplify their regimen, along with dolutegravir/rilpivirine, boosted darunavir/lamivudine, boosted atazanavir/lamivudine and, for the first time, dolutegravir/rilpivirine.
Another aspect of the new guidelines' aim to include recommendations for people with a wide range of needs, there is now a comprehensive guide to ART for pregnant women at all stages of pregnancy and also for women who are considering having a child. 
The sections of pre- and post-exposure prophylaxis remain substantially as they were except that daily (but not intermittent) TAF/lamivudine (Descovy) has been added as a PrEP option, and Descovy, daily raltegravir and bictegravir have been added as drugs to consider in PEP regimens.
In the sexual health section, there is a statement about 'undetectable = untransmittable' (U=U), including how this information affects options for conception for people living with HIV and their partners. The statement says:
"The evidence is now clear that people living with HIV [PLWH] with an undetectable VL do not transmit HIV sexually. Large studies of sexual HIV transmission among thousands of couples, [where] one partner was living with HIV and the other was not, were undertaken in recent years. In those studies, there was not a single case of linked sexual transmission of HIV from a virally suppressed PLWH to their HIV-negative partner. However, a person can only know whether he or she is virally suppressed by taking a viral load test."
"For the first time ever, a dual therapy is included among first-line recommended ARTs."
When it comes to specific co-morbidities, it is now recommended that physicians use the creatinine/albumin ratio when screening for chronic kidney disease rather than just creatinine levels alone. When screening for lipids, the threshold for using statins or other interventions to prevent cardiovascular disease has been lowered in general medicine and the EACS guidelines follow this, recommending intervention when there is a 10% ten-year risk of cardiovascular disease rather than a 20% risk as before. Blood pressure targets and management have also been updated.
Regarding mental health, the necessity for screening for and treating depression has been strengthened, with a statement on how depression impacts on overall wellbeing and health.
There are updated tables of both preferred and alternative direct-acting antiviral regimens for hepatitis C. Reflecting new discoveries about the potential seriousness of hepatitis D and E, the information on these infections has been expanded.
The fact that an increasing proportion of people diagnosed with HIV are late presenters reminds us that there is still a need for an opportunistic infections (OIs) section. A table on when to start ART in the presence of specific OIs has been added, including one new OI that has hit the news this year: talaromycosis, a fungal infection found in people with HIV largely in south and south-east Asia.