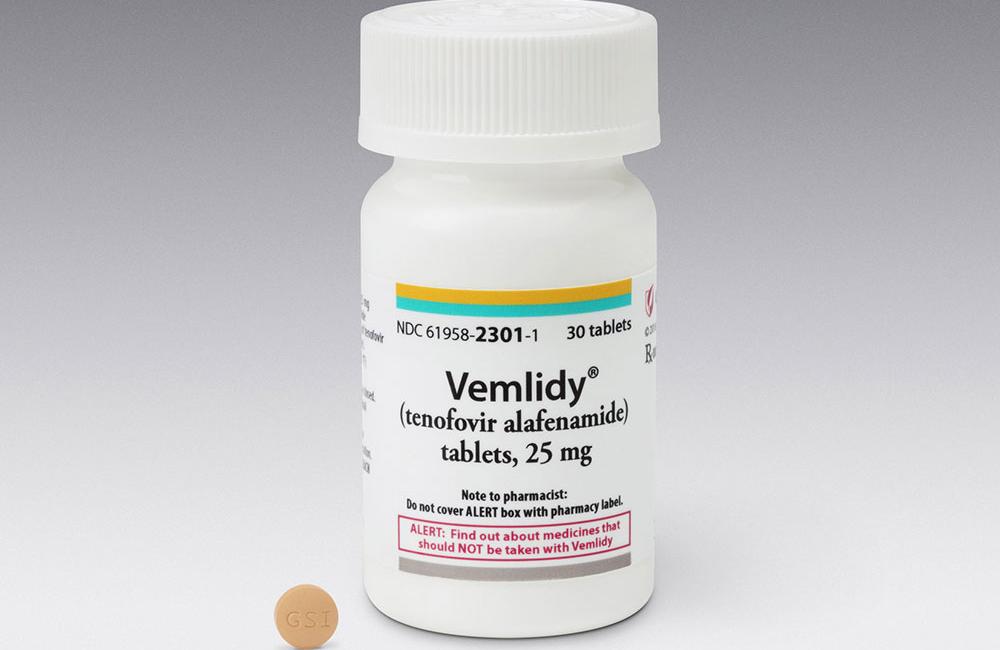 Tenofovir alafenamide (TAF), a new lower-dose pro-drug, matches the older tenofovir disoproxil fumarate (TDF) for antiviral activity against hepatitis B virus (HBV) but causes less bone mineral loss, according to a report this week at the 2016 AASLD Liver Meeting in Boston. Last week the US Food and Drug Administration approved stand-alone TAF for hepatitis B treatment and a European Medicines Agency committee issued a positive opinion.
Gilead Science's tenofovir disoproxil fumarate (Viread) is one of the most effective antiviral drugs for hepatitis B and is among the most widely used antiretrovirals for HIV. It is generally considered safe and well tolerated, but it can cause some bone loss soon after starting therapy and can lead to kidney problems in susceptible individuals.
Nucleoside/nucleotide analogues like tenofovir suppress HBV replication during treatment, but they usually do not lead to a cure, so long-term therapy is generally required.
TAF is a new pro-drug formulation that produces high levels of the active drug (tenofovir diphosphate) in hepatocytes and CD4 T-cells with smaller doses than TDF, which means lower concentrations in the blood and less drug exposure for the kidneys, bones and other organs and tissues.
The FDA has approved three TAF-containing co-formulations for HIV treatment – Descovy (TAF/emtricitabine), Genvoya (elvitegravir/cobicistat/TAF/emtricitabine) and Odefsey (rilpivirine/TAF/emtricitabine) – but until now TAF was not available as a stand-alone product.
Last week's FDA approval of Vemlidy (TAF 25mg) fills that gap, allowing it to be used to treat hepatitis B in people with compensated liver disease. The EMA's Committee for Medicinal Products for Human Use has also issued a positive opinion on Gilead's application for market authorisation.
Approval of TAF for hepatitis B was supported by studies showing that its antiviral activity is similar to that of the older TDF, but with less bone and kidney toxicity.
Wai-Kay Seto of Queen Mary Hospital in Hong Kong presented findings from a pooled analysis of changes in bone mineral density in a pair of head-to-head clinical trials comparing TAF and TDF for the treatment of chronic hepatitis B.
Study 108 enrolled 425 hepatitis B 'e' antigen (HBeAg)-negative participants and Study 110 enrolled 873 HBeAg-positive participants at more than 100 sites in 17 countries. In the two studies combined 64% of participants were men, nearly 80% were Asian, about 20% were white and the average age was approximately 40 years. Two-thirds were HBeAg-positive, the mean HBV DNA viral load was 7.0 log10 IU/ml and about 10% had liver cirrhosis. Nearly a quarter had previously been treated for hepatitis B.
Participants in both studies were randomly assigned to take 25mg TAF or 300mg TDF once daily. The primary endpoint was undetectable HBV DNA at 48 weeks. Safety and efficacy results were previously presented at this year's EASL International Liver Congress. The blinded randomised studies will continue through 144 weeks, then everyone will be given open-label TAF and followed through 384 weeks.
At baseline about 30% of participants had osteopenia (below normal bone mineral density) of the hip and 36% had osteopenia of the spine. About 1% and 7%, respectively, had osteoporosis (more severe low bone density) at the hip and spine.
Over the first 48 weeks of treatment, hip bone density fell by -1.86% in the TDF group compared with just -0.16% in the TAF group; 48-week declines in spine bone density were -2.37% on TAF and -0.57% on TDF. With continued therapy hip bone density continued to fall in the TDF group, reaching -2.43% at 72 weeks, while stabilising in the TAF group, reaching -0.29%. Spine bone density stabilised in both arms, reaching -2.52% on TDF and -0.60% on TAF at 72 weeks.
At 48 weeks fewer participants in the TAF group had worsening T-scores – a standardised measure comparing bone density to the norm for a young adult of the same sex – relative to the TDF group.
Looking first at the hip, in the TAF group 3% of participants went from having normal bone density to osteopenia and 2% went from osteopenia to osteoporosis; conversely, 9% improved from osteoporosis to osteopenia and 5% from osteopenia to normal. By comparison, in the TDF group 11% worsened from osteopenia to osteoporosis and 3% from osteopenia to osteoporosis; only one person saw an improvement from osteopenia to normal.
Turning to the spine, in the TAF group 7% went from normal bone density to osteopenia and 5% went from osteopenia to osteoporosis; 15% improved from osteoporosis to osteopenia and 9% from osteopenia to normal. In the TDF group 13% worsened from osteopenia to osteoporosis and 8% from osteopenia to osteoporosis; 4% improved from osteoporosis to osteopenia and 2% from osteopenia to normal.
Less than 10% of TAF recipients experienced a 3% or greater decline in hip bone density and around 20% saw this much change at the spine – the level considered to be clinical relevant. In the TDF group nearly 30% and about 40% had at least a 3% decline at the hip and spine, respectively.
The researchers assessed known risk factors for osteoporosis including female sex, age 50 or older, being Asian and impaired kidney function (eGFR < 90 ml/min). In the TAF group less than 10% had a greater than 3% drop in bone density regardless of the number of risk factors. In the TDF group the likelihood of this much decline rose from around 20% with 0-1 or 2 risk factors to 40% with 3 factors.
"In treatment-naive and -experienced chronic HBV patients, treatment with TAF for 48 weeks demonstrated significantly less impact on bone parameters compared with TDF," the researchers concluded, adding that there were "minimal declines in hip and spine bone mineral density with TAF."
"[The] magnitude of bone mineral density decline with TAF was independent of baseline FRAX score" (an index of fracture risk), they added. "In comparison to TDF, declines in bone mineral density were not impacted by increasing number of risk factors for bone loss."
References
Seto W-K et al. Reduced changes in bone mineral density in CHB patients receiving tenofovir alafenamide (TAF) compared with tenofovir disoproxil fumarate. Hepatology Special Issue, The 67th Meeting of the American Association for the Study of Liver Diseases: The Liver Meeting, abstract 67.