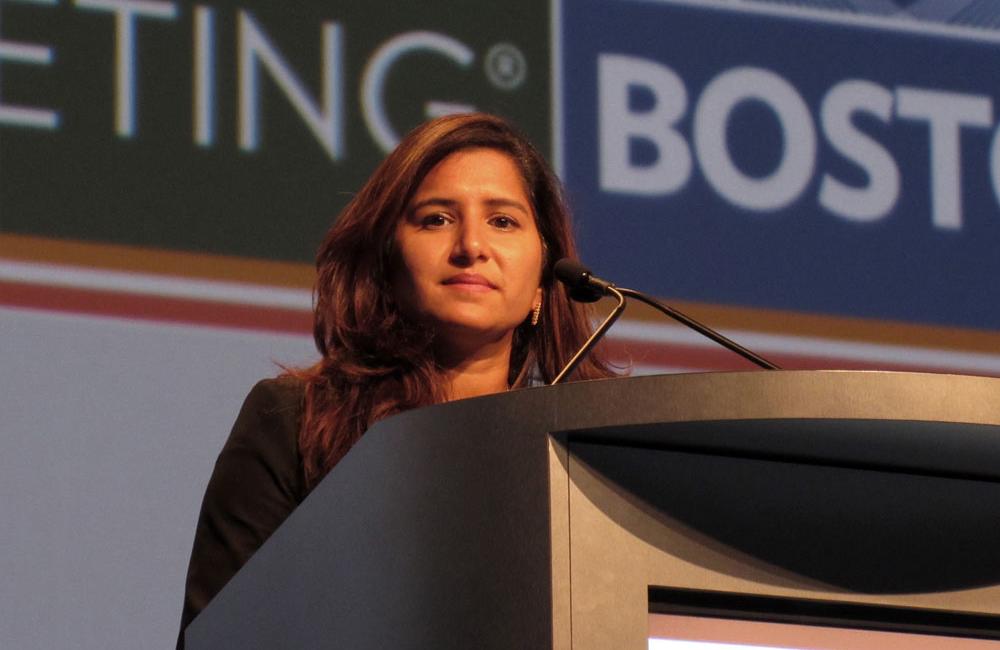 [Editor's Note: this article previously stated that the PEARL-I trial tested the AbbVie 3D Viekira Pak regimen for HCV genotype 4. In actuality, the study used the 2D regimen consisting of the paritaprevir coformulation without dasabuvir. The article has been corrected.]
Sofosbuvir/ledipasvir without ribavirin and AbbVie's 2D regimen (paritaprevir/ritonavir/ombitasvir) both produced high sustained virological response rates for patients with hepatitis C virus (HCV) genotype 4, according to a pair of studies presented at the American Association for the Study of Liver Diseases (AASLD) Liver Meeting this week in Boston.
HCV genotype 4, the most common type in the Middle East and North Africa, has not been as extensively studied as HCV genotypes 1, 2 and 3. While it has traditionally been considered "hard-to-treat" – and is often combined with genotype 1 in clinical trials – the optimal treatment for genotype 4 is not yet known.
SYNERGY: sofosbuvir/ledipasvir
Anita Kohli from the US National Institute of Allergy and Infectious Diseases presented findings from the NIAID SYNERGY trial, which evaluated simple interferon- and ribavirin-free regimens of varying duration in an inner-city population in Washington, DC.
This analysis focused on 21 participants with HCV genotype 4 who were treated for 12 weeks with a once-daily coformulation of Gilead Sciences' HCV polymerase inhibitor sofosbuvir and NS5A inhibitor ledipasvir (approved and sold as Harvoni in the US).
Two-third of participants were men and the mean age was 55 years. About 40% were black and a majority came from countries where genotype 4 is prevalent, including Cameroon, Egypt and Ethiopia. Eight people (38%) had previously been treated for hepatitis C but had not used direct-acting antivirals. 10% had stage F3 advanced liver fibrosis and 33% had stage F4 compensated cirrhosis.
At 12 weeks after completing treatment, all but one participant had undetectable HCV viral load, for a sustained virological response (SVR12) rate of 95%. Response did not differ according to previous treatment history or extent of fibrosis.
Three-quarters of participants experienced normalisation of alanine aminotransferase (ALT) liver enzyme levels by week 4 of treatment, an indicator of reduced liver inflammation.
Sofosbuvir/ledipasvir was generally safe and well-tolerated. There were no deaths, serious adverse events or grade 4 laboratory abnormalities; the three grade 3 abnormalities were deemed not likely unrelated to treatment. The most common side-effects were fatigue, diarrhoea and nausea. One participant discontinued therapy after a single dose.
"Genotype 4 hepatitis C infection can be successfully and safely treated with ledipasvir and sofosbuvir for 12 weeks," the researchers concluded. "This regimen may prove vital in the eradication of hepatitis C genotype 4, for which few therapeutic options are in development."
PEARL-I: 2D regimen
The PEARL-I trial tested AbbVie's all-oral 2D regimen in more than 100 people with HCV genotype 4 in Europe and the US. Two-thirds were men and most were white. Fewer than 10% had advanced fibrosis and this study did not include people with cirrhosis.
2D consists of the HCV protease inhibitor paritaprevir (ABT-450), NS5A inhibitor ombitasvir (ABT-267) and ritonavir in a once-daily coformulation. Previously untreated participants received the 3D regimen either with (n=42) or without (n=44) weight-based ribavirin for 12 weeks, while all 49 treatment-experienced patients used ribavirin.
All treatment-naive and treatment-experienced participants who took the 2D regimen plus ribavirin had undetectable HCV RNA 12 weeks after treatment, an SVR12 rate of 100%. Among previously untreated people taking the 2D regimen without ribavirin, the SVR12 rate was 91%. One person in this group experienced viral rebound during treatment and two relapsed after completing therapy.
Again, treatment was generally safe and well-tolerated. No one stopped treatment early due to adverse events. There was one serious adverse event unrelated to treatment and one patient had a transient grade 3 aspartate aminotransferase (AST) liver enzyme elevation. The most common side-effects were headache, weakness, fatigue, nausea and insomnia, mostly mild. Four patients had their ribavirin doses reduced due to anaemia.
Together, these two studies show that hepatitis C genotype 4 can be effectively treated, achieving high sustained response rates with well-tolerated regimens.
References
Kapoor R et al. (Kohli A presenting) Treatment of hepatitis C genotype 4 with ledipasvir and sofosbuvir for 12 weeks: results of the SYNERGY trial. American Association for the Study of Liver Diseases (AASLD) Liver Meeting, Boston, abstract 240, 2014.
Pol Set al. Interferon-free regimens of ombitasvir and ABT-450/r with or without ribavirin in patients with HCV genotype 4 infection: PEARL-I study results. American Association for the Study of Liver Diseases (AASLD) Liver Meeting, Boston, abstract 1928, 2014.