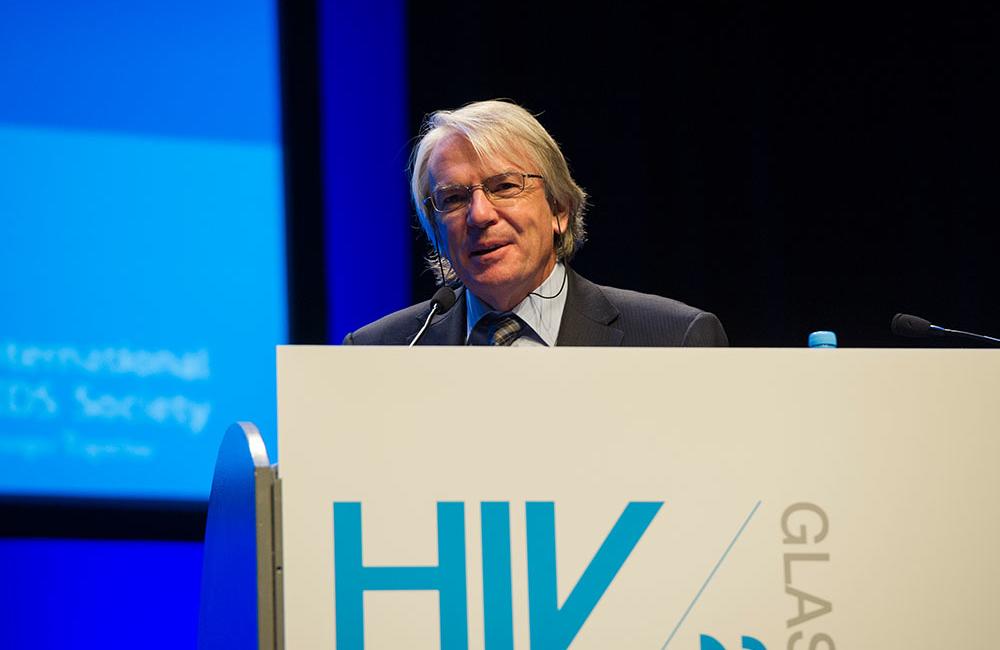 Once-daily doravirine (MK-1439), an experimental NNRTI, demonstrated viral suppression similar to that of efavirenz at 48 weeks, and the dose selected for further development was associated with fewer central nervous system (CNS) side-effects, researchers reported last week at the HIV Drug Therapy Glasgow conference.
Efavirenz (Sustiva or Stocrin, also in the Atripla single-tablet regimen) is generally a safe and effective component of combination antiretroviral treatment, but a substantial number of people who take it experience neuropsychiatric side-effects such as insomnia, abnormal dreams and dizziness.
Josep Gatell from the University of Barcelona and colleagues conducted a phase 2b clinical trial comparing Merck's next-generation non-nucleoside reverse transcriptase inhibitor (NNRTI) doravirine versus efavirenz in people with HIV starting antiretroviral therapy (ART) for the first time.
In part 1 of the study, 208 participants were randomly assigned to receive doravirine at doses of 25mg, 50mg, 100mg or 200mg once daily, or else 600mg efavirenz once daily, all in combination with tenofovir/emtricitabine (the drugs in Truvada).
Based on a 24-week analysis (reported at this year's Conference on Retroviruses and Opportunistic Infections), the 100mg dose was selected. All study participants receiving doravirine switched to this dose starting at week 36 and will continue on blinded treatment through week 96. Gatell reported findings from a 48-week safety and efficacy analysis in Glasgow.
Part 1 included 208 participants in Europe, Russia, the US, Canada and Australia. More than 90% were men, nearly 80% were white and the median age was about 35 years. At baseline about 33% had high viral load (HIV RNA >100,000 copies/ml). The median CD4 cell count was approximately 390 cells/mm3 and about 12% had an AIDS diagnosis.
Part 2 of the study enrolled an additional 132 participants assigned to receive either the selected 100mg dose of doravirine or efavirenz. Central nervous system adverse events at week 8 were compared between 108 people who took 100mg doravirine (in both parts 1 and 2) and 108 who took efavirenz. Characteristics in this population were generally similar, though the median CD4 count was a bit higher and fewer had AIDS.
At 48 weeks, 72.5%, 72.1%, 76.2% and 82.9% of participants taking doravirine at doses of 25mg, 50mg, 100mg and 200mg, respectively, had undetectable viral load (<40 copies/ml), compared with 71.4% of those taking efavirenz.
In an ad hoc analysis, virological response rates were a bit higher for all doses of doravirine (85-89%) compared with efavirenz (74%) for people with low baseline viral loads. Among those with high viral loads, however, the 25mg and 50mg doses of doravirine (64%) did not work as well as the higher doses (73-92%) or efavirenz (83%).
CD4 cell gains were 190, 134, 155 and 194 cells/mm3, respectively, for people taking doravirine and 179 cells/mm3 for people taking efavirenz.
Emergence of drug resistance among people with virological failure was rare, observed in only one person taking doravirine and no one taking efavirenz.
Looking at adverse events in part 1, 4.8% of people taking doravirine (all doses combined) experienced serious adverse events compared with 9.5% of those taking efavirenz; 4.2% and 4.8%, respectively, stopped treatment early due to adverse events.
The most frequently reported side-effects were dizziness (3.0% of people taking all doses of doravirine vs 23.8% of those taking efavirenz), abnormal dreams (10.2% vs 9.5%), diarrhoea (4.8% vs 9.5%), nausea (7.8% vs 2.4%) and fatigue (7.2% vs 4.8%). Grade 2 or higher laboratory abnormalities were uncommon in all treatment arms, though people taking efavirenz were more likely to have elevated LDL and total cholesterol.
In the 8-week analysis of central nervous system side-effects, 22.2% of people taking the 100mg dose of doravirine reported at least one neuropsychiatric symptom, compared with 43.5% of people taking efavirenz – a significant difference.
The most common CNS side-effects were dizziness (9.3% with doravirine vs 27.8% with efavirenz), abnormal dreams (5.6% vs 16.7%) and nightmares (5.6% vs 8.3%). Insomnia was more common in the doravirine arm (6.5% vs 2.8%). Depression (0.9% vs 1.9%) and suicidal thoughts (0.0% vs 0.9%) were rare in both arms.
In ART-naive patients, doravirine demonstrated "antiretroviral activity and immunological effect similar to efavirenz" with a "low frequency of resistance development" and a "good safety and tolerability profile," the researchers concluded.
At eight weeks, the 100mg once-daily dose of doravirine "demonstrates a significantly lower rate of treatment-emergent CNS events than efavirenz," they added.
Merck announced that it plans to start the first phase 3 clinical trial of doravirine for previously untreated people with HIV by the end of 2014. This study will compare doravirine against ritonavir-boosted darunavir (Prezista). Further information is available at www.clinicaltrials.gov (study NCT02275780).
References
Gatell M et al. 48-week efficacy and safety and early CNS tolerability of doravirine (MK-1439), a novel NNRTI, with TDF/FTC in ART-naive HIV-positive patients. International Congress of Drug Therapy in HIV Infection, Glasgow, abstract O434, 2014.