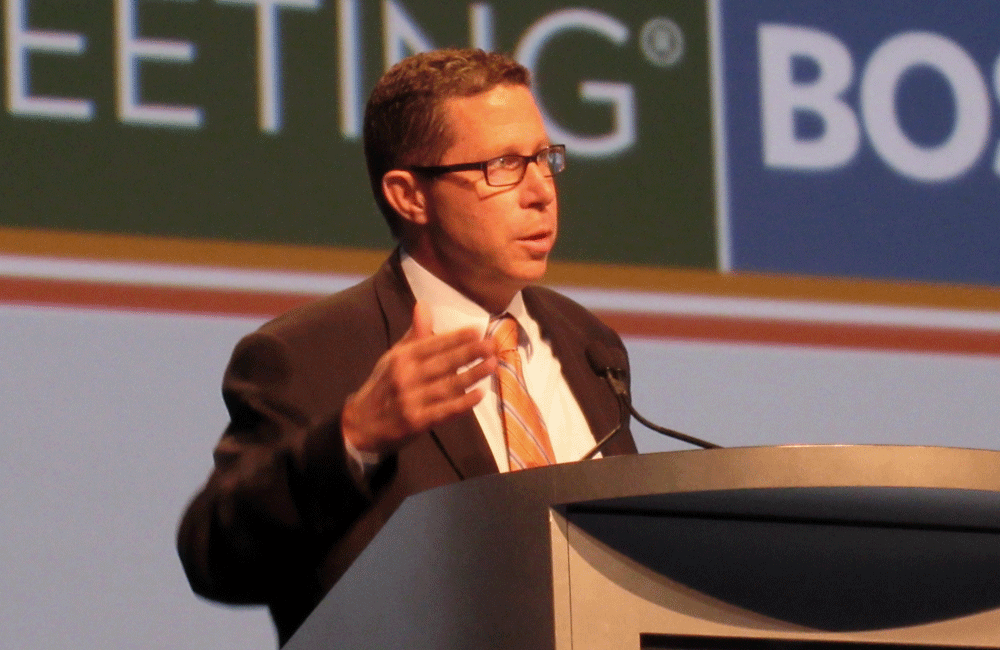 An all-oral combination of daclatasvir (Daklinza) plus sofosbuvir (Sovaldi), taken for 12 weeks, produced sustained virological response rates of 90% for previously untreated patients and 86% for prior non-responders with hepatitis C virus genotype 3 in the phase 3 ALLY-3 trial, researchers reported earlier this month at the American Association for the Study of Liver Diseases (AASLD) Liver Meeting in Boston, United States. This regimen did not work as well, however, for people with liver cirrhosis.
The advent of interferon-free therapy using direct-acting antiviral agents that target different steps of the hepatitis C virus (HCV) lifecycle has brought about a revolution in chronic hepatitis C treatment.
Gilead Sciences' nucleotide HCV polymerase inhibitor sofosbuvir is among the most effective of these new drugs. A dual combination of sofosbuvir plus Bristol-Myers Squibb's HCV NS5A inhibitor daclatasvir appeared promising in phase 2 studies, but Gilead elected to halt development of this regimen in favour of its own experimental NS5A inhibitor, ledipasvir. Unlike ledipasvir – which primarily works against HCV genotype 1 – daclatasvir is 'pan-genotypic', or active against multiple genotypes.
A sofosbuvir/ledipasvir co-formulation (Harvoni) was recently approved in the US and Europe, while daclatasvir has been approved in Europe and is awaiting US approval. Once sofosbuvir went on the market, Bristol-Myers Squibb was able to resume phase 3 trials without Gilead's co-operation.
David Nelson from the University of Florida presented final results from the phase 3 ALLY-3 trial, which tested daclatasvir plus sofosbuvir in people with HCV genotype 3, including treatment-naive and treatment-experienced patients with and without liver cirrhosis.
In the era of interferon-based therapy, genotype 3 – the second most common type worldwide – was classified with genotype 2 as 'easier-to-treat'. But it is now recognised that genotype 3 is more prone to resistance and does not respond as well to interferon-free therapy, requiring longer treatment duration or addition of ribavirin and/or other direct-acting antivirals.
ALLY-3 included 152 participants, of whom 101 were previously untreated for hepatitis C and 51 were treatment-experienced. More than half were men, most were white and the median age was approximately 55 years. Three-quarters had high baseline HCV viral load (>800,000 IU/ml) and 60% had unfavourable IL28B gene variants; 19% of treatment-naive and 25% of treatment-experienced patients had cirrhosis
The previously treated participants included prior relapsers (61%), partial responders (4%), null responders (14%) and people who experienced on-treatment viral breakthrough or could not tolerate interferon-based therapy (22%). A small number had previously used sofosbuvir or the investigational cyclophilin inhibitor alisporivir, but prior use of NS5A inhibitors was not permitted.
All participants in this open-label study were treated with 60mg daclatasvir plus 400mg sofosbuvir, both once-daily, for 12 weeks without ribavirin. Patients were followed for 12 weeks after completing therapy to determine sustained virological response (SVR12), or continued undetectable HCV viral load – considered to be a cure.
Overall, at 12 weeks post-treatment, 90% of the previously untreated patients and 86% of the treatment-experienced group achieved SVR12.
People with liver cirrhosis were less likely to be cured. In the treatment-naive group SVR12 rates were 97% for people without cirrhosis versus 58% for people with cirrhosis. In the treatment-experienced group, the corresponding rates were 94% and 69%, respectively.
SVR12 rates were similar, however, for people with low and high baseline viral load (91% and 88%, respectively) and for those with favourable and unfavourable IL28B variants (92% and 87%, respectively).
Most treatment failures were attributable to post-treatment relapse: nine (9%) in the treatment-naive group and seven (14%) in the treatment-experienced group. Eleven of the 16 relapsers had cirrhosis. There were no cases of viral breakthrough during therapy, but one treatment-naive patient with cirrhosis still had detectable HCV RNA at the end of treatment. Nine relapsers had evidence of treatment-emergent resistance-associated viral variants.
Treatment with daclatasvir plus sofosbuvir was generally safe and well-tolerated. There was just one serious adverse event and no treatment discontinuations for this reason. The most common side-effects were headache (20%), fatigue (19%) and nausea (12%). No one taking this ribavirin-free regimen developed anaemia.
"Daclatasvir + sofosbuvir for a shorter 12-week duration achieved high SVR12 rates in patients with genotype 3 infection," the researchers concluded. "High SVR rates of 96% were achieved in patients without cirrhosis."
These results support the currently approved European indication of daclatasvir plus sofosbuvir for 12 weeks for previously untreated genotype 3 patients without cirrhosis, but suggest that 12 instead of 24 weeks may also be adequate for treatment-experienced people who do not have cirrhosis.
When asked what to do for people with cirrhosis, Nelson replied that longer treatment duration – he suggested 16 rather than 24 weeks – or adding ribavirin could help.
The daclatasvir plus sofosbuvir regimen is also being tested in two other phase 3 trials: ALLY-1 for patients with cirrhosis and liver transplant recipients with HCV genotypes 1-6, and ALLY-2 for people with HIV and HCV co-infection who have genotypes 1-6.
References
Nelson DR et al. All-oral 12-week combination treatment with daclatasvir (DCV) and sofosbuvir (SOF) in patients infected with HCV genotype (GT) 3: ALLY-3 phase 3 study. American Association for the Study of Liver Diseases (AASLD) Liver Meeting, Boston, abstract LB-3, 2014.