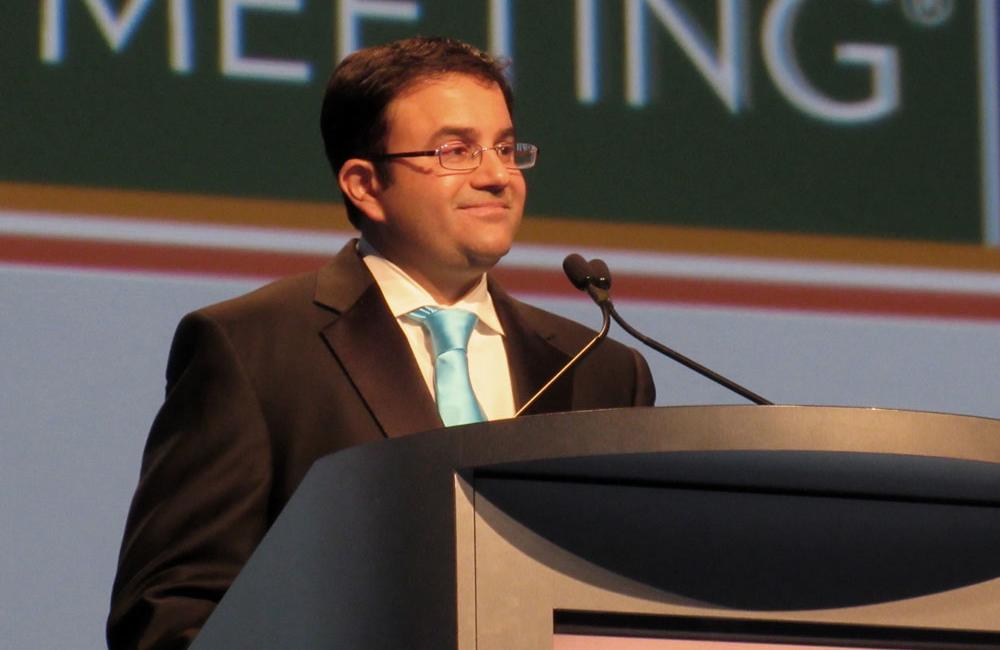 AbbVie's 3D regimen (newly named Viekirax + Exviera) demonstrated a sustained virological response rate of 97% for people with HCV genotype 1 recurrence after liver transplantation who had not yet developed advanced liver fibrosis or cirrhosis, according to results from the CORAL-I study presented at the American Association for the Study of Liver Diseases (AASLD) Liver Meeting this month in Boston, United States, and published simultaneously in the New England Journal of Medicine.
Hepatitis C virus (HCV) almost always re-infects the new liver after transplantation, often resulting in rapid progression to severe fibrosis or cirrhosis and potential graft loss. Liver transplant recipients have historically been difficult to treat because they do not respond as well to interferon-based therapy and many cannot tolerate its side-effects or effects on immunosuppressant drugs used to prevent organ rejection. But now new direct-acting antiviral agents (DAAs) can be combined in interferon-free regimens that produce high cure rates and are very well-tolerated.
Parvez Mantry from the Liver Institute at Methodist Dallas presented findings from CORAL-I, an ongoing phase 2 trial evaluating AbbVie's all-oral 3D regimen for liver transplant recipients with recurrent HCV genotype 1 infection and mild-to-moderate liver fibrosis.
The 3D regimen consists of the HCV protease inhibitor paritaprevir (ABT-450), NS5A inhibitor ombitasvir (ABT-267) and a ritonavir booster in a once-daily co-formulation, taken with the twice-daily non-nucleoside HCV polymerase inhibitor dasabuvir (ABT-333).
The study included 34 participants. About 80% were men and the mean age was 60 years. Most (85%) had harder to treat HCV subtype 1a, the rest 1b. Three-quarters had unfavourable IL28B gene variants. Liver biopsies showed that 18% had no fibrosis (Metavir stage F0), 38% had mild fibrosis (stage F1) and 44% had moderate fibrosis (stage F2). The median time between transplantation and treatment was 40 months. None had received prior treatment since transplantation, but some had previously been treated with pegylated interferon/ribavirin.
All patients in this open-label study received the 3D regimen plus ribavirin for 24 weeks. Ribavirin dosing was managed by study investigators based on tolerability. A prior drug-drug interaction study showed that combining the 3D regimen with immunosuppressants led to increased levels of tacrolimus (7-fold) and ciclosporine (3-fold), so their doses were adjusted accordingly.
At 12 and 24 weeks post-treatment, 97% of participants achieved sustained virological response (SVR12 and SVR24), or continued undetectable HCV viral load.
The one patient without SVR experienced early viral relapse three days after finishing treatment. Testing at that time revealed emergent resistance-associated variants that were not present at baseline.
Treatment was generally safe and well-tolerated. Two patients had serious adverse events and one person discontinued early due to adverse events but still went on to achieve SVR12. The most frequently reported side-effects were fatigue (50%), headache (44%), cough (32%), anaemia (29%), diarrhoea (27%), insomnia (27%), weakness (24%) and nausea (24%).
Most anaemia was mild to moderate and no one stopped treatment for this reason, though five patients received erythropoietin. Everyone who reduced their ribavirin dose went on to achieve SVR. Two people had grade 3/4 bilirubin elevations, consistent with paritaprevir's known effect on bilirubin transporter proteins.
There were no episodes of acute or chronic rejection, no graft loss and no deaths. Tacrolimus and ciclosporine concentrations remained generally stable while taking the 3D regimen. Two patients experienced creatinine increases after tacrolimus dosing errors, which normalised when dosing was corrected.
"This multi-targeted, interferon-free regimen of ABT-450/ritonavir/ombitasvir, dasabuvir, and ribavirin achieved high response rates in immunosuppressed liver transplant recipients with recurrent HCV genotype 1 infection," the investigators concluded. "This phase 2 study in liver transplant recipients with mild to moderate liver disease shows that antiviral therapy may offer clinical benefit before the acceleration of fibrosis to advanced liver disease and its associated complications in this patient population."
Session moderator Anna Lok said that these results are "very impressive", but raise the question of whether the addition of ribavirin and such a long treatment duration are needed for patients with early fibrosis, given that the 3D regimen taken for 12 weeks has produced similarly high SVR12 rates in non-transplant studies.
Mantry noted that the CORAL study protocol is now being amended to include patients with more advanced fibrosis and cirrhosis, and will also test the 3D regimen without ribavirin for transplant recipients with early HCV recurrence.
References
Mantry PS et al. High sustained virologic response rates in liver transplant recipients with recurrent HCV genotype 1 infection receiving ABT-450/r/ombitasvir+dasabuvir plus ribavirin. American Association for the Study of Liver Diseases (AASLD) Liver Meeting, Boston, abstract 198, 2014.
Kwo PY et al. An interferon-free antiviral regimen for HCV after liver transplantation. New England Journal of Medicine, 2014 (epub ahead of print).