Bristol-Myers Squibb files for marketing approval for the first interferon & ribavirin-free combination in Japan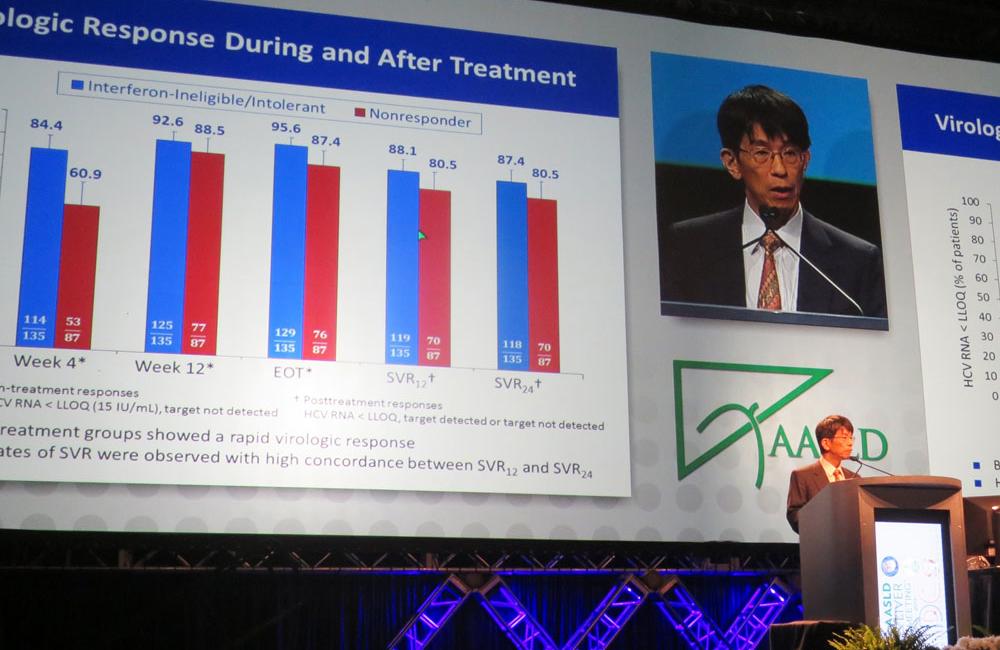 An interferon- and ribavirin-free oral regimen of daclatasvir plus asunaprevir taken for 24 weeks led to sustained virological response (SVR12) in 85% of Japanese patients with hepatitis C virus subtype 1b, according to findings presented last week at The Liver Meeting 2013, the 64th annual meeting of the American Association for the Study of Liver Diseases (AASLD), in Washington, DC.
The development of direct-acting antivirals has brought about a revolution in the treatment of chronic hepatitis C virus (HCV) infection. While the first of these new agents were initially approved as add-ons to interferon-based therapy, people with hepatitis C and their care providers are eagerly awaiting all-oral regimens that avoid the difficult side-effects of interferon.
Kazuaki Chayama of Hiroshima University presented results from a phase 3 trial testing an interferon-free regimen of Bristol-Myers Squibb's HCV NS5A replication complex inhibitor daclatasvir (formerly BMS-790052) plus the NS3 protease inhibitor asunaprevir (formerly BMS-650032) for patients who were either non-responders to prior interferon-based therapy or ineligible for or intolerant of interferon.
The study enrolled 222 people with chronic hepatitis C subtype 1b, the predominant type in Japan. In contrast with most US and European studies, two-thirds of participants were women and the average age was a bit older at 63 years; 40% were over age 65. Half had the favourable IL28B CC gene variant associated with interferon responsiveness and 10% had liver cirrhosis.
The population included 22% prior null responders, 16% prior partial responders, 45% deemed ineligible to take interferon (for reasons such as pre-existing depression, anaemia, other co-morbidities or advanced age) and 16% who were interferon intolerant (previously discontinued interferon before 12 weeks due to toxicities).
All participants in this open-label study received 60mg once-daily daclatasvir plus 100mg twice-daily asunaprevir for 24 weeks. They were followed-up for an additional 24 weeks after finishing treatment to determine sustained virological response (SVR24), or continued undetectable HCV RNA, which is considered a cure.
The overall SVR24 rate was 85% in a modified intent-to-treat analysis, broken down to 87% for people who were interferon ineligible or intolerant and 81% for prior non-responders.
HCV viral load declined rapidly after starting therapy, with 84% of people who were interferon ineligible/intolerant and 61% of prior non-responders showing rapid virological response at week 4; 96 and 87%, respectively, had undetectable HCV RNA at the end of therapy. However, 11 people who were interferon ineligible/intolerant and six prior non-responders (8%) relapsed during post-treatment follow-up.
High sustained response rates were obtained regardless of IL28B status (85% for favourable CC, 85% for intermediate CT and 83% for least favourable TT). Other baseline factors did not significantly affect response rates. Interestingly, people with cirrhosis did at least as well as people who did not have cirrhosis (91 and 84%, respectively) and people aged 65 and older fared slightly better than younger participants (90 vs 81%).
Daclatasvir plus asunaprevir was generally safe and well-tolerated. Overall, 6% of participants experienced serious adverse events, 7% developed grade 3-4 laboratory abnormalities and 5% discontinued due to adverse events, with all these outcomes being a bit more common among people who were interferon ineligible/intolerant compared to prior non-responders.
The most common adverse events were upper respiratory infections (30%), elevated ALT or AST liver enzyme levels (16 and 13%), headache (16%), fever (12%) and diarrhoea (10%); anaemia was rare (3%). All but one of the 11 people who discontinued treatment early due to side-effects did so for elevated ALT or AST, which returned to normal after stopping treatment.
"[The] all-oral combination of daclatasvir and asunaprevir achieved high rates of SVR24 in Japanese patients without treatment options and in patients with no prior response to interferon-based therapy", the researchers concluded. "This all-oral, interferon-free, ribavirin-free regimen was well tolerated with low rates of discontinuation, representing a clinically meaningful improvement in both safety and efficacy compared to current standard of care."
Based on these findings, Bristol-Myers Squibb announced during the conference that it has submitted this first interferon- and ribavirin-free regimen for regulatory approval in Japan, where an estimated 1.2 million people are living with hepatitis C.
While these are good results for people with HCV 1b, studies have shown that the dual regimen of daclatasvir/asunaprevir is not as effective against subtype 1a. (Asunaprevir is also not active against HCV genotypes 2 or 3.) However, as also reported at the Liver Meeting, adding a third agent – the non-nucleoside NS5B polymerase inhibitor BMS-791325 – raised sustained response rates to 91% for people with HCV 1a and 100% for 1b. Bristol-Myers Squibb is working on a fixed-dose combination pill containing these three drugs.
References
Chayama K et al. All-oral combination of daclatasvir plus asunaprevir in interferon ineligible naive/intolerant and nonresponder Japanese patients chronically infected with HCV genotype 1b: results from a phase 3 trial. 64th Annual Meeting of the American Association for the Study of Liver Diseases, Washington, DC, abstract 211, 2013.