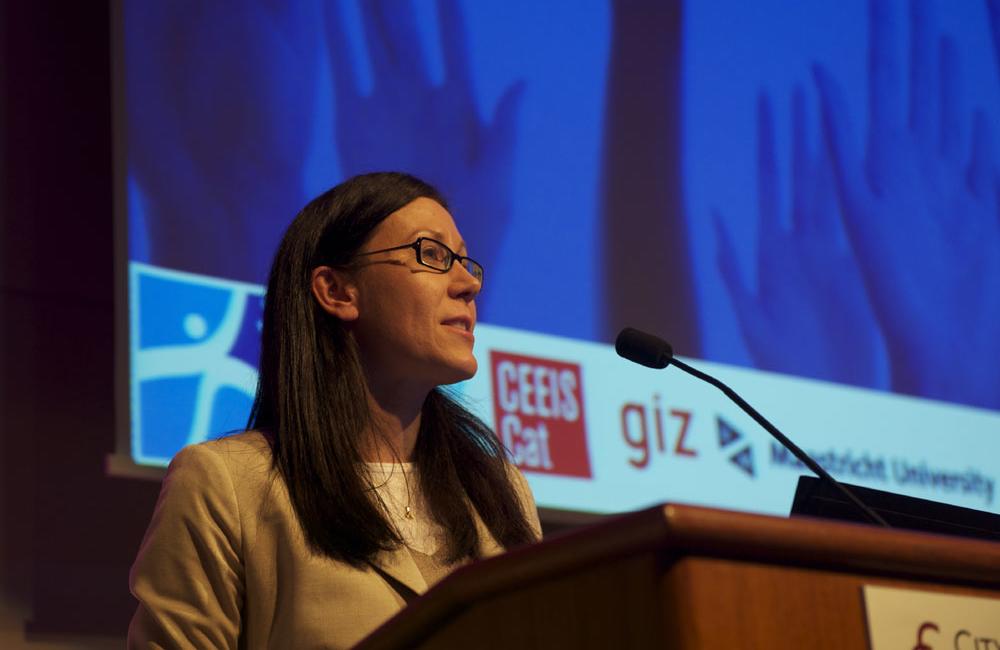 The largest ever international study of the sexual health of men who have sex with men (MSM), which recruited men from across the European continent, has found clear links between the social environment men live in and their own internal acceptance of their sexuality. Furthermore, men with 'internalised homonegativity' were much less likely to test for HIV. 
These European results are to some extent confirmed by a study from the United States, which found that men living in states that are hostile to gay issues were more likely to have internalised homonegativity than men living in more tolerant states. However the American researchers found that the relationship between men's feelings about their sexuality and unprotected sex was quite weak. 
Preliminary results from both studies were presented to the Future of European Prevention among MSM (FEMP) conference in Stockholm last week. 
While the term 'homophobia' is probably better known than 'homonegativity', a number of researchers prefer the latter as it does not suggest that negative attitudes to homosexuality and homosexuals are fundamentally driven by fear. Public expressions of homonegativity may include discriminatory laws, personal rejection by family and friends, violent attacks in public spaces, disapproval from religious authorities and hostile newspaper articles. 
When gay, bisexual and other men who have sex with men have negative or ambivalent feelings about their own sexuality, this is termed 'internalised homonegativity'.  It has been defined as "the gay person's direction of negative social attitudes toward the self, leading to a devaluation of the self and poor self-regard". 
While it may seem obvious that negative social environments can create negative psychological states, the link between social factors at a country level and men's internalised homonegativity has not been clearly demonstrated before.
The studies
Dr Rigmor Berg of the Norwegian Knowledge Centre for the Health Services  presented data from the European MSM Internet Sex Survey (EMIS), an internet-based questionnaire that was made available in 25 languages across Europe in 2010. With a total of a total of 174,209 valid responses, it is probably the largest international study of the sexual health of gay, bisexual and men who have sex with men ever conducted. (Other EMIS results have been previously reported on Aidsmap).
Respondents' countries of residence ranged from the relatively tolerant (for example, the Netherlands and Sweden) right through to the highly homonegative (for example, Lithuania, Romania and Ukraine). Berg described the sample as a "perfect data set" to examine both the structural predictors of internalised homonegativity and its association with individual behaviour. 
Professor Simon Rossser of the University of Minnesota presented data from the cohort of 1725 men recruited for the Structural Interventions to Lower Alcohol-related STI/HIV risk (SILAS) study. In the United States, most laws relating to homosexuality are determined by states, not by the federal government. The researchers therefore selected eight cities, each in a different state, which were judged to have anti-gay laws (for example, gay marriage not possible and no law against anti-gay discrimination). These were then matched on the basis of size, ethnic composition and region with eight cities in states with pro-gay laws. 
The anti-gay cities included San Antonio, Texas; Salt Lake City, Utah and Richmond, Virginia. The pro-gay cities included Boston, Massachusetts; Albuquerque, New Mexico and Portland, Oregon. 
Both studies used the same method of assessing internalised homonegativity, a scale previously developed by Simon Rosser and colleagues. It includes questions on whether the respondent is comfortable in a range of situations: in gay bars, in social situations with gay men, being seen in public with obviously gay men and discussing homosexuality in public. Men were also asked whether they thought homosexuality was morally acceptable and if they would want to change their sexual orientation.
Europe
EMIS found that on a country level, internalised homonegativity scores tended to increase from west to east across the continent. The lowest scores were in western European and Scandinavian countries (the lowest of all in Sweden and the Netherlands); followed by a group of central European and some Mediterranean countries (plus the Republic of Ireland). The group of countries with the highest internalised homonegativity were primarily in the ex-Soviet Union and the Balkans, with the highest rating of all in Bulgaria. 
Structurally, there was a clear and strong relationship between legal discrimination and internalised homonegativity. Legal factors examined included whether laws protected against anti-gay discrimination and the legality of gay marriage, civil unions and adoption. When such laws were absent, men who have sex with men tended to display more discomfort with their own sexuality (b 0.14). 
Moreover, men living in countries with greater income inequality (measured by the GINI coefficient) had higher levels of internalised homonegativity (b 0.09). Men with higher internalised homonegativity also tended to live in smaller towns, rather than big cities (b 0.08). 
There was also a very strong relationship between internalised homonegativity and being open about sexuality to fewer people (b 0.51). 
Berg did not present any data on links between internalised homonegativity and sexual behaviour. However she did show that men with a high internalised homonegativity score were much less likely to have tested for HIV (b 0.01).  
"The EMIS results suggest that improved affirmative policy environments can have positive health impacts on MSM populations," she argued.
United States
Turning now to the American data, the researchers found statistically significant associations between a state's legal environment and men reporting that their family, friends and colleagues were less accepting of their sexuality (b 0.21). Similarly, negative laws were associated with respondents' perception of living in a hostile community environment (b 0.78).     
Moreover, men who reported that family, colleagues and communities were accepting were less likely to have internalised homonegativity. 
On the other hand, after statistical adjustment, there wasn't a direct association between a state's legal environment and men's internalised homonegativity.   
During questions and answers, audience members noted that the measure of whether a state is "pro-gay" may be a little crude. Most legislation on gay issues has only been introduced very recently and that there is likely to be a time-lag between legal changes and more profound changes in social attitudes.  Furthermore, analysis needs to consider not just whether a law exists, but also whether people know about it, it is implemented and there is access to justice.   
In terms of impacts on health, men living in states which legally discriminated against them, as well as men who perceived their family, colleagues and communities to be somewhat hostile, were more likely to report depression. Whereas depression was associated with alcohol and drug use, living in anti-gay state or having internal homonegativity was not.  
But the researchers did not find any association with unprotected sex, either in relation to the legal environment, perceived hostility or internalised homonegativity.  
Simon Rosser summed up: "There appears to be a measurable effect of laws on behaviour, but it's indirect and the distance between laws and HIV risk behaviour is great."
Hidden epidemic
Both studies were presented at the Future of European Prevention among MSM  conference, where a recurrent theme was the difficult social environment in many countries of eastern and south-eastern Europe.  
Presenting an overview of the issue, Smilkja de Lussigny from the World Health Organization noted that despite the difficulties, legislative change is possible. A large number of countries have legalised male-male sex in the past thirty years, although progress on discrimination laws and civil unions has been considerably slower. Gay pride marches have been held in a number of cities, but have frequently been met with a violent backlash.   
In some countries, hostility among the general population is rising. When asked whether Ukrainian homosexuals should have the same rights as other citizens, the number of Ukrainians who say 'no' has risen from 34% in 2002 to 47% in 2007 and, most recently, 49% in 2011. 
In terms of HIV prevention, Smilkja de Lussigny said that targeted programmes for men who have sex with men were practically non-existent before 2000. Even if many country's national strategies now mention MSM, governments do not fund or support interventions for them. Most programmes are small-scale pilots, delivered in a few key cities by non-governmental organisations who are funded from outside the country, often by the Global Fund to Fight AIDS, Tuberculosis and Malaria. Men who identify as gay are more likely to be reached than other men who have sex with men. Programme activities tend to include the distribution of condoms and lubricants, educational brochures, web-based resources and the promotion of HIV testing. 
In many other health services, the staff regard homosexuality as a disease, sin or perversion. HIV counselling and testing may be provided, but not in a way that is sensitive to the needs of men who have sex with men. Sometimes, testing for sexually transmitted infections is available, but treatment is not. Condoms may be supplied, but without lubricant. 
In this context, few men who have sex with men disclose their status to healthcare staff and official statistics are unlikely to be accurate. Whereas the state of Belarus has, in the entire history of the epidemic, only ever recorded 47 cases of HIV infection in men who have sex with men, the MSM population of the country is estimated to be between 51,000 and 71,000. Surveys suggest that HIV prevalence in this population is 3.1%, leading de Lussigny to suggest that around 1600 men who have sex with men probably have HIV, even if only a minority are diagnosed. 
Moreover, data from EMIS may be helpful in estimating the number of MSM with HIV in a country which has a poor public health surveillance system.
References
Berg R et al. Structural inequalities are associated with internalized homonegativity among European MSM. The Future of European Prevention among MSM conference, Stockholm, November 10 2011.
Rosser S. The relationship between discrimination, homophobia, mental health and HIV risk: findings from the SILAS study. The Future of European Prevention among MSM conference, Stockholm, November 11 2011.
de Lussigny S. The face of the hidden HIV epidemic in MSM in Eastern Europe and Central Asia: environment, response and unaddressed need. The Future of European Prevention among MSM conference, Stockholm, November 11 2011.