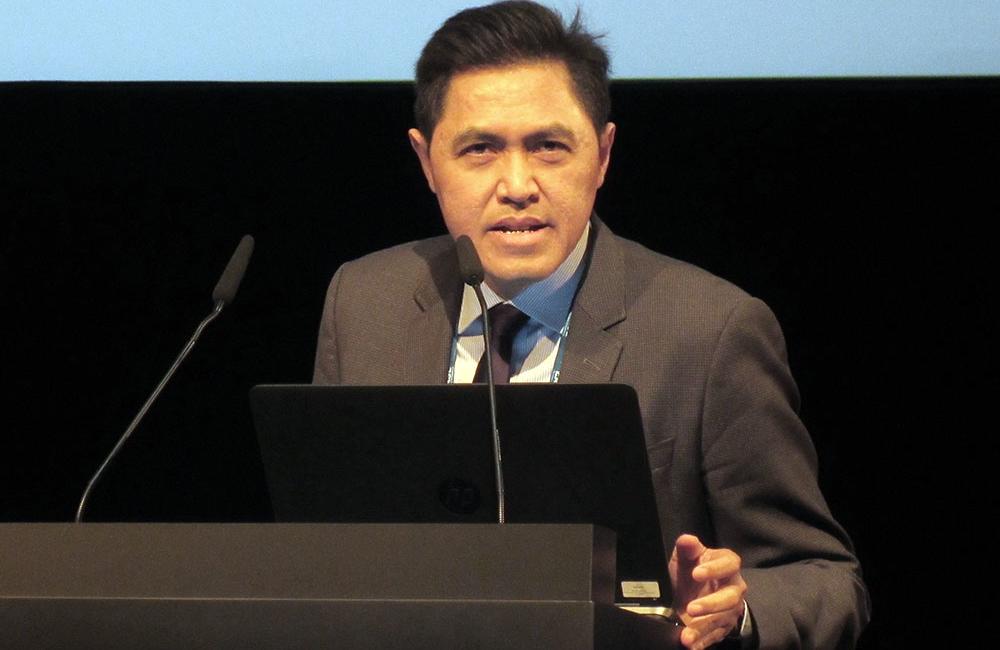 Two investigational nucleotide analogue antivirals were shown to be active against hepatitis B virus (HBV) with minimal potential for kidney and bone toxicity, researchers reported at the International Liver Congress last month in Amsterdam. Besifovir is in phase 3 clinical trials, while tenofovir exalidex is in early development.
Nucleoside/nucleotide analogues for hepatitis B can suppress viral replication during treatment, but they usually do not lead to a cure. Ongoing therapy is generally required, so long-term safety and tolerability is a priority.
One of the most widely used drugs in hepatitis B and HIV treatment, the nucleotide analogue tenofovir disoproxil fumarate or TDF (Viread), is generally considered safe, but it can cause bone loss and kidney problems in some people.
A newer pro-drug formulation, tenofovir alafenamide or TAF (Vemlidy), produces high levels of the active drug in hepatocytes and CD4 T-cells with smaller doses, which gives a lower concentration in the blood and less exposure for organs. Other research presented at the conference showed that TAF works as well as TDF with less kidney toxicity and bone loss, and people who switched from TDF to TAF showed improvements in kidney and bone markers.
Other companies are working on related hepatitis B drug candidates that minimise kidney and bone toxicity. Having more options allows clinicians to tailor therapy to individual patients, and having competing drugs on the market can bring down the cost of treatment.
Sang Hoon Ahn of Yonsei University in Seoul, South Korea, presented findings from a phase 3 trial of besifovir, a guanosine nucleotide analogue pro-drug formerly known as LB80380 (LG Life Science) and ANA380 (Anadys Pharmaceuticals).
Besifovir has been in development for more than a decade. Prior studies showed that it has potent activity against HBV, including drug-resistant variants. It accumulates less in the kidneys than TDF or adefovir (HepSera), so it is expected to cause less renal toxicity. In a phase 2b study, besifovir suppressed HBV as well as entecavir (Baraclude).
The only notable side-effect of besifovir was reduced levels of carnitine, a compound that plays a role in cellular energy production. In further trials, participants therefore received preventive carnitine supplementation.
The phase 3 trial was a head-to-head comparison of 150mg besifovir versus 300mg TDF taken for 48 weeks, followed by open-label besifovir through week 192. All participants also received 660mg L-carnitine.
The study included 187 people with chronic hepatitis B, about 60% of whom were hepatitis B 'e' antigen-positive (HBeAg). About two-thirds were men and the mean age was approximately 45 years. Almost all had HBV genotype A and about 20% had compensated cirrhosis; people with decompensated liver disease were excluded. No exclusion criteria related to kidney function were reported.
In an intent-to-treat analysis at 48 weeks, 81% of participants taking besifovir and 85% of those taking TDF achieved viral suppression with HBV DNA <400 copies/ml or <69 IU/ml; 64% and 69%, respectively, met a stricter cut-off of <116 copies/ml or <20 IU/ml).
As expected, response was better among HBeAg-negative patients, with 97% on besifovir and 100% on TDF having HBV DNA <400 copies/ml. Among HBeAg-positive participants, the corresponding response rates were 70% and 75%, respectively.
Five people (5%) in each treatment arm experienced virological breakthrough, but none had drug resistance mutations. Levels of HBV cccDNA in liver cells did not differ between groups. One person in the TDF arm achieved hepatitis B surface antigen (HBsAg) loss.
About three-quarters of participants in both treatment arms experienced ALT normalisation. Interestingly, HBeAg-positive people were significantly more likely to see their ALT return to normal on TDF, while among HBeAg-positive patients this was more likely on besifovir.
Histological response measures favoured besifovir. Among 29 people who underwent liver biopsy, those taking besifovir were twice as likely as those on TDF to see a reduction of two or more points in necro-inflammatory activity (78 vs 36%, respectively). The proportion of people with the most severe fibrosis (stage 6 on the 6-point Ishak scale) fell from 17 to 11% in the besifovir group, while rising from 9 to 18% in the TDF group.
Besifovir was generally safe and well tolerated. One person taking besifovir had a serious adverse drug reaction of muscle spasms, considered possibly related to treatment. One person on besifovir stopped treatment due to liver cancer and one person on TDF did so due to a rise in creatine phosphokinase. About 7% of TDF recipients and 2% on besifovir reported stomach pain, but no other events exceeded 5%.
Kidney and bone safety measures were better with besifovir. Serum creatinine rose significantly less with besifovir than with TDF. Estimated glomerular filtration rate (eGFR) declined more on TDF, but the difference did not reach statistical significance. Bone mineral density (BMD) T-scores decreased less in the besifovir group (-0.02 vs -0.10) – a small but significant difference. The proportion of people with osteopenia or osteoporosis did not change after 48 weeks on besifovir, but rose in the TDF arm.
"In treatment-naive chronic hepatitis B patients, 48-week treatment of besifovir was non-inferior to tenofovir in virologic response (HBV DNA <400 copies/ml)," the researchers concluded. "It had a good profile in BMD, nephrotoxicity, and histological response."
Tenofovir exalidex
Tawesak Tanwandee of Siriraj Hospital in Bangkok presented results from a study of another tenofovir pro-drug further back in the development pipeline. Tenofovir exalidex or TXL (formerly known as CMX157) is being developed by ContraVir Pharmaceuticals in New Jersey.
TXL takes advantage of lipid uptake mechanisms to increase bioavailability and enhance tissue penetration. It produces lower levels of active drug in the bloodstream than TDF and is expected to cause less kidney and bone toxicity. Tanwandee said that this formulation produces a higher drug concentration in liver cells, where it is needed to fight HBV.
In an early study of healthy volunteers, TXL was tested at doses ranging from 5mg to 100mg for two weeks. Pharmacokinetics were favourable – supporting once-daily dosing – and there were no notable safety signals and no serious adverse events or drug discontinuations for this reason.
TXL was then evaluated for 28 days in 52 people with hepatitis B, while 10 control patients took 300mg TDF. All were Asian, the average age was in the early thirties, and a majority were HBeAg-positive.
Participants in the highest (100mg) dose group had a larger viral load reduction at the end of treatment than those taking TDF, but all the lower doses worked less well than TDF. TXL appeared safe and well tolerated, with no serious adverse events or drug discontinuations due to adverse events.
Based on these early findings, the researchers concluded that "TXL was safe and effective," and "Lower systemic circulating [tenofovir] levels may mitigate bone and kidney toxicities previously reported for [TDF]."
Tanwandee said that the first-generation prototype formulation of TXL is now being optimised in the hopes of using a reduced dose and improving its potential for combining in coformulations.
References
Ahn SH et al. Safety and efficacy of besifovir in treatment-naive chronic hepatitis B virus infection: a randomized, double-blind, double dummy, phase 3 study. International Liver Congress, abstract GS-017, 2017.
Tanwandee T et al. Pharmacokinetics, safety and antiviral activity of CMX157, a novel prodrug of tenofovir, administered as ascending multiple doses to healthy volunteers and Hepatitis B virus-infected subjects. International Liver Congress, abstract PS-040, 2017.