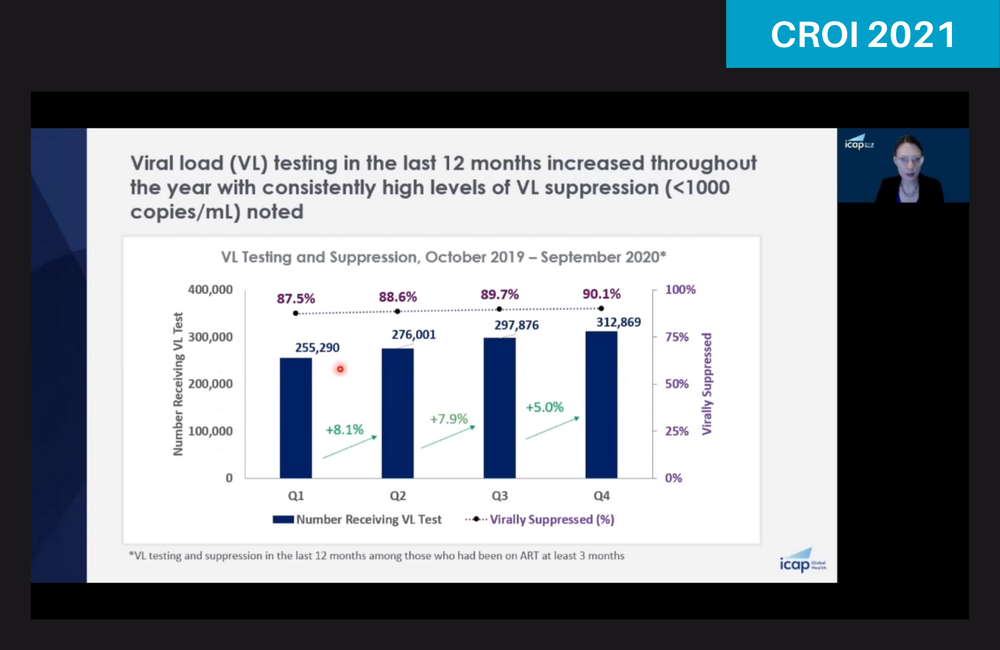 Data from over 1000 health facilities in eleven countries in sub-Saharan Africa showed a transient effect of the COVID-19 pandemic on HIV services, followed by a rapid recovery, the virtual Conference on Retroviruses and Opportunistic Infections (CROI) heard last week. The study included data on HIV testing, antiretroviral therapy and viral suppression.
There was concern last year that measures designed to limit the spread of COVID-19 would have unintended effects on HIV services and on the health of people living with HIV. Modelling studies forecast that delayed diagnoses and interruptions in the supply of antiretroviral therapy (ART) would lead to many more HIV-related deaths.
Last month, a study from KwaZulu-Natal in South Africa showed that ART provision was maintained throughout, but the lockdown had negatively impacted HIV testing and the number of people starting ART.
At CROI, Dr Tiffany Harris of ICAP at Columbia University presented data from health facilities which ICAP provides technical support to, with funding from PEPFAR. There were 1059 facilities in eleven countries, although 68% of facilities were in just three countries (Zambia, Democratic Republic of Congo and Cote d'Ivoire). The analysis may therefore be skewed by the particular circumstances of those countries – including the spread of COVID-19, pandemic control measures and HIV programme policies – but these factors were not accounted for in this analysis. The other countries included were Burundi, Cameroon, Mozambique, Eswatini, Ethiopia, South Sudan, Angola and Kenya.
Data were collected from October 2019 to September 2020. COVID-19 control measures were introduced in most countries in March 2020, at the end of the second quarter analysed.
Comparing January-March and April-June, there was a 3.3% decline in the number of people tested for HIV, a 9.5% decline in the number of people with a positive diagnosis and a corresponding 9.8% decline in people starting HIV treatment.
In the following quarter (July-September), there was a rapid rebound, with testing up 10.6%, positive diagnoses up 9.0% and people starting treatment up 9.8%.
The overall number of people receiving ART did not decline during the year and in fact rose steadily, from 419,028 to 476,010.
Throughout, over 60% received viral load testing and viral suppression increased – from 87.5% to 90.1%. In Zambia, Democratic Republic of Congo, Burundi, Eswatini and Ethiopia, the 90% target was reached or maintained during the pandemic.
Harris said the pandemic had given programmes the impetus to adopt differentiated services, such as ART distribution in the community. Multi-month prescribing has been more widely adopted: in October-December 2019, 51% received over three months' medication at one time, rising to 80% in June-September 2020.
Similar patterns were seen in men and women, in all age groups, without substantial variation between countries.
However, it is not clear how generalisable these results are: whether the facilities supported by ICAP are typical or are particularly resilient.