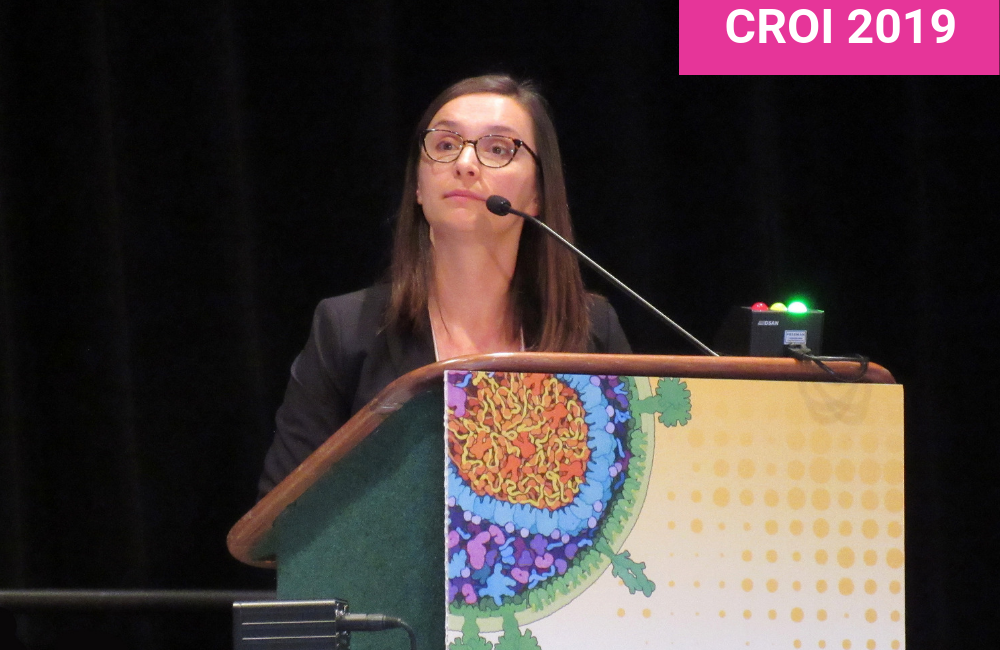 An experimental HIV capsid inhibitor appears safe and may be able to be administered once every three months or less, according to results from an early clinical trial presented at the Conference on Retroviruses and Opportunistic Infections (CROI 2019) last week in Seattle.
GS-6207, Gilead Sciences' first-in-class capsid inhibitor, interferes with the assembly and disassembly of the HIV capsid, which encloses the genetic blueprint of the virus. Jennifer Sager of Gilead Sciences reported findings from a phase I study – the first in humans – evaluating the safety and pharmacokinetics of the new drug in HIV-negative volunteers.
Current antiretroviral therapy is generally effective and well tolerated, but new medications that work in different ways offer more options, especially for people with highly resistant virus. What's more, long-acting therapies could potentially improve adherence and relieve some of the burden of daily dosing and the stigma associated with HIV, Sager said.
The HIV capsid protein plays an essential role in the viral lifecycle, forming a cone-shaped structure that encloses the viral genome. GS-6207 acts at multiple stages of the HIV replication cycle. It interferes first with disassembly of the capsid and transport of viral genetic material into a host cell's nucleus, and later with assembly of capsids for newly produced virus, resulting in immature viral particles that cannot infect other cells.
At CROI 2017, Gilead scientists reported that an investigational capsid inhibitor dubbed GS-CA1 demonstrated strong binding to capsid building blocks known as hexamers. Laboratory studies showed it was highly potent at low doses against multiple HIV-1 isolates – including mutant virus resistant to approved antiretroviral drug classes – and has synergistic activity when combined with several other antiretrovirals. It appeared well tolerated with no measurable cell toxicity. Pharmacokinetic profiling showed that it has a long half-life. In rats, a single subcutaneous injection maintained high plasma drug levels for ten weeks.
After some refinements, a similar version of the agent – now called GS-6207 – moved into human clinical trials. Sager presented findings from a randomised, blinded, placebo-controlled, single ascending dose study in 40 healthy volunteers. Most were Latino men and the median body mass index was 26, or just over the threshold for overweight.
Eight participants in four staggered cohorts received one subcutaneous injection of GS-6207 at doses of 30, 100, 300 or 450mg, while two people in each group received an inactive injection. Follow-up for the two higher dose groups is still ongoing.
A single injection of GS-6207 resulted in sustained concentrations for at least 24 weeks. Using the 300 and 450mg doses, estimated plasma levels at week 12 remained well above the 95% effective concentration.
"The PK profile of subcutaneously administered GS-6207 is consistent with sustained delivery, supporting a dosing interval of at least three months at doses greater than 100mg," Gilead said in a press release.
Although the safety data are still blinded, GS-2607 appears to be well tolerated, Sager reported. There have been no serious adverse events or deaths and no severe laboratory abnormalities deemed to be of clinical relevance. All adverse events seen so far have been mild or moderate (grade 1 or 2) with no clear pattern according to dose. The most common side-effect was mild and transient injection site reactions.
Based on these findings, a phase Ib proof-of-concept study is now underway to determine the optimal dose and frequency of administration in people living with HIV. Studies of interactions with other drugs are also ongoing. Researchers are now working to develop an oral formulation of GS-6207, Sager said.