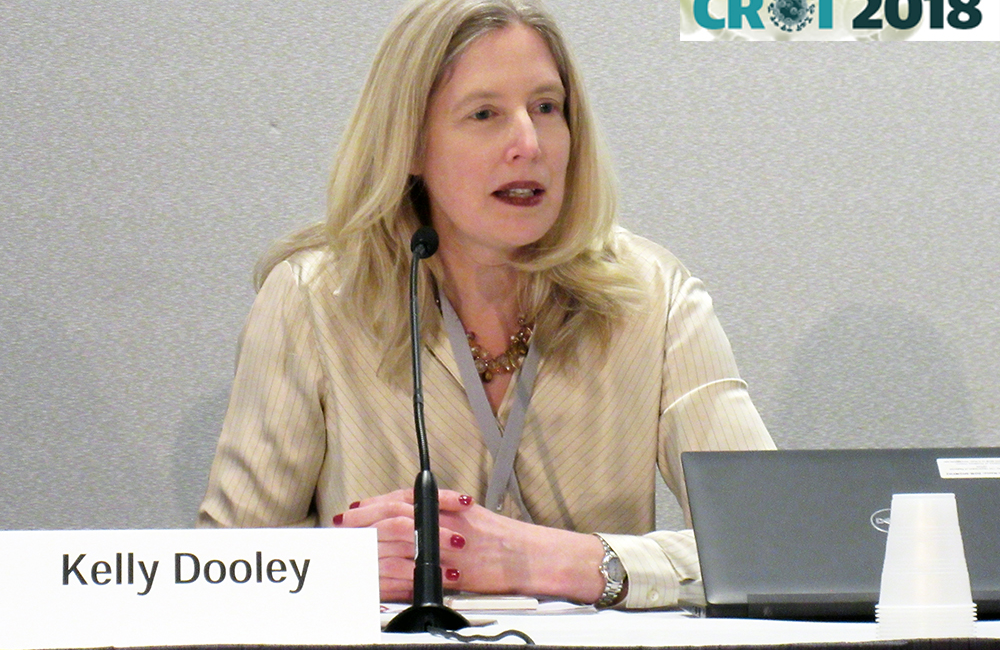 Twice-daily dosing of dolutegravir when combined with the tuberculosis (TB) drug rifampicin is safe and effective and will allow dolutegravir to be used alongside TB treatment as part of first-line antiretroviral therapy (ART), according to results of the INSPIRING study presented on Monday at the 25th Conference on Retroviruses and Opportunistic Infections (CROI 2018) in Boston.
Dolutegravir is a potent HIV integrase inhibitor with a high genetic barrier to resistance. It is recommended as an alternative to efavirenz in first-line antiretroviral treatment in lower- and middle-income countries and a fixed-dose combination pill containing dolutegravir, tenofovir and lamivudine priced at $75 a year became available in 2017.
Although dolutegravir has few drug interactions with other medicines in comparison with efavirenz – the drug currently recommended as third agent in antiretroviral regimens in lower- and middle-income countries – there is evidence from a pharmacokinetic study in healthy volunteers to show that rifampicin reduces dolutegravir blood levels.
When dolutegravir received marketing approval regulators recommended that the drug should be dosed twice daily if used alongside rifampicin to overcome the drug interaction.
To provide evidence that this dosing pattern is safe and effective, manufacturer ViiV Healthcare designed the INSPIRING study.
The phase 3a, randomised, open-label study recruited 113 participants, all of whom had been taking rifampicin-based TB therapy for at least eight weeks and had a CD4 cell count above 50 cells/mm3. The study recruited participants in South Africa, Peru, Brazil, Mexico, Russia, Argentina and Thailand.
The patients were randomised on a 3:2 basis to receive an ART regimen based on either dolutegravir (50mg twice daily for at least 24 weeks, then 50mg once daily) (n = 69) or efavirenz (600mg once daily)(n = 44). Participants who received dolutegravir switched to once-daily dosing at least two weeks after completing TB treatment to leave sufficient time for the induction effect of rifampicin to cease.
In this 24-week interim analysis, the investigators analysed the proportion of people with viral suppression and the safety of the two ART regimens, including the proportion of people experiencing immune reconstitution inflammatory syndrome (IRIS).
Median baseline CD4 cell count and viral load were broadly comparable between the two study arms (5.1 log10 copies/ml and 208 cells/mm3 in the dolutegravir arm and 5.24 log10 copies/ml and 202 cells/mm3 in the efavirenz arm). The majority (60%) of people were men and approximately two-thirds of participants were African.
After 24 weeks of follow-up, viral load was undetectable in 81% of participants randomised to dolutegravir-based therapy and 89% of those receiving efavirenz-based ART. The lower rate of virological response in the dolutegravir arm was due to five discontinuations unrelated to therapy, loss to follow-up and protocol deviations, and four cases in which viral load had fallen below 400 copies at week 24 but had not fallen below 50 copies/ml. In each of these cases viral load fell below 50 copies during further follow-up.
CD4 cell increases were comparable between the two regimens (median increase from baseline 146 cells/mm3 for dolutegravir vs 93 cells/mm3 for efavirenz).
Only two people, both of whom were in the efavirenz arm, stopped treatment because of adverse events. There were no discontinuations due to liver-related side-effects.
The overall TB-IRIS rate was low (6% for dolutegravir vs 9% for efavirenz) and there were no treatment discontinuations due to TB-IRIS.
The study is continuing, but on the basis of these interim results, the investigators conclude that dolutegravir 50mg twice daily is effective and well tolerated in HIV-positive people who are receiving rifampicin-based TB therapy. "Rates of IRIS were low," comment the researchers. "There were no new toxicity signals for dolutegravir and no discontinuations due to liver events. These data support the use of dolutegravir-based regimens in HIV/TB co-infection."