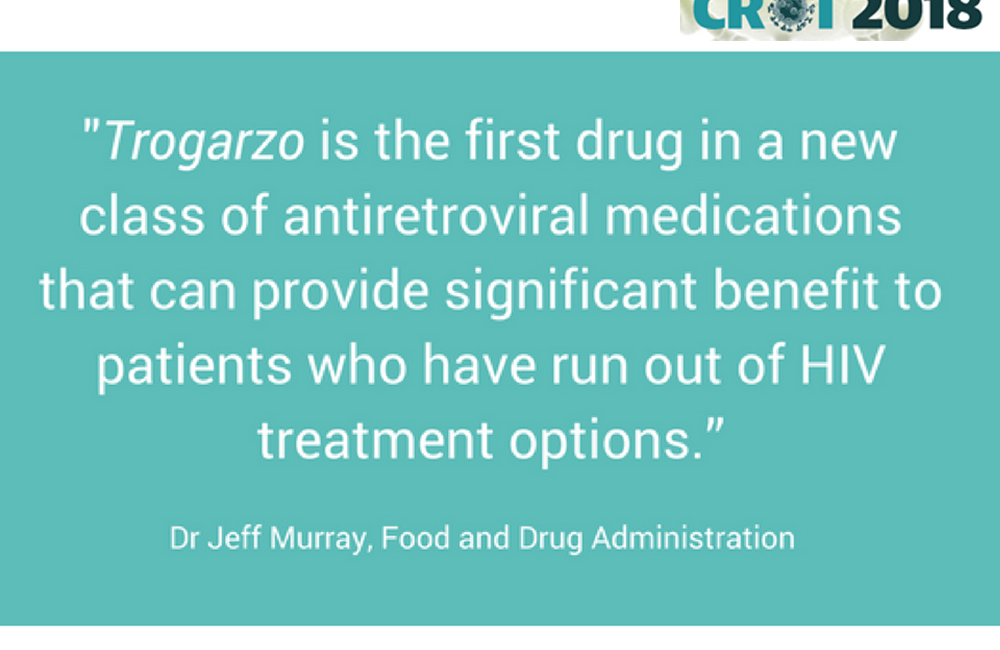 Ibalizumab, a long-acting monoclonal antibody that prevents HIV from entering cells, is active against virus strains that have developed resistance to multiple other antiretrovirals, according to a poster presentation at the 25th Conference on Retroviruses and Opportunistic Infections (CROI 2018) in Boston.
During the conference the US Food and Drug Administration (FDA) announced that it has approved ibalizumab-uiyk, to be marketed as Trogarzo, for people with HIV who have limited options due to extensive prior treatment experience and multidrug-resistant virus.
Ibalizumab (previously known as TMB-355 and TNX-355) has been in development for more than ten years under the sponsorship of multiple companies, most recently Theratechnologies and TaiMed Biologics. After promising phase 2 study results, the FDA granted it orphan drug status and a breakthrough therapy designation.
Rather than attacking HIV directly, ibalizumab is an antibody that binds to the CD4 receptor on T-cells, where it blocks a shape change necessary for the virus to enter cells. It is administered by intravenous infusion every two weeks. Ibalizumab is the first biologic agent to be approved for HIV, the first antiretroviral that does not require daily dosing, and the first anti-HIV therapy with a novel mechanism to be introduced in a decade.
Theratechnolgies said ibalizumab will be priced at US$118,000 annually – far exceeding the cost of existing HIV medications, but in line with biologics for cancer and other diseases.
"While most patients living with HIV can be successfully treated using a combination of two or more antiretroviral drugs, a small percentage of patients who have taken many HIV drugs in the past have multidrug resistant HIV, limiting their treatment options and putting them at a high risk of HIV-related complications and progression to death," said Dr Jeff Murray, deputy director of the FDA's Division of Antiviral Products. "Trogarzo is the first drug in a new class of antiretroviral medications that can provide significant benefit to patients who have run out of HIV treatment options. New treatment options may be able to improve their outcomes."
Approval of ibalizumab was based on a phase 3 clinical trial that enrolled 40 heavily treatment-experienced people who were unable to achieve viral suppression using existing antiretrovirals. Most were men and the median age was 53 years. They were all resistant to at least three drugs, some had tried ten or more drugs and 15% were resistant to all approved antiretrovirals. However, they had to have at least one active drug available to construct an optimised background regimen, which could include experimental agents.
As previously reported, data presented at last year's CROI and at IDWeek 2017 showed that 55% of study participants had at least a 1.0 log10 drop in viral load and 48% had at least a 2.0 log10 decrease at 24 weeks. At that point 43% had HIV RNA below 50 copies/ml and half were below 200 copies/ml. Among the 27 participants who entered an expanded access study, viral suppression was sustained through week 48. The average CD4 cell gain was approximately 50 cells/mm3 at week 24, though people with less advanced immune suppression at baseline saw larger increases.
Ibalizumab was generally safe and well tolerated, with mostly mild or moderate side-effects. The most common adverse events were diarrhoea, dizziness, nausea and rash.
At this year's CROI, Steven Weinheimer of TaiMed and colleagues reported findings from an analysis of virus isolates in blood samples collected from participants in the phase 3 trial. They compared susceptibility to ibalizumab in HIV isolates that were sensitive to and resistant to nucleoside/nucleotide reverse transcriptase inhibitors (NRTIs), non-nucleoside reverse transcriptase inhibitors (NNRTIs), protease inhibitors (PIs), integrase inhibitors and the entry inhibitors enfuvirtide (Fuzeon) and maraviroc (Celsentri or Selzentry).
They found that ibalizumab was equally active against HIV that was sensitive to or resistant to other antiretrovirals from all classes. A majority of samples had ibalizumab maximum percent inhibition (MPI) values of 90% or greater, indicating a high degree of activity, and only five samples fell below 80%. Mean MPI values exceeded 90% even for isolates that were resistant to all NRTIs, NNRTIs, PIs or integrase inhibitors. The lowest MPI values were seen in isolates resistant to enfuvirtide or maraviroc.
These data, showing that resistance to other antiretrovirals did not affect susceptibility to ibalizumab or overall efficacy, confirms that ibalizumab is a potent new tool for the treatment of multidrug-resistant HIV, the researchers concluded.
References
Weinheimer S et al. Ibalizumab susceptibility in patient HIV isolates resistant to antiretrovirals. 25th Conference on Retroviruses and Opportunistic Infections (CROI 2018), Boston, abstract 561, 2018.
View the abstract on the conference website.