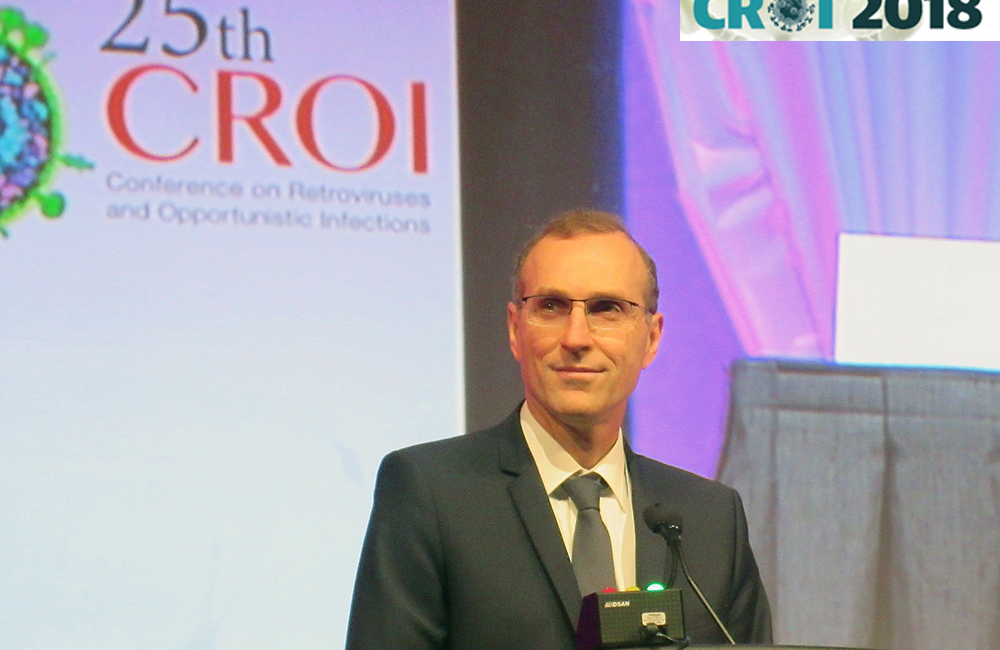 People who switched to a single-tablet regimen containing the integrase inhibitor bictegravir were as likely to maintain an undetectable viral load as those who stayed on their current suppressive regimen containing dolutegravir, according to a presentation at the 25th Conference on Retroviruses and Opportunistic Infections (CROI 2018) this week in Boston.
Both treatments had low rates of virological failure and were well tolerated, with similar kidney and bone safety profiles. The bictegravir combination might be a better choice for people with HIV and hepatitis B virus co-infection because it contains a drug that is active against both viruses, experts suggested.
Gilead Sciences' next-generation integrase strand transfer inhibitor bictegravir has potent antiviral activity with good tolerability, a high barrier to resistance and a low potential for drug-drug interactions. Unlike Gilead's older integrase inhibitor, elvitegravir, it does not requiring pharmacokinetic boosting.
In February the US Food and Drug Administration (FDA) approved Biktarvy, a new once-daily single tablet regimen containing bictegravir, emtricitabine and tenofovir alafenamide (TAF), the new kidney- and bone-friendly formulation of tenofovir, which is also used for hepatitis B treatment. The combo pill is currently under regulatory review in Europe.
As previously reported, two phase 3 studies found that the bictegravir combination was non-inferior to regimens containing ViiV Healthcare's integrase inhibitor dolutegravir in people starting HIV treatment for the first time, with around 90% of study participants achieving viral suppression at 48 weeks.
At CROI, Prof Jean-Michel Molina of Hôpital Saint-Louis in Paris presented findings from another phase 3 trial evaluating Biktarvy as a switch option for people who currently have suppressed viral load on a regimen containing dolutegravir, lamivudine and abacavir (the drugs in the Triumeq single-tablet regimen).
Study 1844 included 563 participants in Europe, North American and Australia. Nearly 90% were men, more than 70% were white, about 20% were black and the median age was 46 years.
At study entry they were taking dolutegravir, lamivudine and abacavir, either as separate tablets or the Triumeq co-formulation, with undetectable viral load (< 50 copies/ml) for at least 3 months. They had good immune function, with a median CD4 T-cell count of around 700 cells/mm3. Because tenofovir can cause kidney problems in susceptible individuals (especially using the older tenofovir disiproxil fumarate formulation) they had to have moderate or better kidney function with an estimated glomerular filtration rate (eGFR) of at least 50 ml/min.
Participants were randomly assigned to either stay on their dolutegravir-containing regimen or switch to the Biktarvy co-formulation. Each group also received a matching placebo for the opposite treatment.
Viral suppression rates were high and similar in both groups at 48 weeks: 98.6% in the bictegravir group and 95.0% in the dolutegravir group had undetectable HIV RNA. Only a small proportion in each group – 1.1% and 0.4%, respectively – had viral loads greater than 50 copies/ml. These results demonstrated that the bictegravir regimen was non-inferior to the dolutegravir regimen.
No participants in either treatment group developed treatment-emergent resistance to
 any study drug, confirming that both integrase inhibitors have a high barrier to resistance.
Both treatment regimens were generally safe and well tolerated. Half as many people in the bictegravir group compared with the dolutegravir group experienced drug-related adverse events (8% vs 16%), the most common of which was headache (3% in both groups). Other side-effects were reported by no more than 2% of participants. Laboratory abnormalities were also uncommon. Rates of discontinuation due to adverse events were 2% in the bictegravir group and 1% in the dolutegravir group.
Looking more closely at kidney-related adverse events, eGFR rose by a small amount in the bictegravir group while falling slightly in the dolutegravir group. Molina said this was attributable to greater inhibition of kidney tubular secretion with bictegravir. There were no differences in markers of proteinuria (protein in the urine), no drug discontinuations due to kidney-related adverse events and no cases of renal tubulopathy in either group.
Bone mineral density as measured at the spine and hip rose by very small amounts in both treatment groups, with no significant differences between them.
Changes in blood lipid levels were also minimal in both treatment groups and differences were not significant, except for a small decrease in triglycerides in the bictegravir group compared to a small rise in the dolutegravir group (-5 vs +3 mg/dl, respectively).
The researchers concluded that switching to bictegravir was non-inferior to continuing on a dolutegravir-based regimen in terms of virological suppression, lack of resistance, good tolerability and similar kidney and bone safety profiles. In fact, Molina suggested that these regimens are so well tolerated that they might not require regular safety monitoring.
Given this similarity, a questioner at a CROI media briefing asked what might motivate someone who is doing well on dolutegravir to switch to Biktarvy.
Molina and moderator Diane Havlir of the University of California at San Francisco both said that it is good for patients to have options – even if they are doing well on one treatment, they might do even better on another – and the TAF-containing regimen might be preferable for people with hepatitis B.