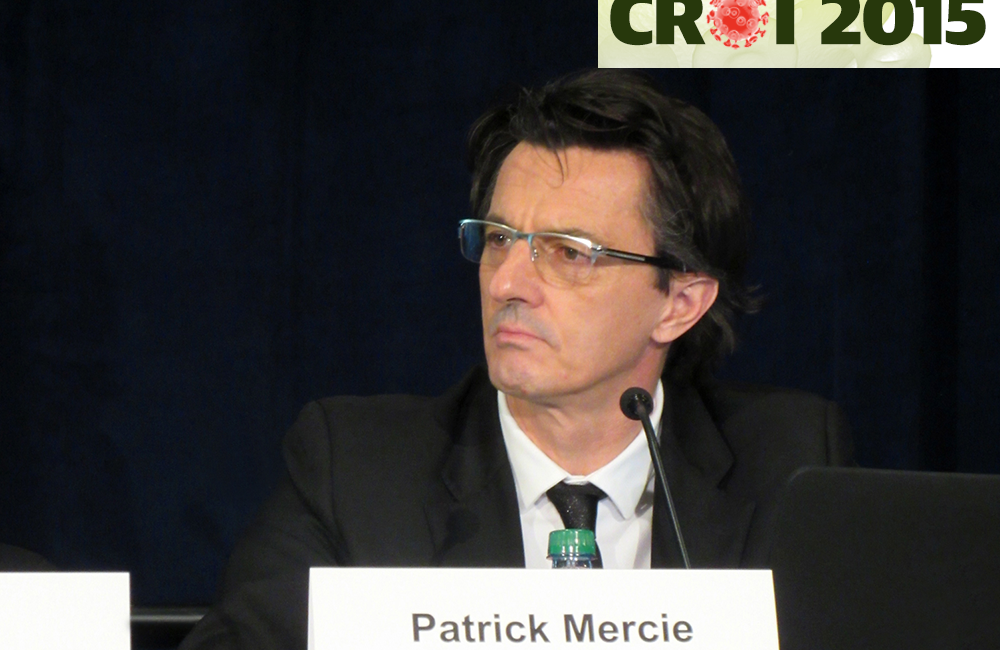 The smoking cessation drug varenicline (Champix, or Chantix in the United States) helped more people with HIV to stop smoking than counselling alone, but less than 20% were able to remain abstinent for a year, according to the results of a French study presented at the Conference on Retroviruses and Opportunistic Infections (CROI 2015) last week in Seattle, USA. The smoking cessation rates in this study were comparable to those previously seen for HIV-negative people using varenicline or other methods – across the board only a minority manage to quit long-term.
Studies have shown that a large proportion of people with HIV smoke tobacco – higher than comparable HIV-negative groups of the same sex and age. In Europe, it is estimated that at least half of people living with HIV are smokers. It is well known that smoking contributes to a host of health problems ranging from cardiovascular disease to cancer. Since people with HIV appear to be at greater risk for some of these conditions already, smoking cessation takes on added importance.
Patrick Mercie from Hôpital Saint-André in Bordeaux presented findings from ANRS 144 Inter-ACTIV, a study comparing smoking cessation rates after a year for people treated with varenicline or placebo. The study, sponsored by the French national HIV and hepatitis research agency, was conducted at 30 ANRS clinical centres between October 2009 and January 2014.
Pfizer's varenicline is a partial nicotinic receptor agonist that helps reduces craving for nicotine and dampens the pleasurable feelings associated with smoking. It was approved in the US and European Union in 2006.
This phase 3 study enrolled 248 smokers living with HIV who were motivated to quit; 213 started therapy and were included in the final analysis. They smoked at least 10 cigarettes per day (median 20 per/day), had been smokers for around 25 years on average and more than 80% had previously tried to quit at least once.
More than 80% of participants were men with a median age of 45 years. Almost all were on antiretroviral therapy, most had an undetectable viral load and the median CD4 cell count was high at over 600 cells/mm3. At study entry, they were not experiencing depression and were not dependent on other drugs.
Participants were randomly assigned to receive varenicline (starting at 0.5mg once daily and escalating to 1mg twice daily) or placebo for a 12-week treatment period, along with smoking cessation counselling. They were then followed up for an additional 36 weeks to determine continuous smoking cessation rates. Self-reported abstinence was confirmed using exhaled carbon monoxide measurements at week 9 and periodically through to the end of follow-up.
Participants using varenicline were significantly more likely to abstain from smoking than those in the placebo arm. By the end of treatment at 12 weeks, 34.3% of varenicline recipients were not smoking compared to 12.6% of placebo recipients. By 48 weeks, however, cessation rates had fallen to 17.6% and 7.2%, respectively, in a modified intent-to-treat analysis. The likelihood of continuous abstinence at 48 weeks was nearly three times higher in the varenicline arm compared to the placebo arm (odds ratio 2.8).
Varenicline was generally safe and well-tolerated, though there were concerns about some specific side-effects. Previously, suicidal thoughts or attempts, other psychiatric symptoms and cardiovascular abnormalities have been reported among HIV-negative people taking varenicline. In fact, US prescribing information for Champix includes a 'black box' warning about neuropsychiatric symptoms such as hostility, depression and suicide. However, systematic reviews and large observational studies have not shown that these adverse events occur more often with varenicline compared to placebo.
In this study the most common adverse events were nausea, abdominal pain and sleep disorders. Participants in the varenicline arm reported more drug-related adverse events overall (51 vs 26%), more grade 3/4 or moderate-to-severe adverse events (25 vs 13%) and more psychiatric adverse events (42 vs 28%). The psychiatric events included sleep disorders, insomnia, nightmares, depression and hallucinations. There were nine reported grade 3/4 drug-related psychiatric adverse events in the varenicline arm and none in the placebo arm. However, depression occurred with similar frequency in the varenicline and placebo arms (4 vs 6%, respectively). No serious drug-related cardiovascular events were reported in either arm of the study. HIV viral load levels and CD4 counts remained stable in both arms.
In this first large-scale randomised trial of varenicline in people living with HIV, varenicline was "safe and well tolerated" and "as effective as [an] adjunct to counselling as in the general population," the researchers concluded, with adverse events "as expected in the [HIV-]uninfected population."
"Varenicline with appropriate counselling appears to offer some benefit and should be considered in the HIV case management," they recommended.
Prior studies of HIV-negative people have shown that varenicline is more effective than the smoking cessation medication bupropion (Zyban, Wellbutrin), nicotine replacement products such as patches or counselling alone. In one randomised clinical trial, rates of sustained abstinence at one year were 23% with varenicline, 15% with bupropion and 10% with placebo. No intervention, however, has been shown to work for more than about one-quarter to one-third of people who use it. Recent research indicates that combining interventions – for example varenicline plus a nicotine patch – is likely to be more effective than any single method used alone.
At a CROI press conference about HIV-related comorbidities, Mercie said that while varenicline is generally safe for people with HIV, "it remains non-indicated for patients with uncontrolled psychiatric conditions."
In this study, 18% of participants were taking efavirenz (Sustiva or Stocrin, also in Atripla), too few to analyse separately. Some of the reported psychiatric events associated with varenicline are similar to side-effects of efavirenz, and there may be reason for concern about using these two medications together.
"Our study shows that varenicline is effective in helping people living with HIV to quit smoking," Mercie stated in an ANRS press release. "To achieve these results, however, certain conditions have to be met: the patient must be motivated, well-advised and followed up regularly by a smoking cessation specialist, must not be in an anxious or depressed state, and must have well-controlled HIV infection."
References
Mercie P et al. Varenicline vs placebo for smoking cessation: ANRS 144 Inter-ACTIV randomized trial. 2015 Conference on Retroviruses and Opportunistic Infections (CROI), Seattle, USA, abstract 139, 2015.
ANRS Smoking cessation: varenicline (Champix) is effective and well tolerated by people living with HIV. Press release. February 26, 2015.