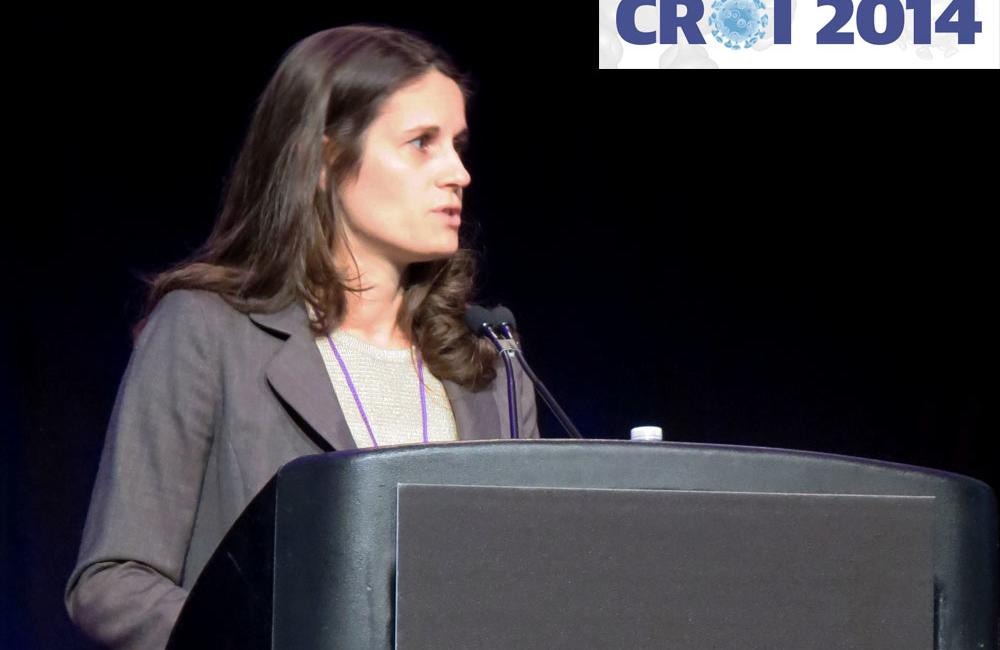 An interferon-free regimen of sofosbuvir plus ribavirin for 24 weeks led to sustained response in three-quarters of previously untreated people with genotype 1 hepatitis C and HIV co-infection in the PHOTON-1 study, but a shorter 12-week regimen did not work as well for people with hepatitis C virus genotype 3, according to a report at the 21st Conference on Retroviruses and Opportunistic Infections (CROI 2014) this week in Boston.
People with HIV/HCV co-infection experience more rapid liver disease progression and do not respond as well to interferon-based therapy as people with hepatitis C alone. Direct-acting antivirals that target different steps of the HCV lifecycle offer the prospect of shorter treatment, fewer side-effects and higher cure rates for both HCV mono-infected and HIV/HCV co-infected patients.
"The interferon-free regimen of sofosbuvir + ribavirin resulted in high SVR12 and SVR24 rates in HIV-infected patients with HCV genotype 1, 2 and 3 coinfection."
As described by Susanna Naggie from Duke Clinical Research Institute, the open-label phase 3 PHOTON-1 trial evaluated the safety and efficacy of Gilead Sciences' recently approved HCV NS5B polymerase inhibitor sofosbuvir (Sovaldi, formerly GS-7977) plus ribavirin for co-infected individuals with HCV genotypes 1, 2 or 3.
Sofosbuvir's FDA label indication – the same for both people with HCV mono-infection and for people with HIV/HCV co-infection – is sofosbuvir plus ribavirin dual therapy for 12 weeks for HCV genotype 2 and 24 weeks for genotype 3, while people with genotypes 1 or 4 are advised to use sofosbuvir with pegylated interferon and ribavirin for 12 weeks.
PHOTON-1 enrolled 114 people with genotype 1 HCV and HIV co-infection who had not previously taken treatment for hepatitis C. They received 400mg once-daily sofosbuvir plus 1000-1200mg weight-based ribavirin for 24 weeks. In addition, the study also included 68 treatment-naive and 41 treatment-experienced people with HCV genotypes 2 or 3. Previously untreated patients received sofosbuvir and ribavirin for 12 weeks while prior non-responders were treated for 24 weeks.
Across all study arms, most participants (about 85%) were men and the mean age was about 50 years. One-third of participants with HCV genotype 1 and about 15% of participants with genotype 2 or 3 were black. Thirty per cent of treatment-naive patients and half of treatment-experienced participants had the favourable IL28B CC gene variant associated with good interferon responsiveness. Most genotype 1 patients (79%) had harder-to-treat subtype 1a. Rates of liver cirrhosis ranged from 4% among treatment-naive genotype 1 patients to 24% in the treatment-experienced genotype 2/3 group.
Participants had well-controlled HIV disease. More than 90% were on antiretroviral therapy (ART) and mean CD4 cell count was above 600 cells/mm3. Unlike some HCV protease inhibitors, sofosbuvir does not affect CYP3A4 drug metabolism and it has no significant interactions with many widely used antiretrovirals. More than one-third of patients used efavirenz (Sustiva), nearly 20% used ritonavir-boosted atazanavir (Reyataz) or darunavir (Prezista) and about 15% used the integrase inhibitor raltegravir (Isentress); most also took tenofovir/emtricitabine (the drugs in Truvada).
Naggie reported final data from the study, including sustained virological response rates, or continued undetectable HCV RNA, at weeks 12 and 24 post-treatment (SVR12 and SVR24).
Looking at the treatment-naive genotype 1 patients, 76% achieved SVR12. One person had detectable HCV again after completing treatment – giving an SVR24 rate of 75% – but this may have been a case of re-infection rather than relapse.
Among treatment-naive genotype 2 patients treated for 12 weeks, the SVR12 and SVR24 rates were both 88%. Among treatment-naive genotype 3 patients treated for the same duration, however, the SVR12 and SVR24 rates fell to 67%.
Among treatment-experienced people treated for 24 weeks, SVR24 rates were 92% for genotype 2 and 94% for genotype 3.
The two patients who had HCV viral breakthrough while on treatment were found to have undetectable sofosbuvir levels, indicating probable non-adherence. No resistance mutations (including S282T) were detected on deep sequencing in participants with virological failure.
Sofosbuvir plus ribavirin was generally safe and well tolerated. Seven people treated for 12 weeks and six treated for 24 weeks experienced serious adverse events, and four and three patients, respectively, discontinued treatment for this reason. The most common side-effects were fatigue, insomnia, headache and nausea.
Among the 11 people with HIV co-infection who were not on ART, there were no clinically significant changes in HIV viral load. There were two cases of transiently increased HIV RNA, both associated with antiretroviral non-adherence. Absolute CD4 cell counts decreased – a known effect of ribavirin – but CD4 percentages remained the same.
HCV subtype 1a vs 1b and IL28B status were not significant predictors of treatment response in a multivariate analysis. People with liver cirrhosis appeared to have somewhat lower response rates, but the number was small and the difference was not statistically significant.
"The interferon-free regimen of sofosbuvir + ribavirin resulted in high SVR12 and SVR24 rates in HIV-infected patients with HCV genotype 1, 2 and 3 coinfection," the researchers concluded.
Use of direct-acting antivirals appears to overcome the disadvantage in treatment response for people with HIV that was seen with interferon. At a hepatitis C press overview on the opening day of the conference, PHOTON-1 co-author Douglas Dieterich from Mt. Sinai noted that "overall SVR rates were very similar" between the coinfected patients in this study and HCV monoinfected people in other trials, and "adverse event profiles are the same."
"I believe HIV is no longer a player," Naggie stated.
These findings also support the growing awareness that HCV genotypes 2 and 3 should not be classified together as 'easier to treat'. In this study, people with genotype 2 had high sustained response rates with either 12 or 24 weeks of dual therapy, but many genotype 3 patients appeared to need the extra 12 weeks.
Other recent studies have shown that adding other direct-acting antivirals to sofosbuvir can raise cure rates for harder-to-treat patients and may eliminate the need for ribavirin. Gilead has requested approval of a co-formulation containing sofosbuvir and its HCV NS5A inhibitor ledipasvir (formerly GS-5885), and this combination is being tested in people with HIV/HCV coinfection.