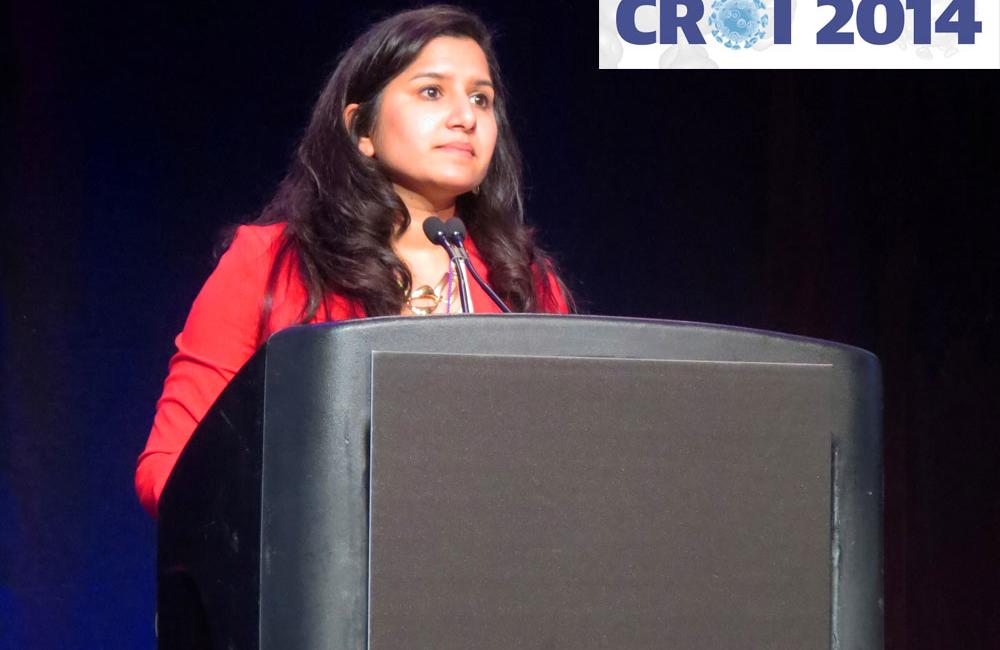 Interferon- and ribavirin-free treatment using sofosbuvir, ledipasvir and a third direct-acting drug for as little as six weeks can cure most previously untreated people with genotype 1 hepatitis C virus (HCV), including those with traditional predictors of poor response, according to results from the SYNERGY trial presented at the 21st Conference on Retroviruses and Opportunistic Infections (CROI 2014) this week in Boston.
The old standard of care for hepatitis C treatment using pegylated interferon plus ribavirin lasts 12 to 24 weeks, requires weekly injections, causes difficult side-effects and fails to cure many people. Direct-acting antiviral agents now allow interferon-free, all-oral treatment that is better tolerated and has higher sustained response rates.
"Hepatitis C can be successfully and safely treated in six weeks using three direct-acting agents with different mechanisms of action."
While most clinical trials of next-generation hepatitis C drugs have been sponsored by pharmaceutical companies, the US National Institutes of Allergy and Infectious Diseases (NIAID) is conducting parallel studies in underserved populations, looking for simple, well-tolerated treatments. Many people with hepatitis C belong to marginalised groups that have limited access to health care. In addition, many have a history of injection drug use and people in recovery are often hesitant to undergo treatment that involves needles.
In the SYNERGY study, Anita Kohli from the US National Institutes of Health and colleagues evaluated brief interferon- and ribavirin-free direct-acting antiviral regimens using a fixed-dose coformulation of Gilead Science's recently approved HCV polymerase inhibitor sofosbuvir (Sovaldi, formerly GS-7977) and NS5A inhibitor ledipasvir (formerly GS-5885).
Participants were randomly assigned to receive either dual therapy with sofosbuvir/ledipasvir alone for 12 weeks, or the coformulation plus a third direct-acting drug – either the non-nucleoside HCV polymerase inhibitor GS-9669 or the HCV protease inhibitor GS-9451 – for six weeks.
The previous NIAID SPARE study showed that 24 weeks of sofosbuvir plus weight-based or low-dose ribavirin (used in an effort to reduce anaemia) was generally safe and well tolerated, with 24-week post-treatment sustained virological response (SVR24) rates of 68% and 48%, respectively. But recent trials have shown much higher cure rates with combinations of direct-acting antivirals that target different steps of the HCV lifecycle.
SYNERGY enrolled 60 mostly low-income people with chronic hepatitis C in Washington, DC.  Most had factors traditionally associated with poor treatment response: about 70% were men, around 90% were African-American, about 85% had unfavourable non-CC IL28B gene variants and 70% had hard-to-treat HCV subtype 1a. About one-quarter had advanced liver fibrosis or cirrhosis, but people with cirrhosis were excluded from the six-week arms.
"We believe this population is really reflective of the hepatitis C population in the US, which historically has been a difficult-to-treat population," Kohli said.
HCV viral load declined rapidly after starting therapy and 100% of participants in all arms had undetectable levels at the end of treatment. A single person in the GS-9669 arm relapsed after stopping therapy, resulting in SVR12 rates of 100% with 12-week dual therapy, 95% with GS-9669 triple therapy and 100% with GS-9451 triple therapy.
All regimens were generally safe and well tolerated. There were no serious adverse events or study discontinuations related to study drugs. The most common side-effects were headache, fatigue and diarrhoea, the latter occurring more often in the GS-9669 arm.
"Hepatitis C can be successfully and safely treated in six weeks using three direct-acting agents with different mechanisms of action," the researchers concluded. "This short duration, simple therapy for HCV may prove relevant for the global elimination of hepatitis C, where uncomplicated, well-tolerated therapy is required to ensure adherence and minimize healthcare expenditures."
Kohli explained that SYNERGY was designed as an eight-arm trial. A future arm will enrol people with cirrhosis to receive sofosbuvir/ledipasvir plus GS-9451. Researchers will also look at an even shorter triple regimen taken for only four weeks.
Session co-moderator Jürgen Rockstroh said that most treatment failures seen in oral direct-acting antiviral combination trials have been related to lack of adherence, which brief therapy could improve. But he cautioned that adding a third drug could increase the cost of treatment, even if it is taken for a shorter period.