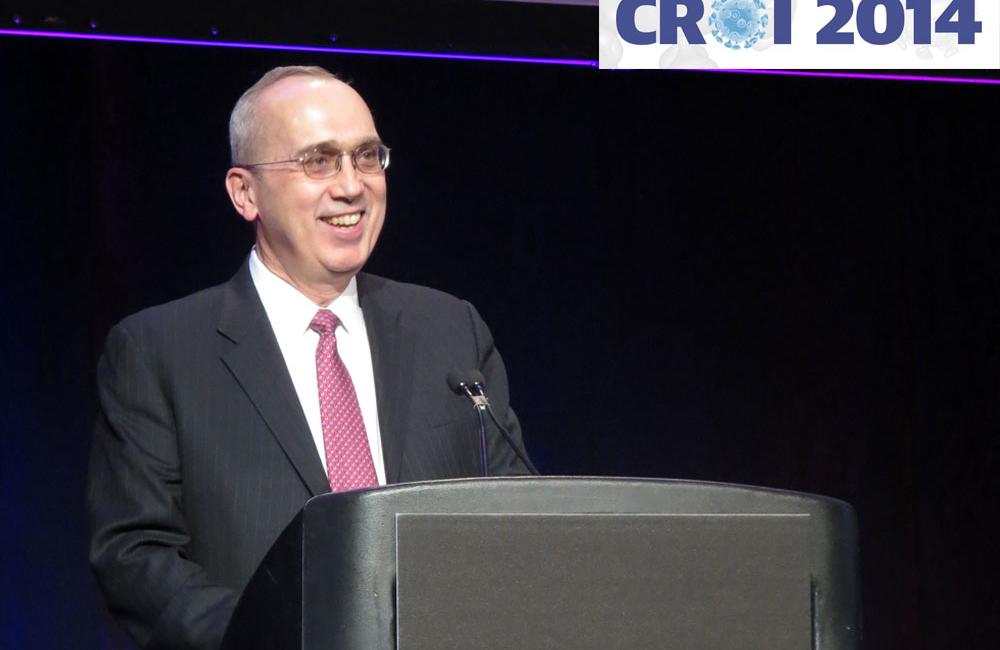 The hepatitis C protease inhibitor faldaprevir added to pegylated interferon and ribavirin cured hepatitis C in nearly three-quarters of people with genotype 1 hepatitis C virus (HCV) and HIV co-infection in the STARTVerso4 trial, equaling response rates for people with hepatitis C alone, according to a report at the 21st Conference on Retroviruses and Opportunistic Infections (CROI) this week in Boston.
Direct-acting antivirals have revolutionised treatment for chronic hepatitis C. These drugs were initially tested as add-ons to the previous standard of care, pegylated interferon plus ribavirin. Although interferon-free combinations are now becoming available, regimens containing single direct-acting drugs plus interferon may remain an option for some patients.
Douglas Dieterich from Mt. Sinai Icahn School of Medicine presented data from the open-label phase 3 STARTVerso4 trial, which evaluated Boehringer Ingelheim's faldaprevir (formerly BI 201335) plus pegylated interferon and ribavirin for people with HIV and HCV co-infection who were previously untreated for hepatitis C or relapsed after a prior course of interferon-based therapy.
"Faldaprevir was highly efficacious and well-tolerated in difficult-to-treat patients co-infected with HIV and HCV genotype 1."
People with HIV and HCV co-infection experience more rapid liver disease progression, on average, and do not respond as well to interferon as those with HCV alone. But direct-acting drugs may help reduce this disparity.
STARTVerso4 enrolled 308 people with HIV and HCV genotype 1, mostly in Europe and North America. Most were men, 83% were white, 14% were black and the average age was 47 years. About 80% had the harder-to-treat HCV subtype 1a, one-third had the favourable IL28B CC gene variant and 15% had liver cirrhosis. More than three-quarters were hepatitis C treatment-naive and 22% were prior relapsers; this study did not include the most difficult-to-treat group, prior null responders.
Participants were either on stable antiretroviral therapy (ART) or had a high enough CD4 cell count that they did not yet need HIV treatment. At baseline, 95% were on ART, most had undetectable HIV viral load and the mean CD4 count was approximately 540 cells/mm3. Patients used antiretrovirals that either did not have clinically relevant interactions with faldaprevir or interactions that could be managed with dose adjustments. Nearly half took raltegravir (Isentress), 27% took efavirenz (Sustiva) and 22% took either ritonavir-boosted atazanavir (Reyataz) or darunavir (Prezista).
All participants were treated with once-daily faldaprevir plus pegylated interferon alfa-2a (Pegasys) and weight-based ribavirin. Participants taking HIV protease inhibitors received 120mg faldaprevir for 24 weeks, those taking efavirenz took 240mg faldaprevir for either 12 or 24 weeks, and those taking raltegravir or not on ART were randomised to one of these doses.
Duration of pegylated interferon/ribavirin was determined using response-guided therapy. People with 'early treatment success' (HCV RNA <25 IU/mL at week 4 and undetectable at week 8) were re-randomised to either stop all drugs at week 24 or continue pegylated interferon/ribavirin alone through week 48. All patients without early treatment success received the longer course.
The primary study endpoint was sustained virological response (SVR), or continued undetectable HCV RNA at 12 weeks after the end of treatment (SVR12).
Overall SVR12 rates were 71% for people treated with 120mg faldaprevir for 24 weeks and 72% for all those treated with 240mg faldaprevir. Among participants who had early treatment success, 87% and 85%, respectively, went on to achieve SVR12.
Participants' interferon responsiveness influenced treatment outcomes. Prior relapsers responded significantly better than treatment-naive patients, with SVR12 rates of 83% and 69%, respectively. IL28B status also had a significant effect, with SVR12 rates or 88% and 64%, respectively, for CC and non-CC genetic variants.
But other factors traditionally associated with poor response had little or no effect with this regimen. People with liver cirrhosis responded as well as people who did not have cirrhosis, with SVR12 rates of 73% and 72%, respectively. Dieterich noted that people with cirrhosis have consistently done well in faldaprevir studies.
HCV subtype had little effect, with SVR12 rates of 76% for people with 1b and 71% for those with 1a. Presence of the Q80K resistance mutation also did not seem to affect outcomes in this co-infected population, with SVR12 rates of 75% for those with and 71% for those without the mutation at baseline. Response rates did not differ significantly between people with early treatment success who continued pegylated interferon/ribavirin for 24 weeks or 48 weeks.
Faldaprevir combination therapy was generally safe and well tolerated, with most side-effects being typical of interferon-based therapy. One-tenth of participants experienced serious adverse events and 7% had adverse events leading to hepatitis C treatment discontinuation.
The most common side-effects were nausea (37%), fatigue (34%), diarrhoea (27%), headache (25%) and weakness (23%). The most common laboratory abnormality was elevated bilirubin (19%). Photosensitivity, or increased sensitivity to sunburn, was uncommon.
"Faldaprevir was highly efficacious and well-tolerated in difficult-to-treat patients co-infected with HIV and HCV genotype 1," the researchers concluded. "Among patients with [early treatment success], 24 weeks total duration of therapy was possible without compromising SVR12 rates."
They added that the safety profile of faldaprevir in people with HIV and HCV co-infection "was similar to that observed in HCV genotype 1 mono-infected patients."
Although faldaprevir improved treatment response rates compared with pegylated interferon/ribavirin alone, other researchers at CROI reported that various interferon-free regimens yielded higher SVR rates in the 90% to 100% range with fewer side-effects. Faldaprevir has demonstrated good efficacy and tolerability in all-oral regimens for HCV mono-infected people.
"It is hard to consider using any drug now with interferon, but I know in many parts of the world that will still be the case for many years to come," Dieterich acknowledged.
Reviewing results from this and other hepatitis C trials at a CROI opening press conference on Monday, Dieterich noted that direct-acting agents can overcome many of the factors traditionally associated with poor treatment response, including HIV co-infection, race/ethnicity and liver cirrhosis. "All the old predictors of response are gone when you have a potent two-three drug combination," he said.