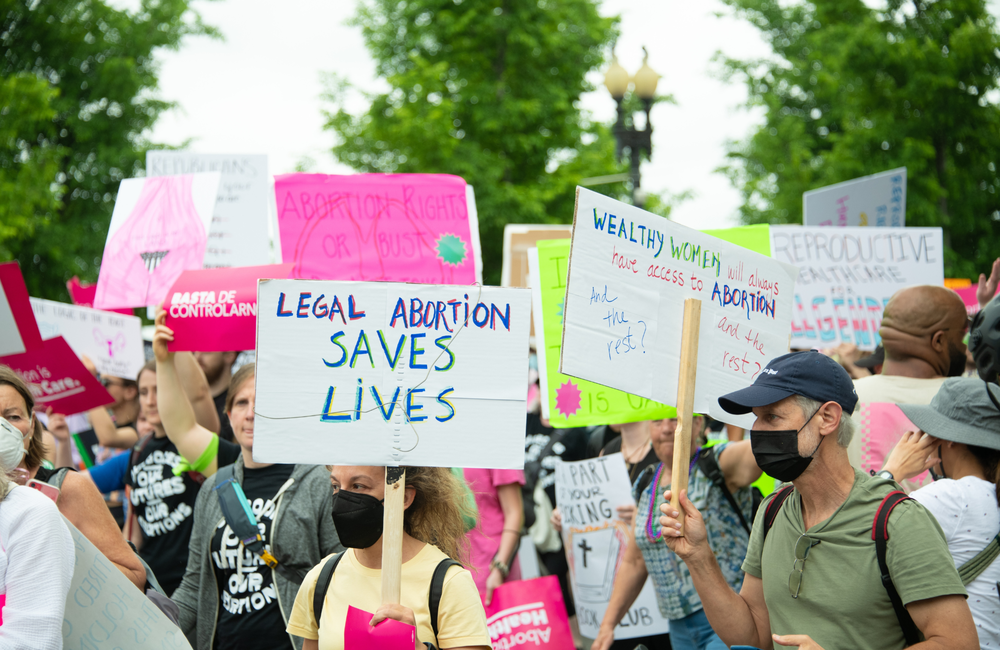 The first large-scale study of the impact of the United States' anti-abortion Mexico City Policy shows it likely has led to an estimated 90,000 new HIV infections and almost 30,000 maternal and child deaths annually, mostly among children. The study revealed other donors' potential power to mitigate these effects by providing alternative funding.
A standing 1973 US law bans all federal money from funding abortions locally or abroad. Still, in 1984 US Republican President Ronald Reagan introduced the Mexico City Policy, which blocks US funding to foreign organisations that provide or even discuss abortion.
In practice, the policy defunds organisations that may offer abortions but that also provide a range of essential reproductive health services, such as contraception, HIV testing and cervical cancer screening. 
Since Reagan, every Republican US President has invoked the policy – often referred to as the 'global gag rule' -- during their four-year presidencies only to have it revoked by each Democratic successor.
The most recent gag rule led to the closure of at least half of rural outreach sites affiliated with international healthcare provider MSI Reproductive Choices, news organisation Bhekisisa reported. In 2017, MSI Reproductive Choices predicted it would lead to an additional 110,000 unintended pregnancies and 32,000 unsafe abortions in Zimbabwe.
Spikes in HIV incidence and child deaths
Healthcare workers and researchers have documented increases in HIV cases and maternal deaths during gag rules, either in news stories or studies looking at the impacts in specific countries or during a single US presidency.
A study published in May in the journal PNAS is the first to assess the gag rule's impact on HIV incidence and maternal and child mortality over a quarter of a century. To do this, Bocconi University assistant political science professor Kerim Can Kavakli and Oxford University research fellow Valentina Rotondi selected 134 countries with available data.
They established national baselines by asking: what did HIV infections and maternal and child deaths look like in each country in the year before the US instituted a gag rule? Then, the scientists tracked how infections and deaths changed in the four years after a gag rule was in place.
Next, the researchers used a regression analysis to compare these results among the 134 countries between 1990 and 2015, controlling for other aspects such as wealth and armed conflict that may also affect health outcomes.
Ultimately, they found that reintroducing the gag rule led to a 4% (one new infection per 10,000 people) increase in national HIV incidence rates among 38 countries highly dependent on US aid, such as South Africa, Haiti and Afghanistan. In total, these countries saw an additional 90,000 new HIV infections each year the Mexico City Policy was in place.
In these countries, the global gag rule also resulted in an average of 2,700 maternal deaths and 24,000 deaths among children annually.
"Our analysis shows that when the global gag rule is in effect, countries that are more dependent on US foreign aid for family planning [funding] experience higher maternal and child mortality and HIV infections," says Dr Kavakli.  "We claim that the relationship is due to the deterioration of services for pregnant women, newborns and people who seek family planning services."
Impact worse in countries highly dependent on US aid
When the pair analysed the results by the how reliant a country was on US aid, they found that impacts were the most dire in countries heavily dependent on US aid which had scarce alternative funding.
If a country was almost entirely dependent on US aid, the study predicts it would see roughly 80 additional child deaths and nine maternal deaths per 100,00 live births for each year the policy was in place.
"These numbers represent 1 and 3% increases over baseline child and maternal death rates, respectively," the authors write. "For comparison, these effects are larger than the estimated effect of civil conflict."
In contrast, countries that received very little US aid and instead relied on other funding sources were protected from the policy's impacts.
"Data shows that investments by other donors to countries can reduce the negative consequences of the global gag rule," Kavakli says. "It's another reason to not only speak to US policymakers about lifting gags but also to non-American decision makers: if a gag rule is coming, help aid recipients ride it out." 
When the analysis was repeated with different measures of infant mortality and HIV incidence, the results were similar. To check that the study's results were not attributable to some other phenomena happening concurrently with the gag rule, Kavakli and Rotondi also repeated the analysis using 'placebo outcomes' — anaemia, traffic accidents and access to safe sanitation — that would have been unaffected by changes to reproductive health services.
Nonetheless, because the study's relied on observational data, it cannot prove that the gag rule directly led to increased HIV infections and deaths.
And Kavakli cautions that the study likely underestimates the Mexico City Policy's true impact, in part because it did not include the most recent and far-reaching iteration of the Mexico City Policy under former US President Donald Trump.
Trump extended the gag rule to affect more types of US development assistance, including the United States President's Emergency Plan for AIDS Relief (PEPFAR). Trump's Republican predecessor, George W Bush created PEPFAR in 2003 and excluded it from his version of the global gag rule.
Trump's version of the policy applied not only organisations taking US money directly but also smaller groups, or sub-recipients, working with them even if they did not take US money themselves. In this way, Trump's expanded Mexico City Policy restricted money from other donors. The Foundation for AIDS Research (AmfAR), for instance, found Trump's expanded global gag rule attached US conditions to about 10% of the money disbursed to countries by the Global Fund to Fight AIDS, TB and Malaria.
US policy reduces access to contraception and HIV screening for infants
A separate individual-level analysis included in the research corroborates the finding that increased HIV infections and deaths were likely linked to the gag rule.
This looked at Demographic Health Surveys from 30 countries conducted either shortly before a gag rule was implemented or soon after it was lifted. Demographic Health Surveys are nationally representative surveys that can include tens of thousands of participants and track everything from access to contraception to how people receive health information. Countries conduct Demographic Health Surveys about every five years.
Through these surveys, Rotondi found that women were less likely to report having access to face-to-face reproductive health and HIV counselling, contraception and post-natal care under the gag rule. Instead, women were more likely to report receiving health information via the media.
Similarly, women were less likely to receive postnatal care or, in the case of women living with HIV, have had their baby tested for HIV when the Mexico City Policy was in place. Women were more likely to report unwanted pregnancies, Rotondi found.
"I was amazed by the strong relationships we found in the data," she says.
The policy's greatest impacts were felt among poorer women, write the researchers, who add their findings bolster the need for long-term investments in gender equity and education to mitigate against future aid cuts. 
More restrictive gag rules possible in the future
Kavakli says the research confirms in a systematic way what healthcare workers and activists on the ground have been saying for years: that the global gag rule causes deadly disruptions to essential health services, far beyond abortions.
"We're not saying something new," he says, "but I think that now argument now can be even stronger."
He says he hopes future research will continue to look more broadly at these impacts — and how national policies in countries can work to push back against global gag rules. Many people fear US Republicans will continue to follow in Trump's footsteps by introducing more repressive versions of the Mexico City Policy.
"The form that the gag rule comes back in may morph to be more restrictive or less restrictive, depending on how the Republican party moves," AmfAR Public policy deputy director Brian Honermann warns.
A harsher gag rule is almost certain following today's US Supreme Court vote to overturn the 1973 Roe V Wade decision that protected the right to safe abortion. The judgement, which protected the right to abortion as part of a Constitutional right to privacy, also laid the foundation for the protection of same-sex marriage in the country.
Over half of all US states are expected to ban abortions following the decision, according to the reproductive health research organisation, the Guttmacher Institute.
Honermann continues: "The attacks on gender equality that are going on at the moment and the direction of the Republican Party suggests that it will be substantially worse."